Hitch Hike to Hell (1983) – Film Review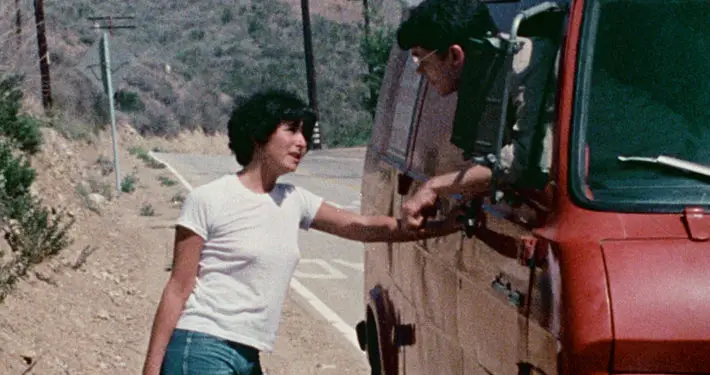 Director: Irvin Berwick
Cast: Robert Gribbin, Russell Johnson, John Harmon
Certificate: 18
by Sarah Morgan
What happens when mental illness, hitch-hiking and dry cleaning collide? Hitch Hike to Hell, that's what!
As you can probably tell from that opening gambit, despite the serious subject matter, it's rather difficult to take this 1977 low-budget offering seriously.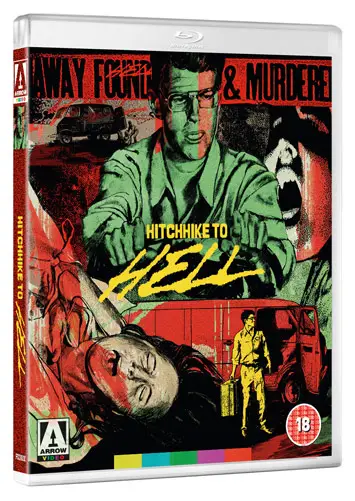 Like Psycho, it has at its heart a mother-obsessed seemingly mild-mannered young man, but where Alfred Hitchcock managed to wring every last drop of tension and terror out of Robert Bloch's source novel, director Irvin Berwick fails miserably to keep the viewers' attention.
"Smothering nature"
At its heart is Howard, a dry cleaning delivery van driver whose sister has vanished, seemingly running away from the family home for reasons unknown – although after meeting Howard's mother, it could well be that she couldn't cope with her cloying, smothering nature.
Howard, however, doesn't seem to mind being mollycoddled. In fact, the only thing that does seem to rile him about 'Momma' is that she won't let him have a root beer exactly when he wants one.
During his days on the road, Howard comes across many hitch-hikers; in fact, an oddly high number of them – they seem to be waiting on every corner, just desperate to get in his red Transit van.
He's friendly at first, until establishing if they're just looking for a lift or are running away from home – if it's the latter, their journey will end in death, usually due to strangulation via a wire coat hanger.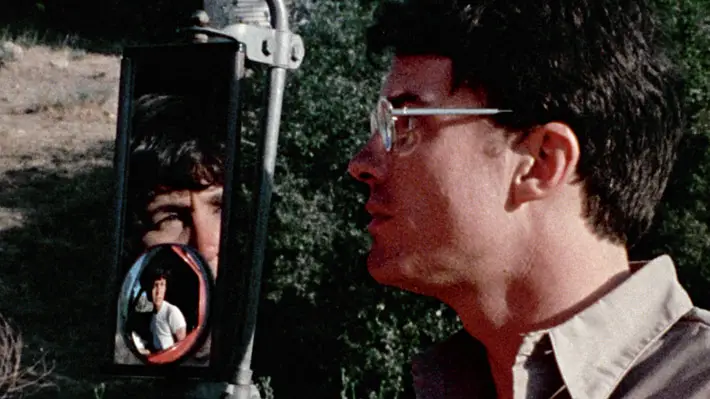 "Roadside terror"
Howard is no criminal mastermind, however. Instead, he leaves clues pretty much everywhere – even his glasses are left by one corpse – and as the movie progresses, we see he's suffering from some kind of mental health issue, probably brought on by his background, or maybe the dry cleaning chemicals he's exposed to had something to do with it.
The police reckon he's just a homicidal maniac and don't bring his reign of roadside terror to an end until he commits the ultimate crime; the concluding scene is once again reminiscent of Psycho, but the rest of the project falls very flat indeed.
The special features are rather more impressive than the film itself. Among them is a profile of director Berwick by low-budget movie expert Stephen Thrower, a video essay about hitch-hiking on film and in real life and an interview with Nancy Adams, who sings the film's rather cheesy country and western theme song.
SPECIAL EDITION CONTENTS
• Brand new 2K restoration from original film elements
• 1.33 and 1.78 versions of the feature
• High Definition Blu-ray (1080p) presentation
• Original uncompressed mono audio
• Optional English subtitles for the deaf and hard of hearing
• Newly-filmed appreciation by Nightmare USA author Stephen Thrower
• Road to Nowhere: Hitchhiking Culture Goes to Hell - brand new video essay by Alexandra Heller-Nicholas exploring the dark side of hitch-hiking in the real world and on the screen
• Original theatrical trailer
• Original press book (BD-ROM Content)
• Reversible sleeve featuring original and newly commissioned artwork by The Twins of Evil
Hitch Hike to Hell is released on Blu-ray by Arrow, £24.99