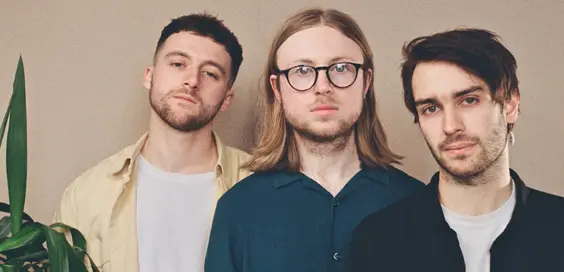 Distinctive angular guitar lines, swirling Moog synths, driving drums – current Leeds scene 'ones to watch'…
YOUR NAMES: Tom, Cal, Josh.
BAND NAME: Sea Legs
WHAT DO YOU DO/PLAY?: I (Tom) play guitar and sing, Cal plays bass and sings and Josh plays drums.
HOW LONG HAVE YOU BEEN TOGETHER AS A BAND/PLAYING MUSIC?
We've been a band for about a year and a half now.
GIVE US 3 REASONS WHY WE SHOULD TRACK DOWN, LISTEN AND DISCOVER YOUR MUSIC?
You might like it.
If enough people like us we can go on tour.
"For too long now, music has been waiting for something refreshing and alternative. That wait is now over." – David Byrne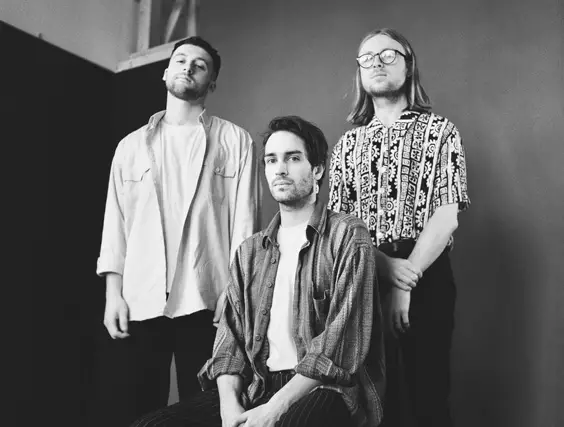 "I stand by all of those choices"
WHERE DO YOU SOUND BEST – FESTIVAL, CLUB, BEDROOM – OR SOMEWHERE ELSE?
Everyone sounds good in their bedroom right? That's the rule. But I reckon we'd sound pretty good at Glastonbury.
WHAT WAS YOUR FIRST RECORD?
T: Is Your Love Big Enough? – Lianne La Havas.
C: Rum, Sodomy & The Lash – The Pogues.
J: The Best Of The Beach Boys.
CD?
T: What's The Story (Morning Glory)? – Oasis.
C: The Colour & The Shape – Foo Fighters.
J: American Idiot – Green Day.
DOWNLOAD?
T: With my first MP3 player you got to download a few songs for free as part of the purchase, and from the given list I chose 'Dare' (Gorillaz), 'You're Beautiful' (James Blunt) and that Bodyrockers tune. I stand by all of those choices.
C: 'Brimful Of Asha'.
J: Infinity On High – Fall Out Boy.
"Mixing up margaritas"
SO, WHEN IT ALL GOES RIGHT AND YOU'VE GOT A MANSION AND A SUPERMODEL GIRL/BOYFRIEND, WHAT WILL BE YOUR BIGGEST MUSICAL INDULGENCE?
T: A disco ball in every room.
C: A bass solo in every song.
J: 24/7 Abba.
SO, WHEN IT ALL GOES WRONG AND YOU'VE ACRIMONIOUSLY BROKEN UP CITING HUGE MUSICAL DIFFERENCES, WHAT DO YOU FALL BACK ON?
T: I'll be in the snooker hall.
C: I'll go back to mixing up margaritas on the regular.
J: Pulling pints and practising latte art.
PLEASE CITE SOME INTER-BAND MUSICAL DIFFERENCES…
T: I don't think Josh has listened to Radiohead which is pretty impressive, though it probably stops us ripping them off too much… We all love Abba though so we're all good.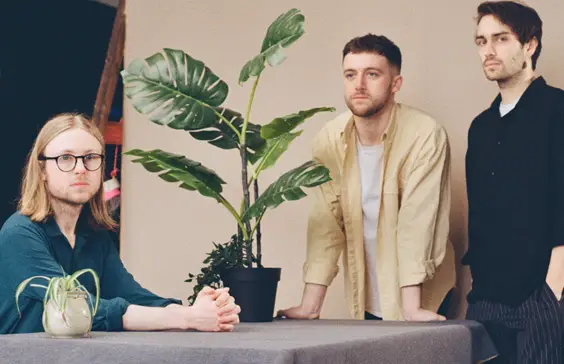 "Tom is a wizard"
WHO ARE YORKSHIRE'S FINEST IN CULTURE, SPORT AND MUSIC?
T: Hyde Park Book Club and Brudenell Social Club are the places to be for music/culture, the Hepworth is also a cracking one for exhibitions. Also, David Hockney in general. Far too much good music in Yorkshire – Caro, Talkboy, Pulp…
C: Brudenell is the centre of Leeds culturally. Caro are my favourite bunch of uber-talented boys and the Brownlee Brothers are pretty good at sport, right?
J: Hyde Park Book Club is a great little hub for all aspects of creative life in Leeds. Talkboy are absolutely smashing it at the minute and our Tom is a wizard with a snooker cue.
NAME YOUR SUPERGROUP – WHO'S PLAYING WHAT, WHO'S ON VOCALS AND WHO'S YOUR BEZ?
T: Stewart Copeland on drums, Graham Coxon on guitar, Ciaran Scanlon on bass. Justin Hawkins on vocals and my Bez.
C: Iggy Pop as my Bez, Mark E Everett on vocals, Floating Points doing everything else.
J: Erm.
GO SEE THIS FILM:
T: The Royal Tenenbaums.
C: Isle of Dogs.
J: Into The Wild.
GO READ THIS BOOK:
T: Just Kids.
C: Palo Alto.
J: Sapiens.
GREAT LOST BAND/ARTIST:
T: Heatmiser.
C: Rodriguez .
J: Orchestral Manoeuvres in the Dark.
LONDON, L.A OR LEEDS?:
Everyone: Leeds.
AND FINALLY… AS YOU LEAVE THE STAGE, WHAT ARE YOUR PARTING WORDS?
T: It's normally me mentioning that we have merch as I forgot to say it during the set…
For more info visit: facebook.com/seatheselegs/