Introducing: Little Violet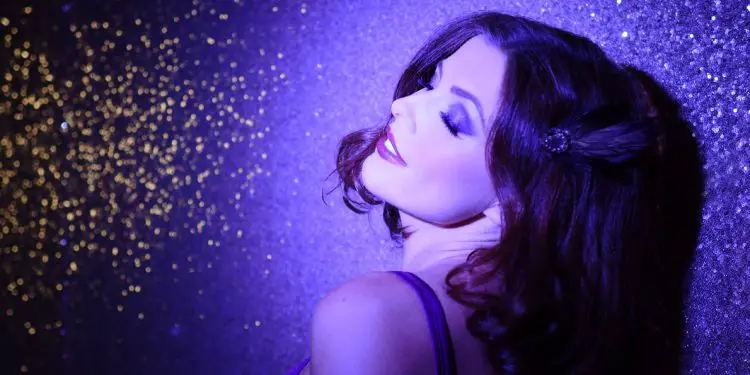 Electro Swing, from Leeds…
YOUR NAME: Cherie Gears aka Little Violet.
HOW LONG HAVE YOU BEEN PLAYING MUSIC?
As long as I can remember. I used to stand on the chair after a meal and sing about pots and pans, whatever I could see! And I have been performing in musicals, choirs, bands from a very early age.
ANY PAST BANDS OR COLLABORATIONS WE SHOULD KNOW ABOUT?
I had my first release with my Uni band Lazy Baby. I still love listening to that album.
GIVE US 3 REASONS WHY WE SHOULD TRACK DOWN, LISTEN AND DISCOVER YOUR MUSIC?
1. You just can't help but move to it.
2. The lyrics are uplifting and cathartic.
3. The sound fuses so many styles together there is always something for every music lover to latch onto.
WHERE DO YOU SOUND BEST – FESTIVAL, CLUB, BEDROOM – OR SOMEWHERE ELSE?
Ooo tricky question! I love performing at all different sized venues as you get something different from each environment. I love an intimate venue where the audience are hanging off your every word but nothing beats the energy of a festival where all walks of life come together and tear up the dance floor.
WHAT WAS YOUR FIRST…
RECORD? Bad, Michael Jackson.
CD? Incubus, Make Yourself.
DOWNLOAD? Esperanza Spalding, Radio Music Society.
SO, WHEN IT ALL GOES RIGHT AND YOU'VE GOT A BOTTOMLESS PIT OF MONEY AND LONG QUEUE OF HANGERS-ON, WHAT WILL BE YOUR BIGGEST MUSICAL INDULGENCE?
Home studio with all the trimmings – grand piano, Hammond organ, vocal booth and an array of vintage instruments.
SO, WHEN IT ALL GOES WRONG AND YOU'RE LEFT BITTER AND TWISTED AND CURSING THE MUSIC INDUSTRY, WHAT DO YOU FALL BACK ON?
I'm a singing teacher so love sharing my experiences and developments as a vocalist and song writer with my students. I will never stop song writing, it's my therapy.
WHAT ARE YOUR MUSICAL GUILTY PLEASURES…
'54-46 Was My Number', vintage Beyonce and Disney!
WHO ARE YORKSHIRE'S FINEST IN CULTURE, SPORT AND MUSIC?
You might have to get Jamie to answer this, I have no clue on sport I'm afraid, and have no Geography skills for famous folk. Corinne Bailey Rae and Kaiser Chiefs had links to Leeds College of Music when I was there so got to meet them and Arctic Monkeys were just down the road in Sheffield. Does that count?
NAME YOUR SUPERGROUP – WHO'S PLAYING WHAT, WHO'S ON VOCALS AND WHO'S YOUR BEZ?
Stevie Wonder – keys/vocals
Francesco Mendolia – drums
Esperanza Spaulding – bass Bezzy!!!!
George Benson -guitar
Haggis Horns – brass section.
GO SEE THIS FILM: Leon.
GO READ THIS BOOK: The Thirteenth Tale.
GREAT LOST BAND/ARTIST: Puggy (first album only).
WOULDN'T BE CAUGHT DEAD SUPPORTING: Scouting for Girls.
LONDON, L.A OR LEEDS?: L.A (for a holiday!)
AND FINALLY… AS YOU LEAVE THE STAGE, WHAT ARE YOUR PARTING WORDS?
Be good!
Little Violet's track with Jamie Berry, 'Take You Right Back' is out now. Her debut album 'Code Red' is out on Freshly Squeezed Music.
For more info visit: facebook.com/littlevioletmusic