The Invisible Man (1975) – Review
By Roger Crow
Back in the mid-1970s, a time of black and white TV (at least in our house) and three telly channels, I was obsessed with two TV shows: The Six Million Dollar Man, and The Invisible Man. Both were made by Universal TV, and some episodes featured overlapping cast and creatives.
The latter starred David McCallum as Dr Daniel Westin, a boffin who developed a device that could make pens and a rabbit called Harvey transparent. His boss Walter (Jackie Gleason) promises he won't sell Westin out to the military, but soon changes his mind when he sees what the gizmo is capable of.
The 73-minute pilot film is the inevitable origins tale, and as with all the eps, boasts a fine turn from McCallum and Melinda Fee as his engaging wife, Kate.
Picture quality on the DVD is pretty good for a 48-year-old show, and naturally sharper on Blu-ray, while sound is excellent too. The acid yellows of doors and kitchen appliances are retina-searing in the pilot, and more muted by the first real ep, 'The Klae Resource', which features a new Walter in Craig Stevens.
That Vegas-centric episode, reminiscent of Diamonds Are Forever, sees Daniel and Kate investigating a Howard Hughes-style recluse. Again some primary colours really pop, such as a Vegas waitress in a red dress, or the orange helmets of later ep, 'Eyes Only'.
"Nostalgic fun"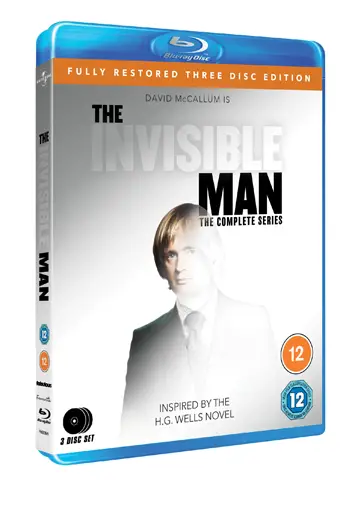 These days of course we'd have CG trickery to hammer the invisibility point home, but in 1975, imaginations did a far better job of filling in the blanks. Less really was more.
'The Fine Art of Diplomacy', which involves an art heist; Kate seducing a big cheese, and some clever effects, is a huge amount of fun. Melinda Fee steals the show with some alluring moves, a jaw-dropping green dress, and brilliant visual gags, many from Ross Martin as the thieving VIP.
'Barnard Wants Out' is a defection caper with some great moments, especially from Fee, whose comedy skills help save an occasionally plodding ep. She has to do most of the heavy lifting, including kissing nothing and helping sell all the invisibility gags, which she did brilliantly.
A shame the show was cancelled after one season due to falling ratings; it seems audiences could only take so many floating phone gags and props tipping over. It's also a shame there's no documentary, commentaries, or TV ads to support the revamped release.
You don't have to have been there at the start to enjoy the saga. My other half had never seen the show, and she was hooked.
So, if you fancy 653 minutes of nostalgic fun and crime-busting shenanigans with a great cast and surprisingly good effects, all with crisp visuals and sound, not to mention Henry Mancini's infectious theme, then this is well worth a look.
'The Invisible Man' is released on 3-disc Blu-ray by Fabulous Films