Sting – Live Review – The Piece Hall, Halifax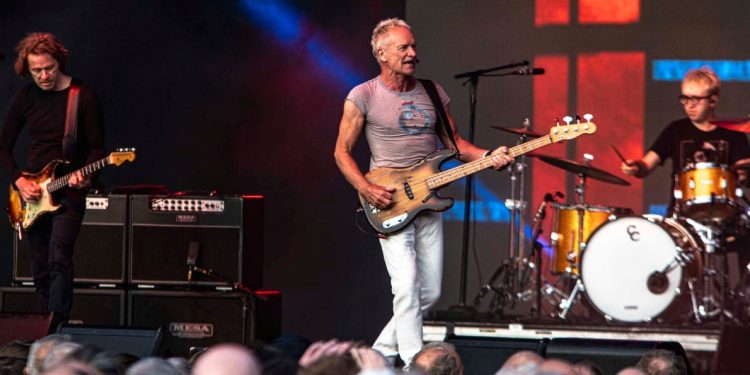 By Steve Crabtree, July 2023
The Piece Hall just keep doing it, don't they? The summer music season relentlessly brings the biggest names to the town, selling out shows and wowing the crowds.
Well, this time Sting visited West Yorkshire on a Tuesday night slot as part of his 'My Songs' tour.  The legendary artist who has captivated audiences for over four decades, graced the packed venue with a selection of timeless classics from his illustrious songbook.
From his days as the frontman of The Police to his remarkable solo career, Halifax were in for an absolute treat.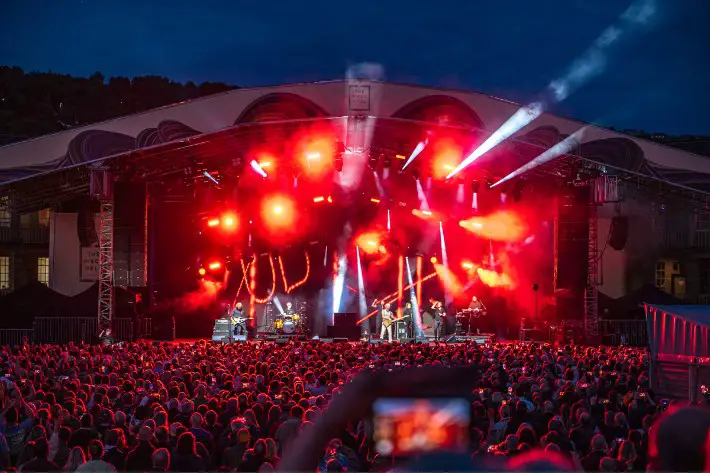 "Hits and crowd pleasers"
My friend and I were looking forward to this.  A musical icon in our hometown on a Tuesday evening. How good is that? And after meeting in Halifax for a drink, we got into the Piece Hall just as the Joe Sumner's support slot was coming to a close. Sumner, son of Sting, sounded pretty good and had got a lot of the Halifax crowd nicely warmed up for his dad. And as the clock struck 9pm, the man himself appeared.
Sting walked out to adulation, and he wasn't messing around.  He slung on his bass, and was straight into the opening riff of 'Message in a Bottle'. And until you hear that riff live, you don't realise just how iconic that opening is. That was followed up with 'Englishman in New York' and we were in for a night of hits and crowd pleasers.
Shall I mention that the third song was 'Everything She Does is Magic'?  What a way to open a strong 18 song set, with everyone lapping this show up already. Me included. I thought I'd like this gig, but it went on to massively exceed expectation.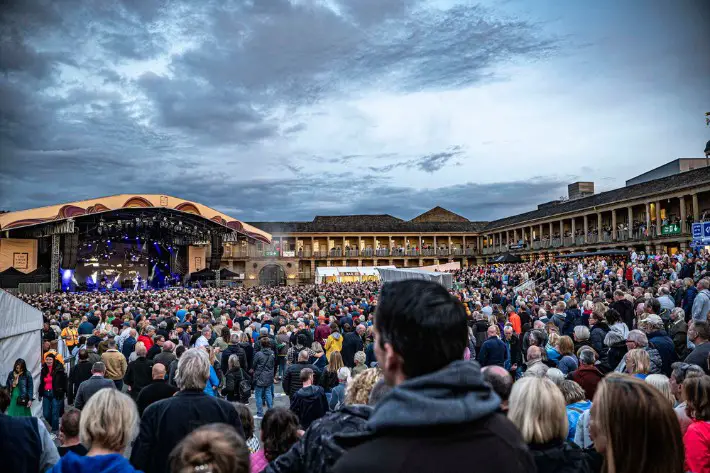 "Sensational"
Crafting a setlist that represents his greatest hits was surely no easy feat considering Sting's vast discography. Around 20 albums spanning his solo career and his time with The Police, adds up to hundreds of songs. But he nailed it in every way, shape and form. Sting continued to deliver and wow the crowd. The enduring ballad 'If I Ever Lose My Faith' and the timeless beauty of 'Fields of Gold' was incredible. Then 'Walking on the Moon' followed up by being sensational.
I bumped into a lot of people on the night who I wouldn't normally think were Sting fans. But they were all like me in saying what a fantastic show he was putting out.
We'd hit darkness when the rousing 'So Lonely' came out. And final song of the main set 'Every Breath You Take' was amazing too. After momentarily leaving the stage, he came back out to red lights, and got Halifax to join in with 'Roxanne', before ending on a soft, piercing 'Fragile'.  We were in awe, and we'd witness a formidable concert.
At a very youthful 71 years old, Sting showcased his magnificence, hitting every note with precision, and without having to try. His stage presence was relaxed but charismatic, and each tune he gave Halifax was a masterpiece. His influence on the music industry remains as relevant today as it was when he first emerged onto the scene back in 1977. And his performance at the Piece Hall was, put simply, a serenade of musical brilliance. The impact of his music and his longevity converged in a night to be cherished. An absolute master of his craft.
Images: Cuffe & Taylor/The Piece Hall