Snow Patrol – Live Review – Scarborough Open Air Theatre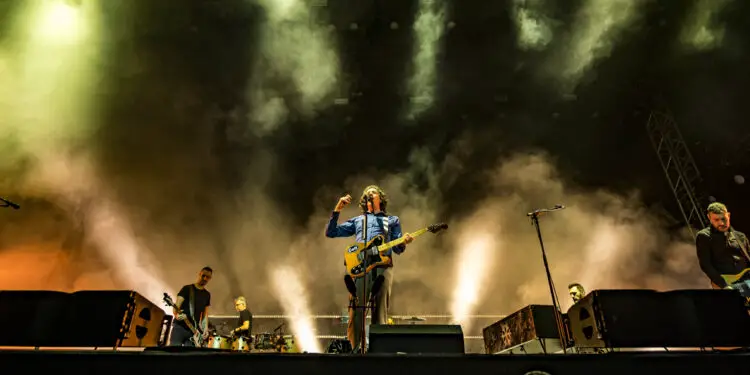 By Charlotte Oliver, September 2021
There was an undeniable air of anticipation hovering with the rain clouds over Scarborough's Open Air Theatre this early September evening as the audience streamed in from far and wide to attend the long-awaited Snow Patrol gig. Originally scheduled to have taken place twelve months ago, this was their debut at Scarborough's mighty Open Air Theatre, and there was a whisper going around that this would be their first gig in two years, which only served to increase the excitement.
First to the stage was the support act, Lucy Blue, who will be touring with the headliners on their upcoming dates. True to form, the good old British weather chose the moment Lucy started to sing to unleash an impressive deluge of rain. But, after 8000 people had risen as one to cover themselves with waterproof layers, they also settled back down as one and gradually fell under the spell of this super-talented Irish singer-songwriter with a gorgeous voice and, no doubt, glittering future.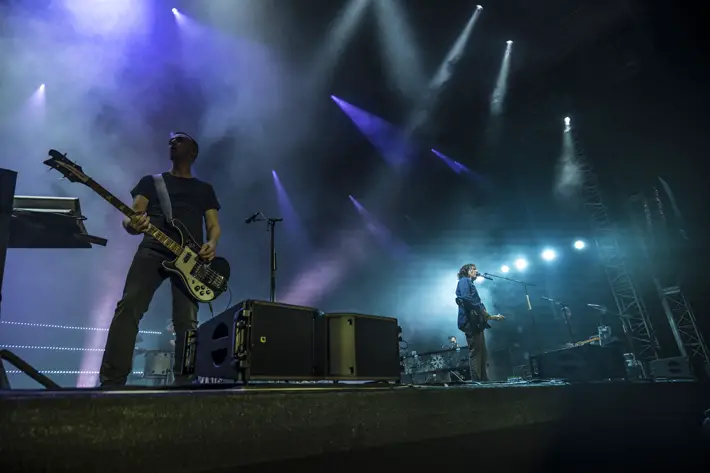 "Pure joy"
A brief pause as the stage was re-set and then, against the velvet (and mercifully dry!) sky of a mild night, Snow Patrol took to the stage with energy amidst whistles, cheers and very enthusiastic applause. Lead singer, Gary Lightbody, confirmed that this was indeed their first gig with full line-up for two years, and shared his delight at being here with us all. That set the mood for the evening at pure joy (and turned it up to 11!) – it was clearly going to be something special.
The set was simple, with one central riser and carefully placed lighting strips, and the band worked the space dynamically, at one point with four of them on guitar lined up along the very front of the stage, which the standing crowd clearly loved!
As for the music, well, the hits just kept on coming! 'Chocolate', 'Just Say Yes', 'You're All I Have', 'Called Out In The Dark', the sublime 'Life on Earth', 'Open Your Eyes' and 'Set the Fire to the Third Bar' amongst many others.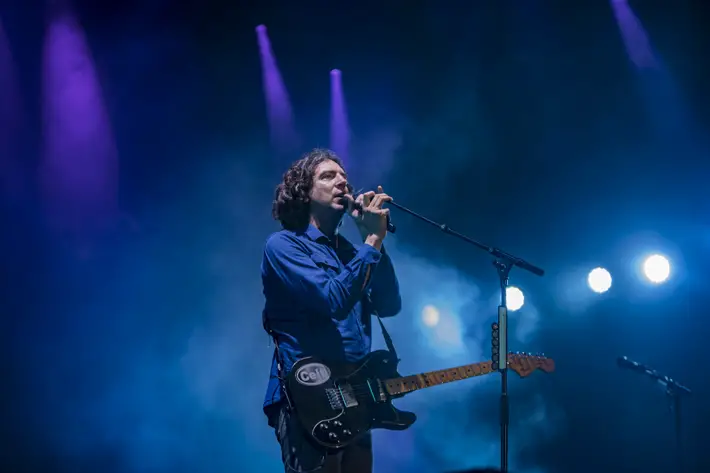 "Very special"
The crowd didn't have to wait too long for Light Up ('Run') and went suitably wild at the opening chords. But, unsurprisingly perhaps, 'Chasing Cars' was the show-stopper. Still so fresh and powerful, the band showed no signs of having played it hundreds of times before and, after the year or so we've had, to be part of that 8000 strong-crowd of people, all with their hands in the air (and, if they were anything like me, tears in their eyes) united in singing of one of the greatest anthems of our time, was truly unforgettable!
The band played for a good hour and a half, rewarded us with two encores (including the gorgeous 'What If This Is All The Love You'll Ever Get?') and thanked the audience so genuinely, that they made us feel as though we had also done something incredible that night.
In fact, the band's interaction and awareness of the audience is one of the things that singled out this gig for me; Gary's happiness at playing in front of a live audience, his chat between songs, his broad smile when we sang lyrics back to him, all made us feel very special and meant this was one of those gigs that we will be so proud to say we were at in years to come.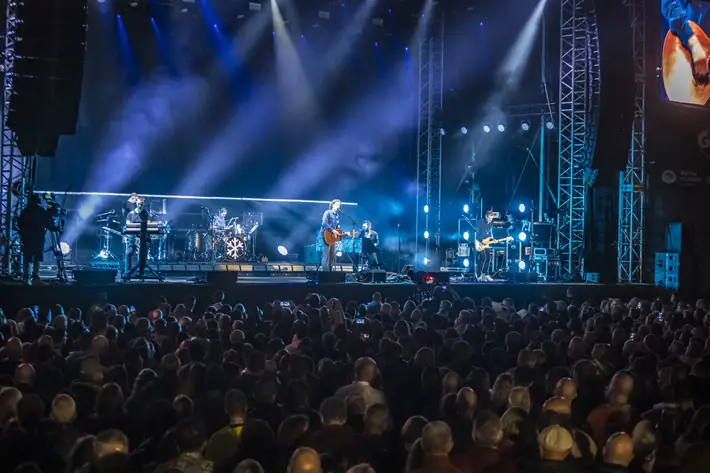 "Feeling of intimacy"
Special mention must go the unbelievably brilliant sound that the Open Air Theatre achieves – it is astonishing! Also, to the layout of the theatre itself, which, despite its enormous size, manages to retain a feeling of intimacy and closeness to the stage, which suited Snow Patrol's connection to the audience so well.
It was a very joyful crowd that streamed away from the theatre that night. It may have been Snow Patrol's first gig in Scarborough but we hope (and suspect) that it won't be their last!
images: Cuffe & Taylor