Hannah Trigwell – Live Review – Headrow House, Leeds
By @Steve Crabtree, September 2018
On the back of becoming BBC Introducing 'Artist of the Week', Hannah Trigwell brought her UK tour to Headrow House in Leeds for its last night before jetting off round Europe to do more of the same. With her new debut album in her back pocket, there's a lot of people who've come out this Sunday evening to see her.
"A certain atmosphere and vibe"
A girl on the rise, Leeds is Hannah's home crowd. And there's a certain atmosphere and vibe inside Headrow House which is not so much a party, but certainly a celebratory kind of feel. Tonight she's playing all the tracks from new album Red which has been a long time in the making. The place is packed with long-term fans (and probably one or two newbies) and we're here to say a massive well done to her, as well as to enjoy each tune from the record live.
So, we've got Hannah Trigwell, her guitars, a loop pedal and copious amounts of dry-ice.  We're in the perfect place to be to hear a very personal, intimate record. And when 9pm comes, Hannah enters the stage with no fan-fare, and says hello. The reception she gets brings a beaming smile to her face, and she's straight in to an acoustic version of 'Is It Wrong'.
'Never Gonna do That Again' follows, and between songs, Hannah's relaxed. And she's happy – she's very happy. She talks to us as she tunes her guitar, asking how we are, and telling us a few stories. Some of them about the tour so far, and some of them explaining the meaning behind some of the songs.  Red is a lyrically strong album – I noticed this on my first play. You know the words have depth behind them, and it's good to hear the meaning of some of them.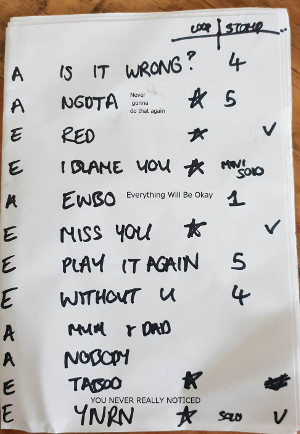 "Building the tunes right there in front of us"
Hannah Trigwell isn't just about vocals and guitar though. She's technically amazing, stripping songs down and then back up again using her loop pedal. Building the tunes right there in front of us, if she never does a full band gig, it'll be ok. This part of her show is fascinating.
Hannah constructed title track 'Red' superbly. Adding the backing vocal/harmony pieces brought home just what a sound this girl can make. I also find myself having a whole new appreciation of 'I Blame You'. The album doesn't have a weak track, but that one probably resonates least with me. Live though, it kicks open my ears to just what a fine piece of music it is, and it gives my favourites on the record a run for their money.
The way she wraps her voice around delicate tunes such as 'Filthy Rich' and 'Without You' is beautiful. There's genuine feeling in Hannah's sound, and I think I spot a tear in her eye as she comes to end of the latter.
There's a lot of audience interaction tonight too, and we bounce back off her as she does us. It's a good-feel kind of night, and we do our bit during 'Everything Will Be OK'. Or at least we did when Hannah stopped everything and told us to try a bit harder!
"Worth the wait"
My new favourite tune 'You Never Really Noticed' isn't played until the end of her main set. I think of this one as 'lazy-soul'; a mid-tempo, chilled track. It reminds me of the tail end of coming round from a hangover, and in this environment, she executed the song perfectly.
We're treated to a one song encore too. Which is a good job, because I don't know if we'd have let her leave the stage before playing 'Another Beautiful Mistake'. One of the strongest songs on the album, and a great way to say goodnight.
It's been nearly a year since I saw Hannah Trigwell at the same place. It was a great gig then, and an even better one now. But it's been worth the wait. Tonight shows why Ed Sheeran among many is a fan, and a Sunday evening listening to Hannah Trigwell is a fine way to end a weekend.
What a brilliant gig. And as she stated herself, after ten years making music, just how long can someone be classed as up-and-coming? Well, Hannah Trigwell is firmly here now. And her album and performance tonight is all the proof you need for that.