Bryan Adams – Live Review – Scarborough Open Air Theatre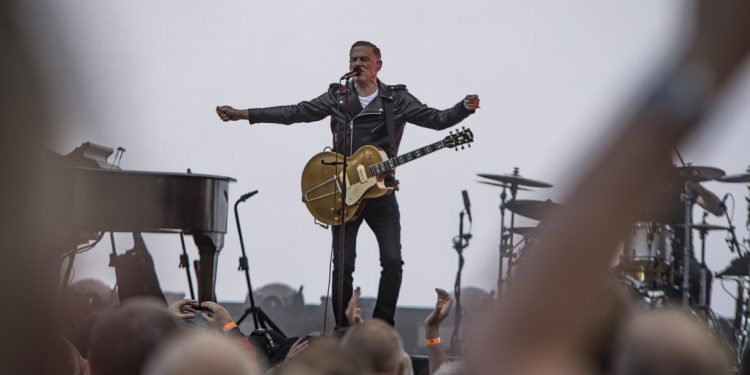 By Roger Crow, July 2022
The sky is the colour of charcoal in Scarborough and rain has been threatening all evening, but the thing about iconic music stars is they can put all of that precipitation nonsense on hold. It happened in 1997 when U2 played Roundhay Park, and it seems Bryan Adams has that same power. (There's even a track on his new album called 'Never Gonna Rain'.)
The fans have turned out in their masses to see the sixtysomething Canadian do his thing, and those expecting a support act are disappointed, in a good way.
Obviously as Covid put life on hold for so long, Bryan and his band are keen to do their thing as soon as possible. As the sunset starts burning through the clouds, they launch with a rib-tickling voice over and video about "In the beginning…" and, well, I'll leave the rest as a surprise.
"As a musician it's so nice to be back on tour after all of that f****** s***!" he exclaims, summing up the feelings of all of us.
What's also a surprise is how good he and the rest of the team sounds.
For many of us there are two phases of Bryan: pre-THAT 1991 song and post. And while I've been a casual fan of his work since the early days, my beaming gig companion who last saw Bry 20 years ago is in her element.
I'm also gobsmacked that he's been doing this since the late 1970s, with those early eighties albums cementing his status as a legend, and I don't use that word lightly.
'Cuts Like a Knife' is naturally on the set list, as are all of those juke box staples.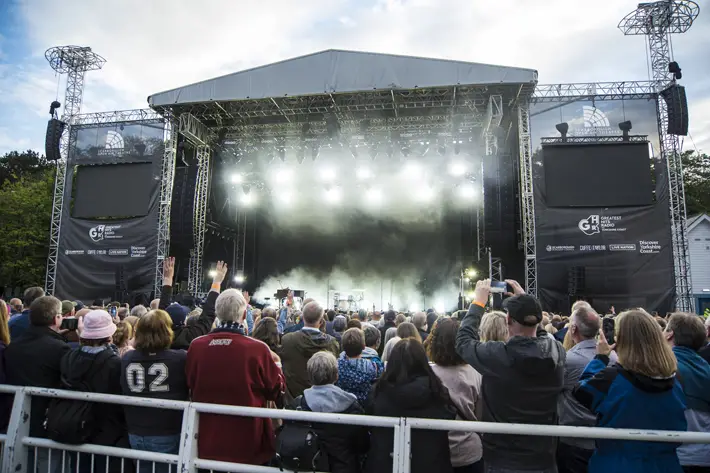 "Timeless"
It was the album Reckless in 1984 where things really gelled, and those stone-cold classics were unleashed on the world.
Adams' banter is up there with the best of them, such as the moment he recalls his early days with a rock icon.
"When I was 24, which wasn't such a long time ago, I got the great opportunity to sing with Tina Turner. And ladies and gentlemen… tonight… (big build up as he gestures to the wings), she's not here."
Massive laugh; audience on side. Job done.
Many of the tracks, 'Run to You', 'Somebody', 'It's Only Love' (with Tina) and 'Heaven' I'd forgotten, but of course nobody could ever forget 'Summer of '69'. Certainly not the crowd at Scarbados, who do most of the heavy lifting during those timeless lyrics. And a wonderful sound it is too, despite my efforts.
Naturally there was a phase when trying to top that success was inconceivable, but Waking Up the Neighbours in 1991 changed things forever with 'Can't Stop This Thing We Started', which gets a great rendition on July 1, and a little track you may have heard of from the most successful film in the UK during '91.
It was that perfect synergy of a blockbuster (Robin Hood: Prince of Thieves) and a love theme feeding off one another… for months.
A 16-week run at number one on the UK charts alone was a phenomenon that still hasn't been topped to this day. And when Adams and the lads perform the latest version of 'Everything I Do, I Do It For You' at the SOAT (with support from thousands of fans), it's the stuff you never forget. I'd go so far as to say it was worth the 100-mile round trip for that alone.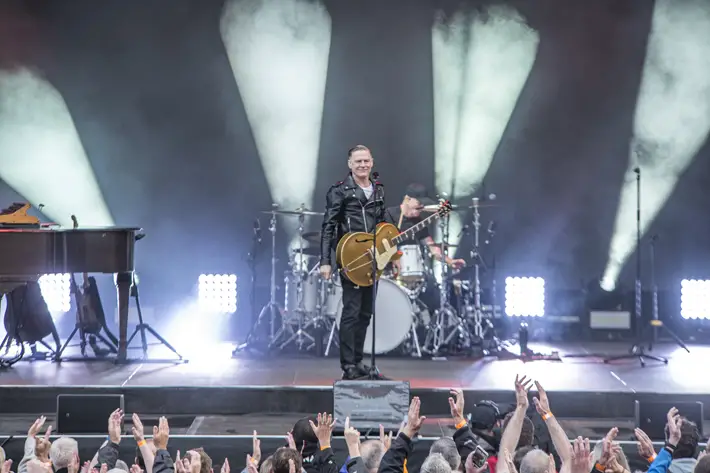 "What a joy"
But of course there's all the other bangers and ballads, including 'When You Really Love a Woman', from the film Don Juan De Marco, and 'All for One', from the movie The Three Musketeers. Yes, given his mammoth success with you know what, there's little wonder Bryan was the go-to guy when it came to selling a movie via a smash song.
Naturally he also belts out 'Baby When You're Gone', and the weird thing is my mind fills in the Mel C bits.
There's only one cover, an impromptu version of 'Can't Take My Eyes Off You', and as ever, it's a feelgood crowd pleaser.
It's the new song 'These Are the Moments that Make Up My Life' which is a beautifully poignant reminder of what a joy it is just to be here, especially after the hell of the past few years.
The atmosphere from start to finish is terrific, and even in the stands there's a fabulous connection with the star attraction thanks to some excellent camerawork and that main screen, as well as those either side of the stage; kudos to the tech team on that front.
For someone who wasn't desperate to see the man himself live, I had zero expectations, but it's a hugely rewarding, 'Kick Ass' gig that ticked all the boxes and then some. And like Simon Le Bon, who is of a similar age to Bryan, he sounds better than ever.
If you are off to see one of Adams' pending shows, chances are you too will be so happy it hurts.
Hmm, good name for an album.
images: Cuffe & Taylor