Local Freaks by Sugarmen – Album Review
by Victoria Holdsworth
In homage to their home city of Liverpool, this debut album tells a story of the people the band have been surrounded by, past present and future.
'Sold' is an in-your-face, quick firing track with some sixties overtones permeating throughout. It is the track that is going to grab you by the throat and make you sit up and take notice from the offset.
The energy and the passion of 'Our Gallows' is punctuated by some memorable riffs and is followed by 'Thunder In The Foothills' which showcases some amazing drum beats.
"Expressive"
The album sounds like a refreshing change, and although I skip 'Time', I cannot deny that the melting pot of talent that exists within these guys makes for some interesting listening.
'Central Line' has a high-spirited guitar line, which will have you tapping your feet and drumming your thighs. Definite nods to The Jam can be heard throughout.
'Rabbit Hole' changes the scene and is melancholic, with riffs and vocals that add an expressive air of nostalgia to the sound.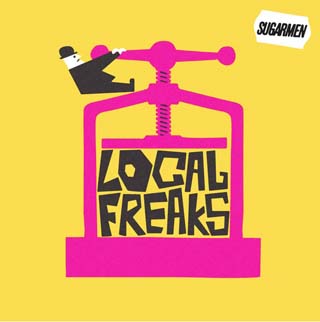 "Brilliance"
The musicianship throughout the album is excellent and exciting to hear. Despite clearly wearing their influences, the band have somehow crafted their own versions of what new versions of these acts would sound like if they were starting out today.
'Save The feeling' and 'This Is My Life' are inventive and rebellious and boldly take this album to a whole new enjoyable level.
'Push Button Age' and 'Golden One' have sections of pure brilliance at times.
Local Freaks is a cleverly constructed album that is showcasing some exceptional talent. If you thought indie rock was dead, then I urge you to reconsider and listen to this album.
8/10