Waxworks (1924) – Film Review
Director: Paul Leni
Cast: Emil Jannings, Conrad Veidt, Werner Krauss
Certificate: PG
by Sarah Morgan
There may be three stories in Paul Leni's German Expressionist anthology, but the chills aren't multiplyin'. Having said that, there is much here to admire.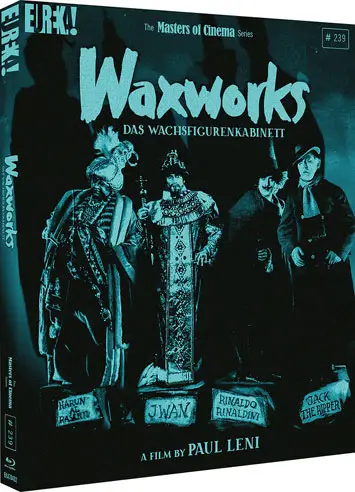 Although often described as a horror movie, Waxworks is as much to do with adventure and romance as it is with scares. There's even a smidgen of comedy thrown in for good measure.
"Wildly fantastic"
It was the director's final German film before he was snapped up by Hollywood. While there he made such memorable movies as The Cat and the Canary and The Man Who Laughs (which reunited him with Conrad Veidt, one of Waxworks' stars); sadly he died just a few years later in 1929 at the age of just 44.
Although Waxworks isn't perhaps as famous as the works he made in America, it does showcase his stylistic approach to film-making. He was an avant-garde painter before becoming a theatre set designer, and it's clear he carried over some of the things he learnt while doing both into his cinematic career – Leni's production contains realistic elements as well as the wildly fantastic and imaginative.
The stories of the lecherous Caliph Harun al-Rashid, Ivan the Terrible and Jack the Ripper are recalled, all linked together by a framing story involving a young writer hired by the owner of a fairground waxworks sideshow to pen descriptions of his exhibits.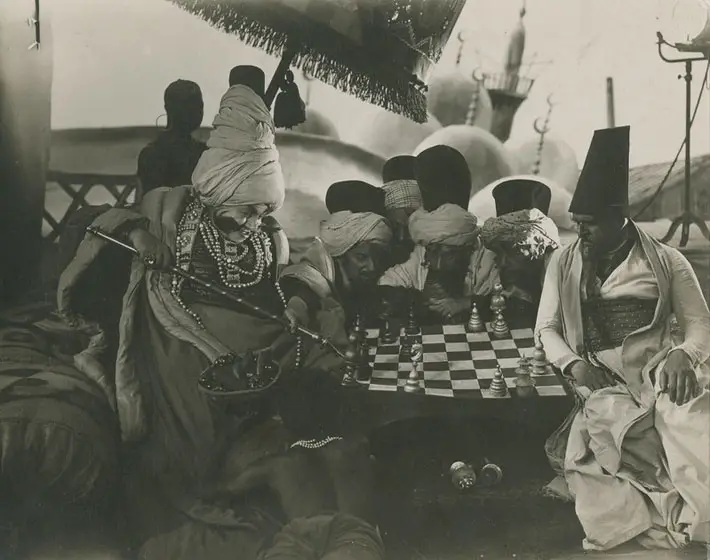 "Importance to horror is without question"
Emil Jannings is the larger-than-life Caliph, Veidt is suitably chilling in the film's standout segment as the cruel Russian Tsar, while Werner Krauss has little to do as the Ripper, which is a missed opportunity. It would have been interesting to see more of the notorious demon of the London fog to get an idea of how he was regarded at the time, less than 40 years after the actual murders took place.
All three actors were huge stars at the time; Veidt and Krauss had appeared together in The Cabinet of Dr Caligari, while four years later, Jannings became the first Best Actor Oscar recipient. Also among the cast is William Diertele as the writer – he would later become a renowned director.
Even if the film fails to chill viewers to the bone, its importance to horror is without question – as an early anthology, it paved the way for the likes of Dead of Night and the many films made by Britain's Amicus Productions in the 1960s and 70s. It was also a forerunner of Mystery of the Wax Museum and House of Wax – even Carry on Screaming could be said to owe it a debt of gratitude!
BLU-RAY SPECIAL FEATURES:
• Limited Edition O-Card slipcase [First Print Run of 2000 copies ONLY]
• 1080p presentation on Blu-ray from a new 2K restoration
• Option of two newly created scores, by Ensemble Musikfabrik; and composer Richard Siedhoff
• Audio commentary with Australian film and arts critic Adrian Martin
• Paul Leni's Rebus-Film Nr. 1-8 – Courtesy of Kino Lorber, these Leni-helmed cinematic crossword puzzles were originally screened in 1920s German cinemas as featurettes accompanying the main film. Each of these animated shorts was split into two parts—a clue and an answer—and presented before and after the visual presentation
• In search of the original version of Paul Leni's ​'Das Wachsfigurenkabinett'​ – An interview with Julia Wallmüller (Deutsche Kinemathek) based on her presentation after the premiere of the restored film at Il Cinema Ritrovato festival in Bologna 2020
• Kim Newman on Waxworks – An in-depth, on-camera interview with journalist, film critic, and fiction writer Kim Newman about the legacy of Waxworks
• PLUS: A collector's booklet featuring new essays by Philip Kemp and Richard Combs on the film's history and significance; notes on the restoration process by the Deutsche Kinemathek; and rarely seen production photographs and promotional material
Waxworks is released on Blu-ray by Eureka, £22.99