Two Witches (2021) – Film Review
Director: Pierre Tsigaridis
Cast: Rebekah Kennedy, Kristina Klebe, Tim Fox
Certificate: 18
By Sarah Morgan
Pierre Tsigaridis. It's not an easy name to say, but perhaps that means it won't be an easy one to forget either, because if his debut feature film is anything to go by, we'll be hearing much more from him over the coming years.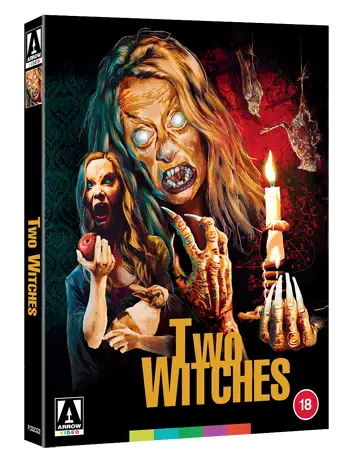 Born and raised in Paris, the writer-director loves horror and cut his directorial teeth on the short film 'I Who Have No One' before taking the reins of Two Witches, a low-budget and inventive tale based in LA, where he now lives.
"Difficult past"
The film is split into two intertwined stories, headed by a prologue that explains just how evil the titular characters are, and followed by an epilogue that sets up a possible sequel.
The first tale, entitled 'The Boogeywoman', involves a pregnant woman, Sarah, and Simon, her partner. After she spots a strange old girl staring at her during a meal at a smart restaurant, a series of bizarre events take place.
Simon thinks Sarah is imagining everything and that how she feels is down to her hormones. However, an evening with his friends Dustin and Melissa, who claims to be a psychic healer, changes all that, leading to the unfolding of a nightmarish scenario.
Then, in 'Masha', we're introduced to the strange, titular character. She's the flatmate of the kindly and amazingly laidback Rachel, who puts up with a lot from her, until Masha starts telling stories about parts of Rachel's difficult past and passing them off as her own.
Unfortunately for Rachel, Masha's grandmother is a witch who, on her death, passes all her occult knowledge onto her already unhinged granddaughter. Suddenly, telling a few tales out of school seems rather tame in comparison to the terrors that then ensue.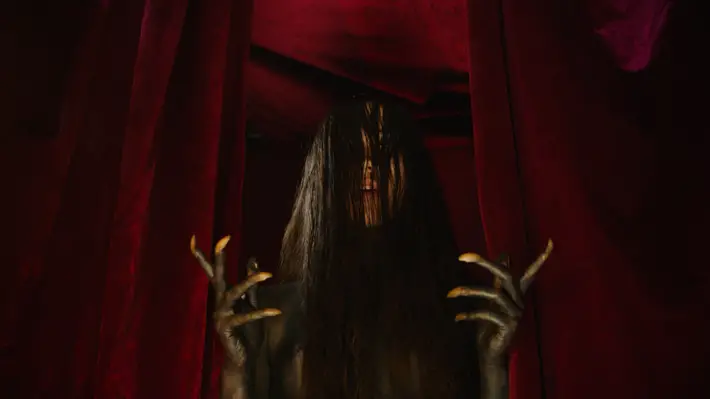 "Disquieting"
Anthology horror movies are not a new idea – Ealing Studios made the best of them all, Dead of Night, way back in 1945, while the production company Amicus became a rival to Hammer via a run of such movies in the 1960s and 1970s, including Dr Terror's House of Horrors, Tales from the Crypt and The Vault of Horror.
Two Witches isn't up to their standard, and yet there is something disquieting about both stories – I guess they show promise rather than feeling like the finished article. The standard of acting isn't the greatest either; although I love a low-budget movie, sometimes being able to afford a better cast can make or break a project.
But, as I suggested at the start, Tsigaridis shows flashes of skill here, proving he has a feel for the genre. I'm looking forward to seeing what he does next.
SPECIAL EDITION CONTENTS:
• High Definition (1080p) Blu-ray presentation
• Original lossless stereo audio and optional 5.1 DTS-HD MA surround audio
• Optional English subtitles for the deaf and hard of hearing
• Brand new audio commentary by director, cinematographer and editor Pierre Tsigaridis
• Brand new audio commentary by producer Maxime Rancon
• Behind the Movie, a two-part behind-the-scenes featurette
• Interview with  actor and associate producer Dina Silva
• The Boogeywoman, an interview with actor Marina Parodi
•  The Original Score, an interview with composer Gioacchino Marincola
• The Piano Score, director Pierre Tsigaridis talks about the inspiration behind the piano score for Two Witches
• Test footage
• Grimmfest 2021 Q&A with Pierre Tsigaridis and Maxime Rancon
• Trailer gallery
• Image gallery accompanied by the film's original score
• Reversible sleeve featuring original and newly commissioned artwork by Ilan Sheady
Two Witches is released on Blu-ray by Arrow, £24.99