The House by the Cemetery (1981) – Film Review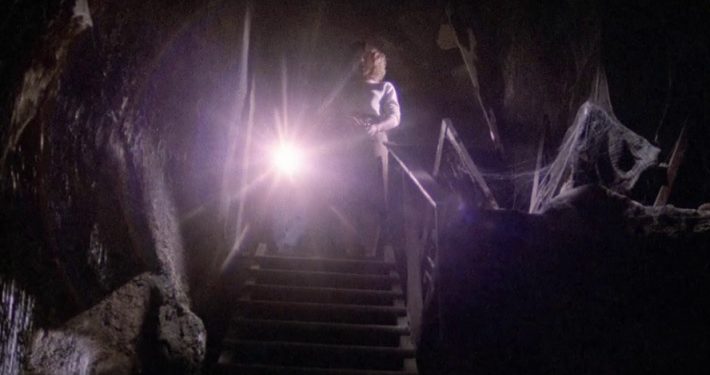 Director: Lucio Fulci
Cast: Catriona MacColl, Paolo Malco, Ania Pieroni
Certificate: 18
by Sarah Morgan
If you're looking for thought-provoking tales with a social conscience, you don't watch a Lucio Fulci movie.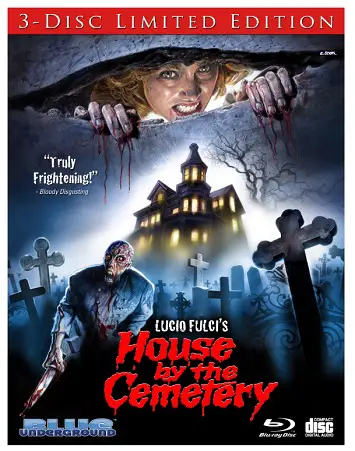 However, if blood, gore and horror are more your bag, then he's the man. Despite directing films across a wide variety of genres, including comedy, western sci-fi and adventure, the Roman native has been nicknamed The Godfather of Gore, and it's for films such as City of the Living Dead, Zombi 2 and The Beyond that he's best known today.
The House by the Cemetery is perhaps his most impressive work. Created as a tribute to influential horror writer HP Lovecraft, it was shot largely on location in New York, Boston and Concord.
"All manner of bizarre events"
At the heart of the story are the Boyle family; dad Norman is an academic relocated to New England to investigate the research of Dr Petersen, a former colleague who committed suicide after killing his mistress.
Norman takes his wife Lucy and their son Bob with him – but makes the mistake of staying in the same house once inhabited by Petersen, and that's where the trouble begins.
Bob befriends a local girl who tries to warn him of the house's dangers. Then, babysitter Ann starts behaving strangely and all manner of bizarre events take place, leading to a fraught and violent conclusion.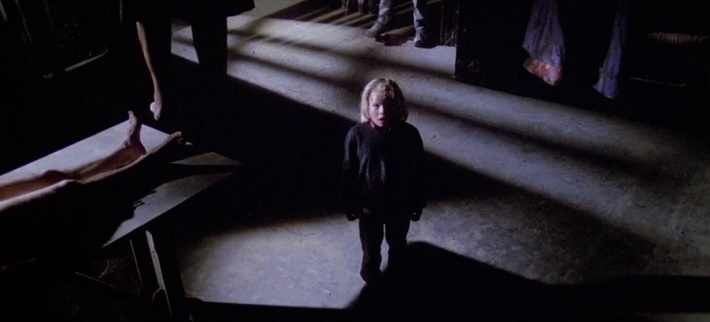 "Beautifully presented"
Fulci pulls no punches in his depiction of the film's goriest moments – nothing is left to the imagination here. Instead, it's all on screen, usually in bright red; subtlety wasn't something the director ever adopted. It's not a truly scary movie, sadly, but there are a few arresting moments and, in fact, the youngster who plays Bob is perhaps the spookiest aspect of the entire production thanks in no small part to his not-quite-angelic features and dubbed voice.
If you're already a fan of the director's work, or love other Italian maestros such as Mario Bava or Dario Argento, you will find something to admire here – I tend to think of Fulci as their lesser cousin.
The three-disc set itself is beautifully presented (the copy I received had a lenticular cover) and there are a wealth of special features to enjoy, in particular interviews with the main actors, including the child stars who are, obviously, now all grown up.
Disc 1 (Blu-ray) Feature Film + Extras
NEW! Audio Commentary with Troy Howarth, Author of Splintered Visions: Lucio Fulci and His Films
Deleted Scene
Theatrical Trailers
TV Spot
Poster & Still Galleries
Disc 2 (Blu-ray) Extras:
Meet the Boyles - Interviews with Stars Catriona MacColl and Paolo Malco
Children of the Night - Interviews with Stars Giovanni Frezza and Silvia Collatina
Tales of Laura Gittleson - Interview with Star Dagmar Lassander
My Time With Terror - Interview with Star Carlo De Mejo
A Haunted House Story - Interviews with Co-Writers Dardano Sacchetti and Elisa Briganti
To Build a Better Death Trap - Interviews with Cinematographer Sergio Salvati, Special Make-Up Effects Artist Maurizio Trani, Special Effects Artist Gino De Rossi, and Actor Giovanni De Nava
NEW!House Quake - Interview with Co-Writer Giorgio Mariuzzo
NEW! Catriona MacColl Q&A
NEW!Calling Dr. Freudstein - Interview with Stephen Thrower, Author of Beyond Terror: The Films of Lucio Fulci
Disc 3 (CD):
THE HOUSE BY THE CEMETERY Original Motion Picture Soundtrack by Walter Rizzati
Collectable Booklet with new essay by Michael Gingold
The House by the Cemetary is released on 3-Disc Limited Edition 4K Blu-ray by MVD, $49.95