Trio of Winter Warmers (Veg Soup, Spanish Cheese Toastie, Chicken and Prawn Pad Thai) – Recipes
A Trio of Winter Warmers
Sorry, salads – move aside. When winter strikes, soups, toasties, and curries are the name of the game. These hot, no-nonsense dishes will get you through the chillier weather.
When the weather gets cold, comfort food rules. Stay toasty with the winter warmers below. From steaming soups and hearty pad thai to indulgent toasties, there's no chance you'll even notice the colder weather!
1. Winter Vegetable Soup with Lentils
Whether you want to lighten up your meals or cosy up with a comforting bowl of soup, this nutritious lentil soup recipe is perfect! It'll certainly become a staple in your kitchen, too.
Loaded with immunity-boosting vitamin C, this hearty soup is perfect for when it's cold outside – plus, it counts for four of your five-a-day.
Packed with red split lentils, celery, leeks, carrots and flavoured with fresh thyme, garlic and coriander, this heart-healthy soup will quickly become your favourite recipe of 2020.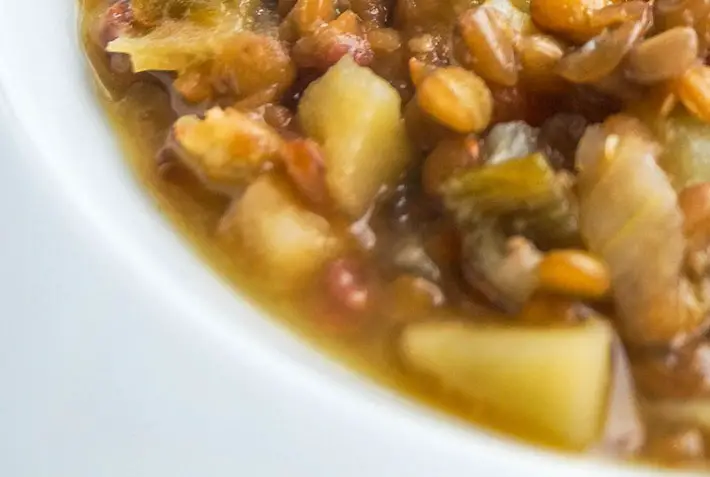 INGREDIENTS:
• 85g dried red lentils
• 2 carrots, quartered lengthways then diced
• 3 sticks celery, sliced
• 2 small leeks, sliced
• 2 tbsp tomato purée
• 1 tbsp fresh thyme leaves
• 3 large garlic cloves, chopped
• 1 tbsp vegetable bouillon powder
• 1 heaped tsp ground coriander
METHOD
• Combine the red lentils, carrots, celery sticks and leeks into a large pan with the tomato purée, fresh thyme leaves, garlic cloves, vegetable bouillon powder and ground coriander.
• Pour over 1.5 litres of boiling water from the kettle, mixing well.
• Cover and leave to simmer until the vegetables and lentils are soft and tender.
• Spoon into bowls and eat immediately. Alternatively, blitz a third of the soup with a hand blender or in a food processor to really thicken the texture.
2. Spanish Cheese Toastie with Chips
Topped with a crisp crown of Manchego cheese, this Spanish-inspired toastie will warm the cockles of anyone's heart this winter. Flavoured with sweet paprika and served with tasty cornichons, anchovies and olives, this dish is the ultimate winter warmer.
The toastie is best served with a few handfuls salad and a couple of scoops of the nation's favourite – McCain straight cut home chips. Crispy, golden and simply delicious, their unique crunchy coating gives them a truly mouth-watering taste.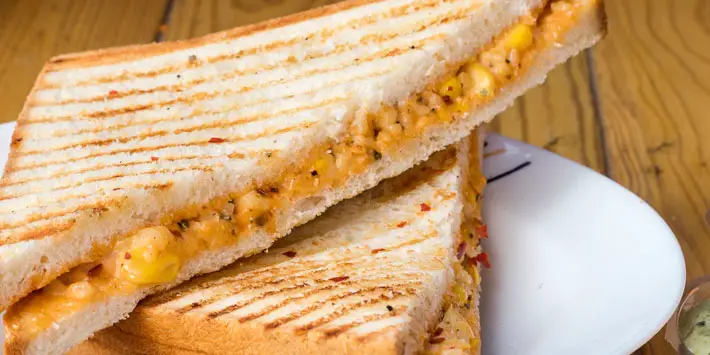 INGREDIENTS
• Unsalted butter or olive oil
• 4 slices of white bread
• 50g Manchego cheese
• 2 jarred roasted red peppers in oil
• A few slices of higher-welfare ibérico ham
• 2 pinches of sweet smoked paprika
• McCain straight cut home chips
METHOD
• Preheat the oven to 220°C and cook McCain straight cut home chips as per packet instructions.
• Coat both sides of the bread slices with the olive oil.
• Grate the majority of the cheese, then sprinkle half over one of the slices of bread.
• Drain the peppers and rip into strips, then layer half onto the bread. Next, top with half the ham. Pop the other slice of bread on top and gently squash together.
• Warm a non-stick frying pan over a medium heat, put the sandwich into the pan, then place a flat weight on top and cook until golden brown.
• Take off the weight, flip the toastie and fry for an additional few minutes. Put the toastie onto a plate.
• Finely grate a small amount of the remaining cheese straight into the pan. Position the toastie on top, grate over some more cheese and sprinkle delicately with paprika.
• Cook the toastie for a further minute or so until the Manchego begins to bubble. Remove toastie from the pan with a fish slice, holding it up for about 30 seconds so the cheese can dribble down and set.
• Use the same process for the rest of the ingredients.
• Plate up the toasties and cut into quarters, quesadilla-style. Serve with cornichons, anchovies and Spanish olives skewered onto cocktail sticks, together with some seasonal salad leaves.
3. Chicken and Prawn Pad Thai
What could be better than a hearty bowl of pad thai? This tasty dish will help take the chill out of winter and is inspired by the flavours of south-east Asia, specifically Thailand. Savour the warming effects of ginger, lime and spicy chillies on both body and soul.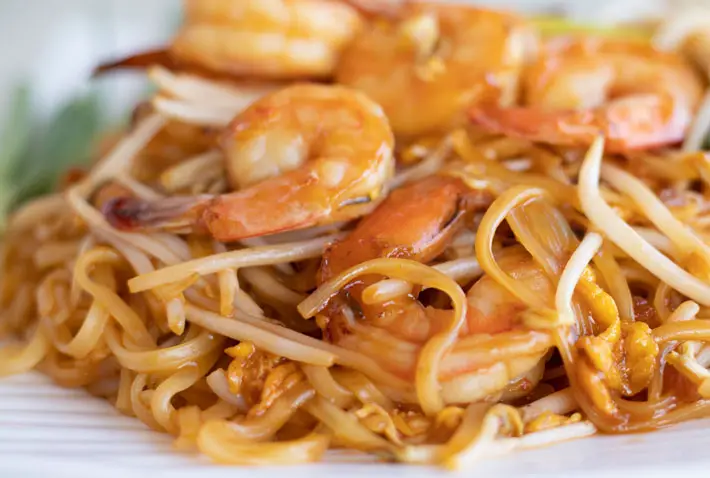 INGREDIENTS
• 125g dried rice stick noodles, broken in half
• 1 tbs sunflower oil
• 200g chicken thigh fillets, cut into 2cm pieces
• 8 large green prawns, peeled, deveined
• 1 egg, lightly beaten
• 100g bean sprouts
• 1/2 bunch garlic chives, cut into 3cm pieces
• chopped roasted peanuts and lime wedges, to serve
Pad Thai sauce
• 2 tsp sunflower oil
• 2 garlic cloves, crushed
• 2 small red chillies, thinly sliced
• 1 tbs finely grated palm sugar or brown sugar
• 1 tsp chopped ginger
• 2 1/2 tbs tamarind puree
• 1 tbs fish sauce
• 1 tsp light soy sauce
METHOD
For the noodles
• Cook noodles as per the packet instructions. Drain and rinse under cold water. Put to one side.
For the Pad Thai sauce
• Warm the oil in a wok over a medium-low heat. Tip in the ginger, garlic and chilli, and fry, stirring, until aromatic.
• Pour in the sugar, tamarind, fish sauce, soy sauce and two tablespoons of water, and cook, stirring, until the sugar liquefies.
• Bring to a simmer and cook until reduced slightly. Move to a small heatproof bowl and leave to cool for a while.
For the garlic
• Give the wok a wipe then pour the oil in. Tip in the chicken and cook, stirring intermittently, until golden and cooked through thoroughly.
• Move chicken to one side of wok and tip the prawns into the empty side.
• Cook until the prawns turn pink and are almost cooked through. Push them to one side with chicken and pour the egg into the empty side. Cook, stirring, until nearly set.
• Combine the bean sprouts, garlic chives, cooked noodles and pad Thai sauce, and fry, tossing together, until heated through.
• Serve into bowls and eat right away. Top with roasted peanuts and serve lime wedges on the side. Enjoy!
When the temperature drops, most of us crave cosy foods. These nutritious, delicious winter recipes will give you all the comfort you need and are packed with good-for-you ingredients.
Keep cosy this winter with the above delectable, warming dishes. From lip-smacking vegetable soup and zingy pad thai to a Spanish twist on the much-loved cheese toastie, we've got your menu sorted.