Righteous Villains (2020) – Film Review
Director: Savvas D Michael
Cast: Lois Brabin-Platt, Gary Dourdan, Adam Deacon
Certificate: TBC
By @Roger Crow
Faustian yarns have been the staple of movies since the year dot, and always will be. However, this one is like nothing else you'll see all year.
Imagine an EastEnders spin-off where Jeremiah (Jamie Crew), a young conman who is desperate for his next money-making scheme, receives a mysterious invite to join the New World Order.
That would take the well-worn soap in an interesting direction.
This secret society of powerful individuals supposedly controls every aspect of the world. As Jeremiah becomes entangled, he realises the sinister motivations of the society are born from sorcery and black magic.

"Destined for cult status"
He and Jolie, a grieving young woman, discover they've descended from a special bloodline, so off they head on a bizarre mission.
Writer/director Savvas D Michael's Original Gangster left me cold, but this has a lot more going for it. It often looks great, and though some of the themes are pretty grim, whether intentional or not, the mix of Good Omens, American Gods, The Wicker Man, Eyes Wide Shut, Mother! and Kill List is occasionally inspired.
With a solid cast, including Gary Dourdan, Adam Deacon and the ever extraordinary Steven Berkoff, this is destined for cult status.
Breakout star is Lois Brabin-Platt, whose potty-mouthed, gun-toting heroine Jolie is a diamond in the rough. Though an early bizarre scene in a car scrapyard could have done with another take, it hardly matters.
Whenever there's a danger of this becoming a bit too pretentious, she comes out with an amusing one-liner which grounds things. (If you're a fan of cult saga Misfits, then Lauren Socha pulled off the same feat).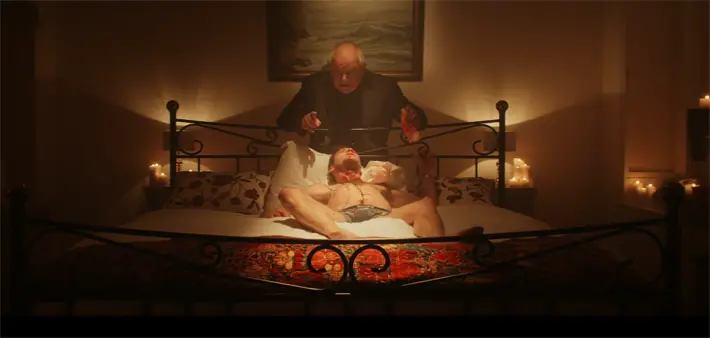 "Jumble of ideas"
Though it runs out of steam towards the end with a disappointing denouement, full marks for effort. There's two thirds of a great film here, and I'm guessing Savvas D Michael has an even more ambitious project up his sleeve as a follow up.
The easily shocked may want to avoid, and there are too many F-bombs to the point of weakening the script, but there's a lot of potential in this jumble of ideas.
I've no doubt Hollywood could remake it, preferably with Nicolas Cage doing his manic thing as Old Nick, and hopefully with a more satisfying finale.
Righteous Villains will be available on DVD & Digital Download from 12th April