Girls Nite Out (1982) – Film Review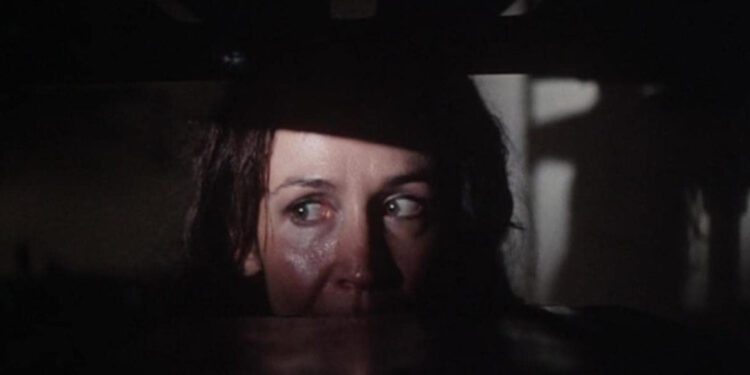 Director: Robert Deubel
Cast: Julia Montgomery, James Carroll, Suzanne Barnes
Certificate:TBC
By Sarah Morgan
You could run but you couldn't hide from slasher movies in the early 1980s.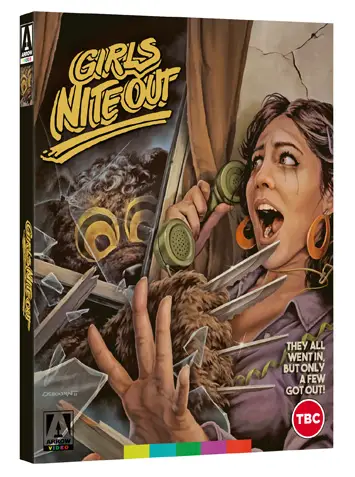 The success of Halloween and Friday the 13th created a raft of copycats all hoping to hit the big time. Most of them proved to be instantly forgettable, despite attempts to find an audience via the then-blossoming video rental market.
"Mysterious figure"
One which is receiving new attention is Girls Nite Out. We're slightly disturbed by its makers' grasp on punctuation and spelling, but the film itself deserves to be better known.
The plot focuses on a group of college students enjoying a raucous party after the success of their university basketball team in a major game. A scavenger hunt is also set to take place, but what none of the revellers realise is that it's they who are being hunted…
The story and its characters are actually rather standard fare. There's the usual batch of jocks, nerds and pretty girls on view, all being terrorised by a mysterious figure, possibly a former student who has been locked up in a nearby asylum since killing the girl who scorned him many years ago.
It doesn't start out promisingly either. Far too much time is given to some really awkward banter between the group, which is presumably meant to set up possible motives for murder and establish certain character types. Instead, it goes on too long, the gags aren't funny and it all gets a bit tiresome.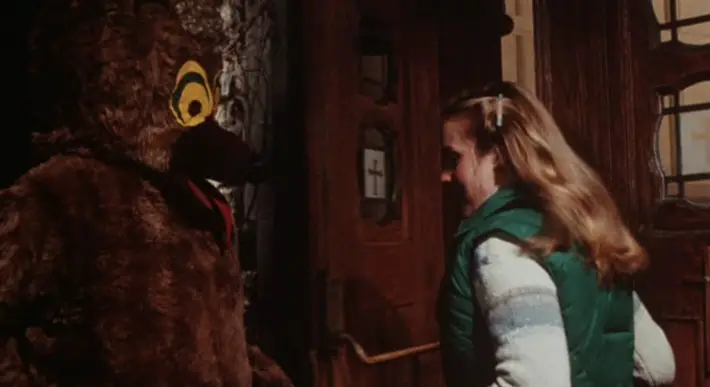 "Die spectacularly"
However, once the slayings begin to kick in, Girls Nite Out becomes a genuinely taut and tension-filled shocker. The unmasking of the killer is done quite well too.
The mostly no-name cast are fine in their lead roles; in truth, apart from those awful opening scenes, they're given little to do apart from look good, scream in the right place and die spectacularly.
Veteran Hal Holbrook also pops up as a security guard – the biggest mystery is how director Robert Deubel persuaded the actor, who by this time had appeared in such acclaimed projects as All the President's Men, Magnum Force and Julia, to take the role.
If you're a fan of the genre and can get past the first half hour or so, you won't be sorry. The interviews with members of the cast in the special features are delightful and revealing too – there's even a rather touching love story involving two of the stars which, perhaps surprisingly, evolved on set.
SPECIAL EDITION CONTENTS:
• Brand new 2K restoration from 35mm vault elements
• High Definition Blu-ray (1080p) presentation
• Original uncompressed mono audio
• Optional English subtitles for the deaf and hard of hearing
• Brand new audio commentary with genre film critic/author Justin Kerswell and film historian/author Amanda Reyes
• Staying Alive – a brand new video interview with actress Julia Montgomery
• A Savage Mauling – a brand new video interview with actress Laura Summer
• Alone in the Dark – a brand new video interview with actress Lois Robbins
• It Was a Party! – a brand new video interview with actor Paul Christie
• Love & Death – a brand new video interview with actors Lauren-Marie Taylor and John Didrichsen
• Archival video interview with actress Julia Montgomery
• The Scaremaker Alternate Title Card
• Original Trailers
• Reversible sleeve featuring original artwork and newly-commissioned artwork by Justin Osbourn
Girls Nite Out is released on Blu-ray by Arrow, £24.99