Dark Encounter (2019) – Film Review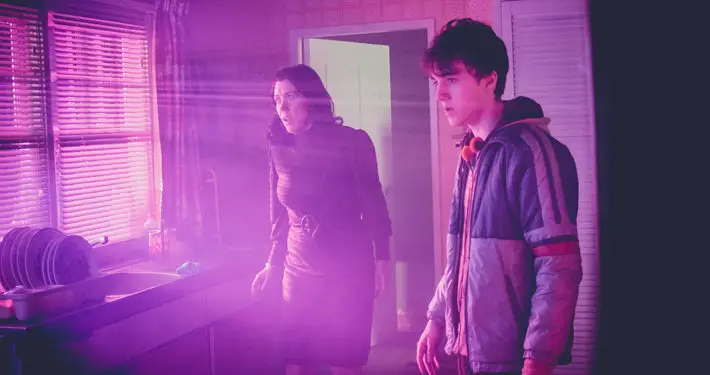 Director: Carl Strathie
Cast: Laura Fraser, Sid Phoenix, Grant Masters
Certificate: 15
by Roger Crow / @RogerCrow
It's the 1980s in small town America. A tap is running. A family comes home, but from that point on, their lives will never be the same. Their little girl is missing, and despite many searches and police investigations, she's nowhere to be found.
Writer/director Carl Strathie proved he could make a nail-biting thriller with Solis a couple of years ago, and as much of a fan as I was of that one-man drama, I did wonder if he could work the same magic again.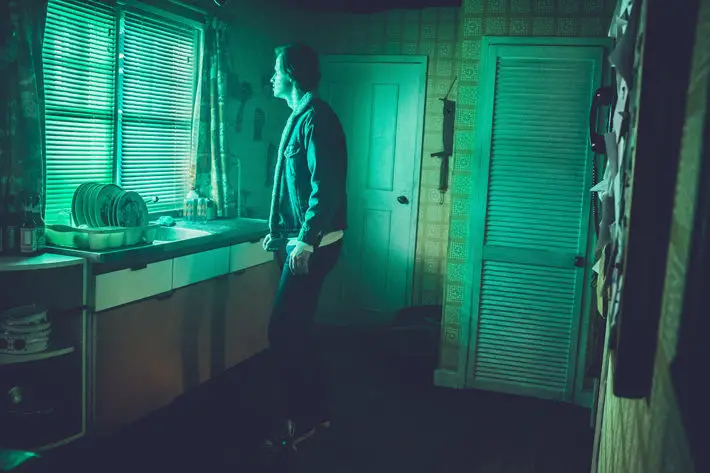 "Small budget goes a long way"
An astronaut tumbling through space was one thing. A well-rounded family in crisis drama set in the States was another. The fact it was filmed in Yorkshire only added to the problems. But it's a critic's job not to care about the behind-the-camera logistics of how it was put together. The big question is: does it work? Well, thankfully yes.
While the first two thirds sees his cast dealing with the disappearance and responding to strange lights in the sky, Strathie's master stroke is the third act when all the pieces of the puzzle come together. I did wonder if this would be all style and no substance; just a homage to classics like Close Encounters and Poltergeist, with a touch of Stranger Things. And while they might be inspirations, the pay off when it comes is superb.
Working with genius cinematographer Bart Sienkewicz again and composer David Stone Hamilton, Carl knows how to make a small budget go a long way. Dark Encounter might have cost the same as the loose change you'll find buried down Spielberg's sofa, but it looks like a quality movie made for 50 times the budget.
"Extraordinary visuals"
The effects by York's own Viridian FX are rather special, and minimal in the right places. Unlike Signs, which also relied on a lot of in-camera trickery, this doesn't feel like a cop out when the strangers at the heart of the drama appear. It feels genuinely weird and otherworldly.
Arguably the star of the show is Laura Fraser, who is a great actress anyway. But her responses to strange goings on are wonderful. As Ad Astra proves, too much dialogue in the face of extraordinary visuals can hamper a movie, and here the balance is just right.
And it's also the little touches that stay in the mind. During my set visit, the producer was researching an in-camera effect that didn't make much sense at the time. As someone who's seen almost every trick in the book, when I see it in context, the result is stunning.
"Best British sci-fi of the year"
For decades CGI has been one of the most overused tools in the film maker's box, so it's great to see directors like Chris Nolan and Carl Strathie resorting to more practical, realistic solutions to incredible visuals. And the fact this finale felt more satisfying than Nolan's Interstellar (possibly also an inspiration) is another feather in Dark Encounter's cap.
For my money, it's the best British sci-fi of the year. The fact I'm still thinking about it two weeks after that first screening is proof of how well it works.
With film three now in pre-production, I'm fascinated to see where Strathie and his team go next.
Dark Encounter is streaming now