Candyman (1992) – Film Review
Director: Bernard Rose
Cast: Virginia Madsen, Xander Berkeley, Tony Todd
Certificate: 18
By Sarah Morgan
Say his name five times – go on, I dare you…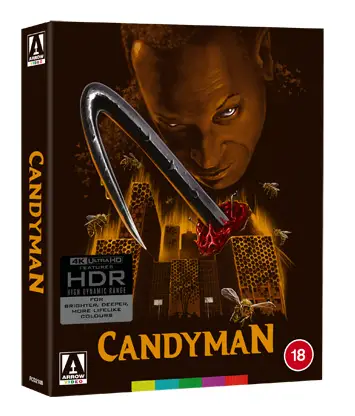 Horror film fans were treated (if that's the right word) to a plethora of gory delights during the 1980s and early 1990s. Many of them seemed to follow a similar pattern, having at their centre an otherworldly villain who, having met an untimely end, returned to the mortal plain to gain bloodthirsty revenge on the human race.
"Hook-handed killer"
Among the better of these offerings was Candyman, based on Clive Barker's short story 'The Forbidden', originally published in his Books of Blood anthology series.
The original tale was set in Barker's native Liverpool, but the film was transported to the more Hollywood-friendly Chicago by writer-director Bernard Rose (he has his own link to Liverpool, having directed the controversial video for local band Frankie Goes to Hollywood's single 'Relax' as well as 'Welcome to the Pleasuredome').
Virginia Madsen takes the lead role of graduate student Helen, whose research for her thesis on folklore leads her to the legend of the Candyman, a hook-handed killer said to haunt one of the toughest areas of the city.
He was the son of a slave who became an esteemed artist. However, his forbidden love for a white woman prompted him to have his hand cut off, be smeared with honey and stung to death by bees before his corpse was burned and his ashes spread across the area where a particular tower block now stands.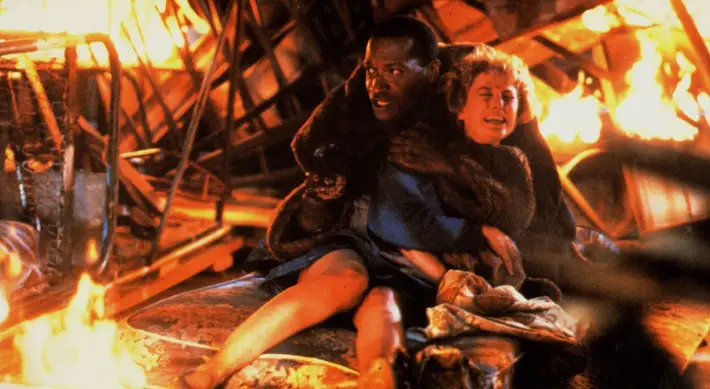 "Steals every scene"
Refusing to believe the locals' warnings, which claim he appears if someone says his name five times, Helen does so – clearly she's never seen a horror movie before, because everyone knows not to succumb to such legends. Sure enough, the Candyman appears, but he doesn't intend to make her one of his regular victims – she is a reminder of his past, so he has something else in store…
Madsen isn't your usual scream queen here, Helen is far too cerebral for that, which is rather refreshing. But it's Tony Todd who steals every scene he's in as the titular terror. Like Madsen's character, he's more rounded than we might expect, and we end up almost understanding what drives him on.
There's plenty of blood and gore on view here (a little too much for my tastes, frankly – I prefer spooky scares to splattered ones), and while some of the scenes look like outtakes from a slick music video – which perhaps isn't a surprise considering the director's previous career – Candyman stands up surprisingly well, 30 years on from its big screen release.
4K ULTRA HD LIMITED EDITION CONTENTS:
• New 4K restoration from the original negative, supervised and approved by writer-director Bernard Rose and director of photography Anthony B. Richmond
• 4K (2160p) UHD Blu-ray presentation in Dolby Vision (HDR10 compatible) of two cuts of the film, the US R-rated version and the original UK theatrical version featuring alternate, more graphic footage, presented via seamless branching
• Original uncompressed stereo audio and optional DTS-HD MA 5.1 and Dolby Atmos surround options
• Audio commentary with writer-director Bernard Rose and actor Tony Todd
• Audio commentary with authors Stephen Jones and Kim Newman
• Be My Victim, an interview with actor Tony Todd
• It Was Always You, Helen, an interview with actor Virginia Madsen
• The Cinema of Clive Barker: The Divine Explicit, an in-depth interview with Clive Barker on Candyman and other adaptations of his work
• The Writing on the Wall: The Production Design of Candyman, an interview with production designer Jane Ann Stewart
• Forbidden Flesh: The Makeup FX of Candyman, interviews with special makeup effects artists Bob Keen, Gary J. Tunicliffe and Mark Coulier
• A Story to Tell: Clive Barker's "The Forbidden", an interview with writer Douglas E. Winter on Barker's seminal Books of Blood and Candyman's source story
• Urban Legend: Unwrapping Candyman, a critical analysis of the film with writers Tananarive Due and Steven Barnes
• Three rarely-seen Bernard Rose short films, restored in HD: A Bomb With No Name on It (1975), The Wreckers (1976) and Looking at Alice (1977)
• Original theatrical trailer
• Image gallery
• Limited edition 40-page perfect-bound booklet reproducing the original hand-painted storyboards by Bernard Rose
• Fully-illustrated collectors' booklet featuring new writing on the film by festival programmer Michael Blyth
• 6 postcard-sized original UK lobby card reproductions
• Reversible sleeve and poster featuring original and new artwork by Gary Pullin
Candyman is released on Limited Edition 4K UHD by Arrow, £34.99