Rocky Marciano: The Brockton Blockbuster by John Jarrett – Review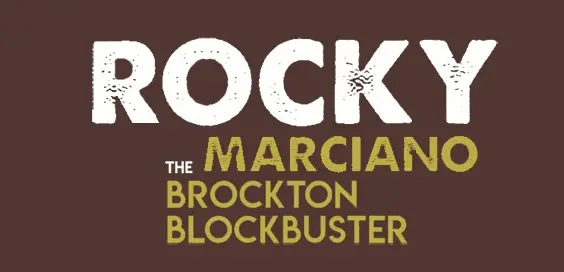 By Victoria Holdsworth
Having grown up in a household that appreciated the sport of boxing, the Brockton Blockbuster, Rocky Marciano, was often mentioned.
As I watched the boxing coverage on the old terrestrial channels back in the 1980s I would love the excitement and passion surrounding each bout, whatever the weight. My mother used to share stories about when she was a child and being allowed to stay up very late into the night to huddle around a radio set with my Grandfather, who would let her listen to the fights, broadcast from Stateside. As the years went on, boxing coverage declined drastically on the television, and was replaced by pay per view, with fights frequently over in a matter of moments.
Most people, when you ask them who the greatest boxers of all time are, might instinctively say Muhammad Ali, or George Foreman. But Rocky Marciano's name is seldom mentioned.
Marciano was one of the most accomplished heavyweight boxers to have graced a ring, with records that stand today – and there was no one that Marciano didn't or wouldn't fight.
John Jarrett has told the tale of Marciano wonderfully, from his tough childhood, and less than savoury beginnings in life, to his ring successes round by round, his continual fight to be the only world heavyweight champion in professional boxing history to retire undefeated, to his lust for life – a lust which ultimately lead to his early death in a plane crash. The author also conveys Marciano's great example of overcoming obstacles and, of course, his burning desire to win.
"Unconventional"
As a child Rocky contracted pneumonia, which nearly killed him, but he came back from being a weak child to a rambunctious youth who never really thought about being a boxer. Young Rocky had his heart set on being a baseball player – and by all accounts he could have made a decent living at the sport. After dropping out of high school and countless manual labour jobs, he was finding it tough to get into any of the local teams to play, so instead he turned his attention to boxing training, with a friend called Allie Colombo.
At the age of just 20, Marciano was called up for service in the US army and served for two years, including being stationed in Swansea, Wales, where he had assisted in ferrying supplies across the English Channel to Normandy. His time in the army developed his boxing interests even further and he won the 1946 Amateur Armed Forces tournament.
By March 17, 1947 Marciano was stepping into the ring as a professional competitor, where he knocked out Lee Epperson in just three rounds. Marciano then returned to the amateur ranks, suffering defeat to Coley Wallace after competing in the AAU Olympic trials in the Boston Garden. Marciano would only fight on one more occasion as an amateur, knocking out George McInnis – but also injuring his hand badly.
This did not stop the short, unconventional boxing wannabe with 'two left feet' and a small 67-inch reach turning professional permanently in 1948. His first professional fight, and win, was against Harry Bilizarian, and it was to become the first of 16 straight wins by knockouts, all before the fifth round – nine of these were in the first round.
"Contrasting opinion"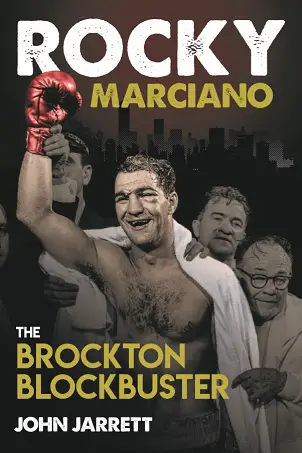 Two of the best chapters in the book cover the many fights he has with Jersey Joe Walcott. Their first encounter was set in Philadelphia on September 23, 1952. At 29-years-old, Rocky Marciano finally got his chance to take a shot at the 38-year-old world champion. Despite the world champion dropping Marciano in the first round, The Brockton Blockbuster recovered to slowly take rounds before the defending champion was hit with Marciano's trademark 'Susie Q' punch. It rendered him motionless on the canvas for the count, leaving the son of Italian immigrants the newly crowned Champion of the World. It was title remained his for the rest of his boxing career, even defending against Walcott a further three times.
The author has used quite a lot of pre-published pieces for each chapter, drawing from many different journalists offerings of the same fight. It's not a lazy device – the pieces that he has chosen show the amount of contrasting opinion there was in print regarding the champion.
Another great boxer who tried on more than one occasion to take the crown from Rocky was Roland La Starza. The challenger put up two good fights against Marciano, but to no avail. Nothing could stop the young Bostonian, even though both of their fights went some distance, with the second re-match won on a technical knockout in the eleventh round.
There was only ever one man who managed to go a full fifteen rounds with the world champion, and that was the equally legendary Ezzard Charles. Their first meeting saw Rocky win on points; however the second ring meeting saw the champ knock Charles out in the eighth round.
Before Marciano even thought about retiring, he fought British heavyweight, Don Cockell, who he knocked out in the ninth round, but it was his last ever fight with Archie Moore, on September 21st 1955, which really cemented what a great a fighter he truly was. It was witnessed by more than 400,000 people watching via the fairly new medium of television.
The bout was originally scheduled for the day before, but because of hurricane warnings, it had to be delayed. Marciano was knocked down for a four count in the second round, but quickly recovered and retained his title with a knockout in round nine.
"Courage and hard work"
When Marciano announced his retirement on April 27th 1956, aged just 32, his fight record stood at 49 wins and zero losses.
Did the champion have any regrets looking back over his career? Surprisingly he did. Rocky Marciano spent so much of his adult life being trained, and conditioned and in return he realised that his family life, which included a wife and young daughter had been neglected. This was a position he was not used to being in, and after hearing from his friends and family members decided to vow to change that situation and become a champion at home too.
Dedicating the rest of his life to his family, he still could not escape the lure of the sport, and was a great ambassador and promoter, often travelling all over the United States to talk about his endeavours as a fighter. Making countless public appearances, often for cash, he would be looked after by businessmen, friends and even mob bosses, who would pay his way, clothe and feed him until his demise. He was respected by all that met and loved him, and after reading this book, you will realise the he was the true essence of what a great man should be.
A risk taker in life, he was often quoted as saying: "If you want to live a full life, then live dangerously."
Never has a statement made been so true. On the eve of his 46th birthday, he had hitched a ride from an appearance on a friend's plane, to try and get back home in time to see his family. Sadly for Rocky Marciano, it was a last minute decision that would end in tragedy, as the plane crashed down in a cornfield in Iowa on 31st August 1969. All three members of the craft died that night, with Marciano's body found underneath the mangled fuselage, a piece of debris having pierced his skull. They had all been killed instantly. He was survived by his wife of 19 years, Barbara, and his two children, Rocco Kevin and Mary Anne.
Marciano's story, if anything, is a story of courage, hard work and true grit and determination, whilst also remaining humble.
One of the toughest brawlers the world has ever seen, unrivalled and undefeated, this remarkable book is the ultimate story of Rocky Marciano's life inside and outside the ring.
'Rocky Marciano: The Brockton Brawler' by John Jarrett is published by Pitch Publishing, £18.99 hardback