The Man Who Put a Curse on Muhammad Ali by Norman Giller – Review
By Karl Hornsey
This is the sort of niche book that Pitch Publishing have become so good at releasing over the years, allowing an author to craft a book about a specific incident or event, while placing it in a wider context for fans or lovers of the sport or sportsperson in question. In this case, it's an addition to the huge library of books written about Muhammad Ali, arguably the most famous sportsperson who ever lived, but focusing on the travails of an underdog from Yorkshire and the remarkable sequence of events that led up to their fight for the world heavyweight boxing crown.
Sadly for prolific author, boxing promoter, scriptwriter and journalist Normal Giller, he was unable to include the thoughts of Halifax-born Richard Dunn, the man at the heart of this story, as he battles the effects of dementia, doubtless brought on by a brutal life in the ring. But it's a story told very much from the inside, as Giller was promoting the fight, which took place in Munich in 1976, in circumstances that even the word chaotic doesn't come close to covering. The events that unfolded most definitely fall into the category of 'you couldn't make it up', and indeed were a film-maker to have brought this to the screen and said it was based on real life, I'm not sure many people would believe them.
"Unforgettable"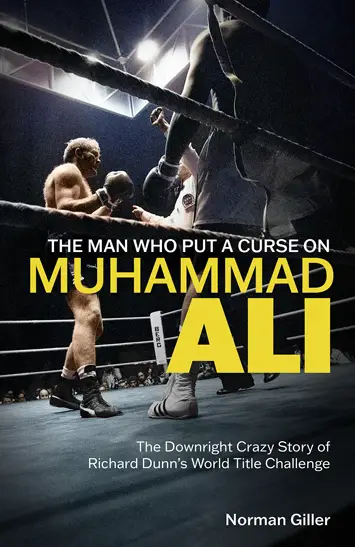 It's a story that works on many levels. There's the tale of the heroic underdog taking on a champion revered by millions for his life and career both inside and outside of the ring. There's a look behind the scenes of a time when even world heavyweight title fights had more than an air of amateurism about them, and the angle of how many people attached themselves to the fight and jumped on the opportunity of spending some time in the spotlight. Giller was at the heart of all this, spoke at length to both Dunn and Ali, and his liking, almost love, for them shines through, as does his enthusiasm for those days almost 50 years ago when so many bizarre circumstances contrived to create an unforgettable, shambolic event.
I would have liked to know more about Dunn, to really delve deeper into his life, especially as Ali's story has been told so often, and I was surprised that only half of this book is actually about the Dunn/Ali fight, with the second half a potted history of heavyweight boxing, going into great depth about the champions who have claimed the various titles, along with some Ali quotes, timeline and ring record. There's an incredible story to be told and it's told well, but some more depth about the characters involved would have stretched that story further and given Dunn his due place at the centre of events for his brief period in the limelight. Despite that, the sheer bizarre nature of this true tale, the enthusiasm of the author and the throwback to a more innocent and naïve time, make it well worth a look.
'The Man Who Put a Curse on Muhammad Ali' by Norman Giller is available from pitchpublishing.co.uk