The Symphonic Sounds of Back to Basics feat. the Orchestra of Opera North – Live Review – Millenium Square, Leeds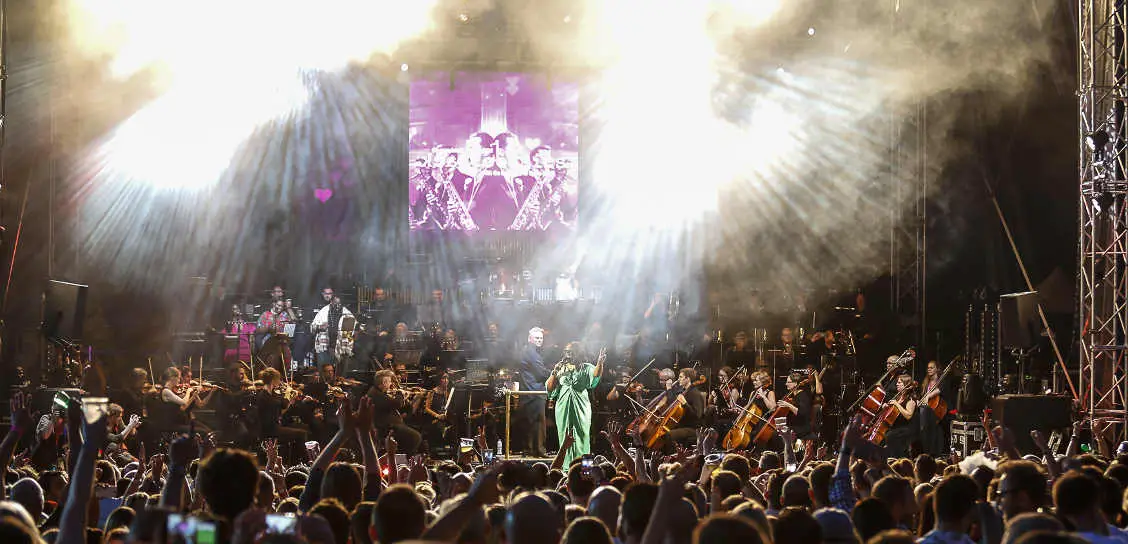 By @Steve Crabtree, August 2018
Millennium Square have been spoiling the people of Leeds over summer with some amazing events. There's been some terrific acts gracing the zone at the top of town, and one of the most popular by far was this one. Back To Basics meets the Opera North Orchestra. One night of nostalgia, and a throw back to a club-scene that really mattered.
We'd had a great day of sun in this crazy-good summer we're having, and we thought we'd avoided the rumoured rain. But as the clock ticked towards 7:30pm, the heavens opened. Really opened. It was torrential, but we were about to be saved by the music.
"A special vibe around the place"
Dave Beer, legendary Back 2 Basics DJ and founder was welcomed to the stage like a hero, and our night began. A night of memorable, classic dance music filling the air, and a 50 piece orchestra started building up a special vibe around the place.
And the line up was incredible. An early doors performance from rave favourites, Shades of Rhythm and 'Everytime I See The Girl' brought the square to life. House diva Alison Limerick looked sensational and sounded even better. 'Where Love Lives', unsurprisingly, was one of the tunes of the evening. 'Make It On My Own' could have gone on for hours and we wouldn't have stopped dancing.
"Loving the rhythm"
And what a space for this kind of show. It's just perfect and if the throw these events on year-on-year, they'll be on to a good thing. There has been complaints about queues for food, the toilet and especially the bar in the past. I myself have queued for over an hour to buy two pints of beer. But if tonight's anything to go by, they've nailed this – the venue seems to be managed brilliantly, and for me it completes the square as a fantastic live venue.
As the night quickly gathered pace, an orchestra-only performance of 'Insomnia' made sure that no-one was in danger of falling asleep. It was the song that highlighted just how good this orchestra are. And the man with the baton, Cliff Masterson was certainly loving the rhythm. He enjoyed turning round and conducting us, and we were loving it even more.
Lead singer of N-Joi, and probably better known as Republica lead singer Saffron took to the stage and blew us away with 'Anthem'.
But British gospel and house singer, Rachel McFarlane was the one who stole the evening. Her vocals absolutely boomed, and she gave the performance of the night. 'Let The Music Lift You Up' was huge. It was powerful, and when she sang, the euphoria in the crowd went up even higher.  I'd have come to see her alone, and I wouldn't be the only one.
"An evening no-one will forget"
Jazz and broken beat vocalist Sara Garvey, best known for her work with Nightmares on Wax was awesome, and Utah Saints looked sharp, performing 'What Can You Do For Me' and 'Something Good'. Dance diva Robin S gave a stunning performance of 'Show Me Love'. You honestly couldn't fault any of the stars who'd come to Yorkshire to team up with Back To Basics, though. They'd delivered an evening no-one will forget.
Come the end of the show, thousands of us felt great. The lights and the music had taken hold of us we were happy. And was it still raining? By that point we didn't care. We'd witnessed an epic night of high-energy, classic dance music; and it was over in a flash.
Thanks, Back To Basics. Thanks, Dave Beer. An absolutely wonderful evening. Same time, same place, 2019?