The Volvo Estate: Design Icon & Faithful Companion by Ashley Hollebone – Review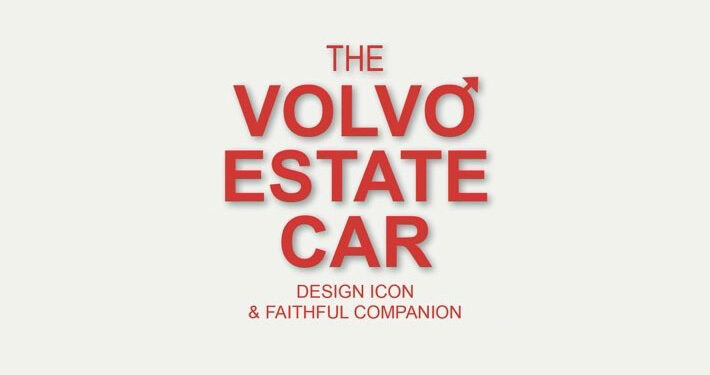 By Liam Bird
Think estate car – or station wagon as they like to call them over The Pond – and it won't be too long before you think Volvo. And yet despite such instant familiarity, not to mention the ability to be recognised by the most car-devoted and the most casual of observers alike, the Volvo estate car – a vehicle often fondly considered a member of the family – has probably not received nearly the amount of media coverage it so rightly deserves.
Recently updated to include the 2019 V90 models, Ashley Hollebone's The Volvo Estate Car Design Icon and Faithful Friend goes someway to put that little automotive publishing misdemeanour right.
Starting with Volvo's beginnings as trademark of the Swedish ball-bearing company SKF – Volvo means 'I roll' in Latin – and charting its progress from a maker of rolling chassis upon which separate coach-builders would construct bespoke bodies, to its now world-renowned (and now Chinese owned) status of that of a premium vehicle manufacturer, great lengths have been gone to pack this 160 page paperback with images and details of every conceivable variant of Volvo estate. Some of the images selected haven't seen the light of day outside of the factory archives until now.
"Instantly identifiable"
From the first ever PV444 of 1953, the rakish early 1970's P1800 E, and the oh-so Margot and Gerry 145 (which from memory always seemed to be painted mustard-yellow), through to 1990's touring-car legend Rickard Rydell's radical 850 racer, right up to the Volvo's latest modern day offerings such as the XC90 and V60 Cross-Country (what are SUVs but high-rise estates, after all?), they're all here. From seven-seaters, to single-seaters – albeit very sturdy, blue and white boxy ones with a reputation for unrivalled safety and an instantly identifiable grille – author and motoring journalist Holleborn has chronologically explored them all.
Usually perhaps, such a tome would appeal only to those with, shall we say… specialist interest? "Isn't that just porn for aged antique dealers?" was the question I was asked upon opening the envelope in which it was delivered to me. Such "witty" quips aside, the truth is whether bought for reference and research, or for just gentle browsing and mild amusement, The Volvo Estate Design Icon and Faithful Friend makes a welcome addition to many a reader's bookcase. And the fact that it does so without costing a premium is also bonus.
Treat yourself. You might learn a little too!
'The Volvo Estate: Design Icon & Faithful Companion' by Ashley Hollebone is published by Veloce, £19.99