Nobody's Child by GJ Urquhart – Review
By Sandra Callard
Gloria J Urquhart was a child born into a post-war dysfunctional family in Yorkshire and was put into a care home in Leeds at the age of three until she was fifteen. Nobody's Child is a record of her years during that time and it is a shattering read. It beggars belief that a so-called civilised Britain in the 1950s could devise a type of incarceration for already damaged children, some only babies, that subjected them to a barbaric regime of disregard and cruelty which was only alleviated by the few caring members of staff who, in necessary secrecy, made a child's life more bearable.
Gloria's story is written with a captivating simplicity that the reader immediately warms to, but as the story moves on it becomes increasingly alarming. The word 'Why' was apparently the queue for a beating, and which Gloria, in all her innocence, would frequently ask. For her sins she suffered numerous beatings from the age of three from the hands of the matron of the home. Gloria does stress that it was only this one person who performed these acts, to her knowledge, for over a decade. The woman was eventually reported and removed from her position, but too late for Gloria and dozens of other beaten children.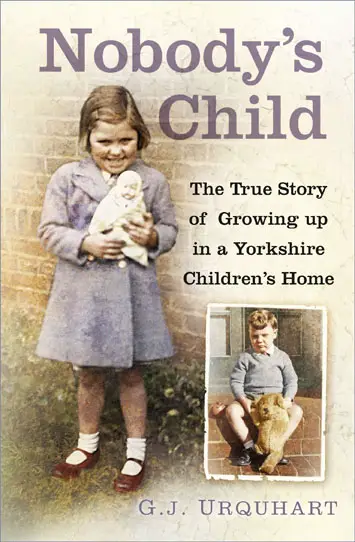 The above brutal behaviour is chronicled by Gloria in a remarkably detached and perceptive manner, which is perhaps how she managed to survive.
The councillors and leading experts in this area had decided, for inexplicable reasons, that siblings who were admitted to Leeds' care homes had to be parted. People could apply to foster a child, ostensibly to see if they were suitable to be adopted, and with the option of refusing them if not, but no siblings could be fostered together.
"Intelligent and resilient"
Gloria knew she had a younger brother, Kevin, and spent years trying to find him but all attempts by her were deliberately blocked.
The front of the book and the few photographs inside show a smiling child in neat clothing and carrying a toy. These pictures were taken during the few happy times she had when a vicar and his wife began to take her out at weekends. She was given no indication as to why this was, and happily accepted the joy it gave her. These times were blissful but short-lived as the vicar had to take a position in another church many miles away and the visits abruptly stopped with no-one telling her why. The subsequent effect on the child as she absorbed her rejection is easy to imagine.
Gloria appears to have been an intelligent and resilient child, which must have helped her come to terms with her unfortunate early years, and it comes as something of a surprise to find that she accepted and kept her strong religious beliefs all her life. These beliefs were nurtured by a very loving foster parent she named Auntie Agnes, who was true to Gloria throughout her life.
Whilst the book is in no way preaching to its readers it nevertheless is pervaded with recollections of Gloria herself, even as a young child, turning to God for help in her bad times, and because these memories are written in a factual way there is no hint that she thinks others should do the same.
This is a story of love, hate and faith, and of a woman finally overcoming, and accepting, the mistakes and cruelties of others. It is heartbreaking stuff and showers shame on the actions and cruelties of an era that badly misjudged its responsibilities.
'Nobody's Child: The True Story of Growing Up in a Yorkshire Children's Home' by GJ Urquhart is published by The History Press, £12.99 paperback