The Year of the Gun by Chris Nickson – Review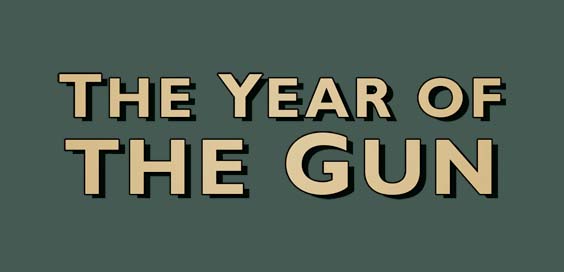 By Sandra Callard
Good crime novels are manna from heaven to readers of the genre, and Chris Nickson's second novel featuring his heroine, WPC Lottie Armstrong, now demoted to WAPC after disobeying orders, gives us another crack at this likeable and witty crime fighter.
The Year of the Gun sounds more like a Chicago gangster novel than one set in Leeds just prior to the end of the Second World War. However, Nickson's outstanding knowledge of, and obvious affection for, his home city and the people who live there, make this fast-moving novel a joy to read.
"Fascinating"
The reader travels through the city beside Lottie and her boss, Detective Chief Superintendent McMillan, with the certainty of radar. The names of long forgotten businesses, streets and buildings flash by, alongside many we would still recognise today.
Lottie and McMillan are on the trail of a blackout serial killer of young service women, and the plot moves with a fast and fluid prose to a shattering climax. The storylines are clear and concise, and the historical detail which Nickson throws in continuously is fascinating. The author gives a very clear and convincing picture of Leeds during wartime, and although never having experienced the blitz on London and other cities to the same horrific extent, the deprivations of the time show clearly in the everyday lives of the characters.
"Brevity of style"
Also beautifully apparent is the gritty spirit that helped Britain survive those times, and the characters fit snugly and convincingly into 1944. The characters are nicely rounded, and the sheer exhaustion of McMillan, past retirement age but staying on because of the war, is almost palpable. His sidekick, Lottie, shoulders a much heavier burden than someone of her rank should to help him out, and proves herself a detective of worth.
The book reads easily, and at first glance is very simply written. This is true, but Nickson has a clever knack of never using superfluous words, and his deft brevity of style keeps the story flowing in a very readable way.
A very pleasant read and I would look forward to any further adventures that author Chris Nickson may allow WAPS Lottie Armstrong to have.
'The Year of the Gun' by Chris Nickson is published by The History Press, £8.99