Not Dark Yet by Peter Robinson – Review
By Sandra Callard
Peter Robinson has done it again with his new Inspector Banks book, Not Dark Yet. It follows the theme that Robinson has adopted of late – Albanian criminals who kidnap young girls of any nationality to work as prostitutes throughout Europe. Not Dark Yet zones in on Zelda, a kidnapped girl who escaped the bonds of prostitution some years ago and now lives quietly in Yorkshire. She is, however, bent on delivering retribution to the men who delivered her into a nightmare life so many years ago.
Prostitution at the darker, vicious end of the trade, is little known to most people, and Robinson's description of it is lurid and shocking, but never gratuitous. He says enough to show his hatred of it and of the perpetrators, but stops short, if only just slightly short, of the graphic details of the practice. Banks himself is on the receiving end of some nasty violence throughout his investigations but his byword seems to be that so long as he is still alive he will carry on.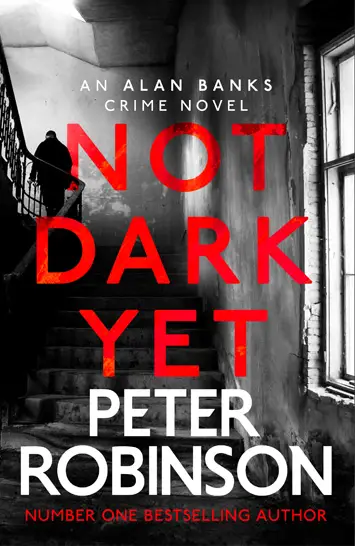 Zelda is missing and Banks' fears for her are valid and frightening, when he receives a call from "Dirty" Dick Burgess, an ex colleague of Banks, and a terrific creation of Robinson's. Burgess now works in London for some shadowy and clandestine bureau, and is asking for Banks' help regarding the death of a northern criminal with ties to the Albanian Mafia. The case becomes intertwined with Zelda's disappearance, and Banks' investigations take him into such malevolent practices that his life is hanging by a thread.
"Unexpected and startling"
Robinson's brilliance for a tight and nerve-racking story is apparent in all of his twenty-seven published books so far. He has a terrific knack of condensing a complicated story into a comprehensive and conceivable narrative, alongside a breakneck speed of action that the reader can follow with a breathless pleasure.
Robinson's early books were all set in a small area of Yorkshire, with some wonderful forays into Leeds, Harrogate and various other parts of the North. His books tended to be whodunits with a limited number of suspects, and he was a local copper who knew the terrain and many of the people. They were superbly readable and many of his fans cut their teeth on them. His later departure into international crime with people, actions and criminality that put what we may call 'normal' murder and the hunt for the murderer, into another league altogether, are very different from his early works and clearly show that Robinson has more than one string to his bow.
Not Dark Yet is almost a story of two different investigations which eventually involve the same thing. Banks' enquiries lead him to Europe, London and back to Yorkshire, as he follows the tracks of Zelda and the Albanians. At home in Yorkshire, Banks' colleagues Annie and Gerry, inspector and constable, investigate a girl's suicide and a crime boss's murder as they unwind the clues that surprisingly impinge on Banks' endeavours. Complicated, unexpected and startling, the story is all that, but Robinson brings all the disparate parts together so cleverly that the result on finishing the novel is a satisfaction that all readers want at the end of a good book.
'Not Dark Yet' by Peter Robinson is published by Hodder & Stoughton, out March 18th, £20 hardback