An Interview with Wilko Johnson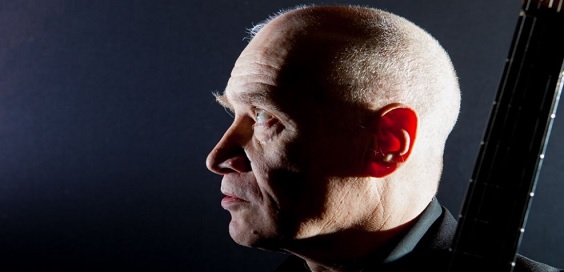 By Roger Crow
Wilko Johnson is one of British music's best-loved characters from his days in Dr Feelgood, to his life as a solo artist. Ahead of his gig at York Barbican, we chat to him about beating cancer, his love of astronomy, why he adored working on Game of Thrones, and being a national treasure…
How are you feeling?
I'm fine thank you very much. Feeling fit as a fiddle.
What can we expect when you play York Barbican?
What can you expect? (laughs) You can expect that same thing.
The usual brand of intense guitar work I imagine?
One does one's best.
"I'm gonna be playing on the street"
There have been so many highs in your career. Where and when were you happiest?
Oh I'm never happy. I'm such a miserable so and so. Well it's got to be when the (Dr) Feelgood thing was happening big. (The album) Stupidity was number one and all that and my family was young. Yeah, that was pretty nice.
You've been working with Roger Daltrey recently. Is there anything else in the pipeline?
We're going to be doing some kind of gig soon. We're doing a lot of things in aid of his Teenage Cancer Trust. I think The Who are gonna be at the Albert Hall… and I'm gonna be playing on the street.
Did you ever think you'd become a national treasure?
(Huge laugh) I don't quite know what that is really. I did find, actually, during that year when I was dying of cancer, the kind of affection you'd experience from people… I'm talking about audiences and just people, it was very good.
"I'm thinking, 'I'm going to have you!'"
How were you perceived after making Julien Temple's film, The Ecstasy of Wilko Johnson?
That was strange. Julien started to make that film while I was dying. I'd got the cancer and I'd just got a few months to live, and then the story just kept getting weirder and weirder. By the end of the year I'm doing the album with Roger Daltrey, thinking it's the last thing I'm ever gonna do, and then people from Addenbrookes Hospital come into the picture and save my life. So I went to hospital, had a long time in hospital, and when I went home to recover and was really weak, Julien comes round and starts filming again. It was just so strange watching that film. I did see it one time at the premiere.
It must have been like an out-of-body experience?
Yeah. In the first half of the film I'm dying. Seeing this person… It was really like looking at someone else. I'm thinking, 'Oh wow man. He's gonna die.' It was very strange. The film is in, kind of, two halves.
How did you find it working on Game of Thrones as mute executioner Ilyn Payne?
Oh I tell you what. That was absolutely great. I don't know how I got it. I'd never done any acting before. I just got this thing: 'Would I attend this audition?' They said it's for an American TV series. I thought it might be like Xena: Warrior Princess or something. I went along and I was the only one they were auditioning. There was just a guy in there with a video camera telling me 'This character I've got to play is really evil', and I'm thinking 'I'm going to have you!' (laughs) And he's going 'Great! You've got the job!'
"Game of Thrones was just so much fun"
Of course the production was a lot bigger than 'Xena'.
Yeah. Going out and doing it I suddenly realised 'Man, it's big. It's a huge thing', and doing it was so much fun; all dressed up with these swords, and standing around with the King and all that. It's like being a kid. You can really pretend, 'Yes, yes, I really am a warrior'. It was just so much fun. And then of course it became so successful, to the extent that when my cancer got into the news, it was reported in America. I think the New York Times described me as 'actor' Wilko Johnson, because I'm much better known there for that little bit than all the twanging I've ever done.
Did your character die?
No, no. That was the thing you see. I don't think he did. I did the first two series, then I got the cancer. My character was to have gone on into the third series, but obviously they couldn't do that, so my character remained alive. When I was in hospital a year or so later, the Game of Thrones producer sent me greetings and flowers and stuff and wished me well, and there was some kind of hint there that maybe they could worm my character back in, but anyway, it didn't happen. What a shame.
"I never listen to my own records or watch me on TV"
Didn't you chop Sean Bean's head off?
I did indeed.
Well it's got to come full circle with his remaining family's revenge.
Yeah, yeah. (laughs)
How do you look back on the young Wilko on shows like The Old Grey Whistle Test?
I never listen to my own records or watch me on TV. I don't like it. There's something weird about it. I don't know what it is, so generally I don't watch it.
As a keen astronomer do you like playing the north because in places there's less light pollution?
Well yeah. In fact I live right in the middle of Southend, and when I go up on my roof, to my dome, my telescope, you're looking out across the town and you can see this miasma of light pollution, and traffic pollution. You can see the Milky Way, but not really clearly. When you get out to the proper country when it's dark, you can really see the Milky Way. My solution is I keep getting bigger and bigger telescopes (laughs). The one I've got now is the biggest one I can possibly put on my roof. If I got a bigger one it'll come crashing through the roof.
images: Leif Laaksonen