Capri and Sorrento, Italy – Travel Review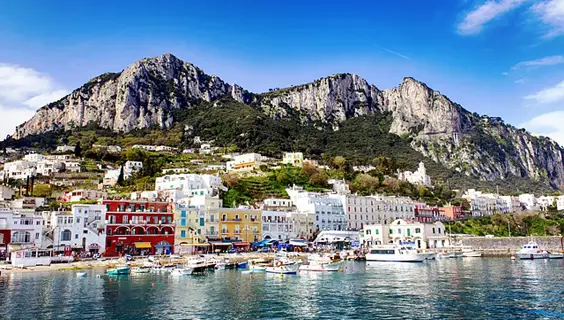 By Lisa Byrne
Before visiting Capri (pictured above) I had lots of preconceived ideas about what this hotbed of European glamour might be like. I envisaged that the island, lying in majestic grandeur in the middle of the dazzling blue Mediterranean, would be stunning yet packed with tourists, popping over from the Amalfi Coast to spend a few hours exploring its decadent beauty. I also thought there'd be hordes of locals, earning a living from tourism, as well as the designer clad jet set, dripping in diamonds, with their gin palaces anchored in the bay. All the above is true but no pre-judgements can prepare you for how absolutely magical Capri is.
Not only does it look heavenly, Capri is populated by warm, passionate islanders enjoying the good life – living off delicious food, glorious wine and lots of relaxation. No wonder a host of superstars including Leonardo DiCaprio, Cara Delevingne, Taylor Swift and Mariah Carey travel across the globe to spend rare holiday-time hopping around the vast array of salubrious watering holes and upscale restaurants. But Capri has been fashionable for decades. It was a favourite destination for old-school stars such as Audrey Hepburn, Grace Kelly, Brigitte Bardot and Jackie Onassis – all following in the footsteps of the first emperor Ceasar Augustus who made the island, which lies close to the Bay of Naples, his private playground in 31BC.
"Amazing sea views"
Sadly, unlike the likes of Leonardo and Mariah, we have no private jet or gin palace to transport us across the sea from the port of Molo Beverello, close to Naples airport. Instead, we cram into a packed ferry for the 25 minute crossing. On arrival, we are swiftly whisked away in a classic 1950s car uphill through winding roads, until we finally arrived at our destination – a salmon-pink palace called Punta Tragara. This five star luxury hotel was originally built in 1920 by Lombardy-born engineer Emilio Errico Vismara, who chose this spot due to its amazing sea views from the Faraglioni rock formations.
We're escorted to our sumptuous suite situated at the very top of this art-deco style hotel, boasting breathtaking views of the sea, pool and restaurant. After an invigorating power shower and endeavouring to look as elegant as possible to fit in with the chic set, we go down to dinner at Le Monzù Restaurant. The charming chef Lionetti rustled up a delicious feast of renowned dishes of the island, a firm favourite being the fish carpaccio, divine pasta in a lobster sauce and the best Caprese salad we've ever tasted. After a delicious dinner we spent the rest of the evening sipping yummy Baileys coffee on the terrace while gazing out over the bay.
"Masterpieces"
After a refreshing night's sleep, we spent a few hours reclining by the pool, devouring the latest Jilly Cooper bonkbuster before taking a stroll back into Capri's town centre. Savouring a glass of an Aperol Spritz sundowner in Piazza Umbreto while checking out the uber glam locals, is the height of relaxation. This stunning square, right beside the historic clock tower, is a fantastic location to watch the flow of perma tanned gazzillionaires, clad in Chanel or Armani, ramble from exclusive boutiques to high-end stores, laden down with bags of designer booty.
Later that day, we ate at the world-famous Mammà Restaurant, a stone's throw from Capri's Piazzetta and presided over by chef Salvatore La Ragione, who creates masterpieces based on simple yet complex ingredients. 'I wake up every day at 6:30am and I go to choose the best products and cook them. Just like mama would do!,' he told S Magazine.
"Glorious"
We feasted on aubergine parmigiana, ravioli Caprese style and grilled octopus with courgette, topinambur and broccoli. The combination of exquisite food and excellent service made Mammà one of our favourite restaurant destinations, well deserving of its Michelin Star accreditation.
Sadly it was time to leave our heavenly island, but as we crammed back onto the ferry our spirits lifted with the knowledge that we were heading to the glorious five-star Grand Hotel Excelsior Vittoria in Sorrento town centre. On arrival, we were taken to a magnificently ornate suite with astonishing views of the sea, a perfect place to watch the enormous yachts gliding past with the foreboding Mount Vesuvius in the background. This iconic hotel on the Amalfi Coast – an essential destination as part of the historic Grand Tour – was loved by Byron, Dickens and Tolstoy. The splendid Excelsior Vittoria has also played host to many celebrities including Marilyn Monroe, Sophia Loren and Luciano Pavarotti, whose glorious images peer down at you from the wood-panelled walls.
"Wonderfully preserved"
Sorrento is a fabulous, bustling town, packed with gorgeous cafes, charming boutiques, shops fit to bust with bottles of the local refreshment, Lemoncello and lots of friendly bars – we even managed to find a delightful Irish pub called Chaplins which showed the Gaelic Football final.
And, if you want a change of scene Pompeii is just a short train journey away – where you can view the fascinating but horrific remains of the destruction caused by the eruption of Mount Vesuvius in 79AD. I would highly recommend visiting either early morning or towards the end of the day as Pompeii can become horrendously crowded at other times. Wandering around this wonderfully preserved archaeological site, you can really savour the daily life of the inhabitants who once occupied this thriving Roman city – with its amphitheatre, bars, forum and brothels.
Punta Tragara has rooms available from €600 per room per night, based on two adults sharing a room on a B&B basis. For further details, please visit www.hoteltragara.com/en.
The Grand Hotel Excelsior Vittoria, Sorrento has rooms from €460 per night, based on 2 sharing a classic garden view room on a b&b basis (excluding 10% VAT). For further information on The Grand Hotel Excelsior Vittoria please visit www.exvitt.it or call the hotel on +39 081 877 7845. Grand Hotel Excelsior Vittoria, Piazza Tasso, 34 – 80067, Sorrento, Italy.