5 Ways To Level Up Your Bedroom
Struggling to sleep? Or just sick of your bedroom looking a bit boring? Well with the latest in technology and sustainable fabrics there are numerous ways in which you can level up your bedroom and ensure that ultimate comfort all year round. With Bedding that bounces back. Smartfil® our ultra-washable, shape-retaining fibre, bedding made out of Approximately 120 bottles recycled plastic bottles and intelligent thermoregulation technology to regulate your temperature. You won't be short of ideas with our five product ideas to reinvent your night time set up!
1. Smart Temperature Bedding
Ever wanted bedding that cools you off? Well with the latest in technology now it's possible.
With the Smart Temperature Duvet Cover using a unique Smart Temp™ technology to adapt to your body temperature throughout the night. Its adaptive technology ensures a temperature controlled restful night's sleep. It's a revolutionary product for those with night sweats, cooling you off in your sleep before you're hot enough to awaken.The world of bedding is being revolutionised by this HeiQ Smart Temp technology, which gives materials dynamic heat response capabilities dependent on the individual's body temperature. By utilising a revolutionary polymer technology, it's the first to give both instant and continuous cooling technology. Alongside Cooling Bed Sheets as a part of the Smart Temperature range, they are a huge level up for your bedding, as well as it being made of 100% cotton with a soft 200 thread count, it's a real showstopper.
2. Coverless Duvet
Gone are the days of struggling with trying to fit a bed sheet. With the coverless duvet reinventing the market, the idea of eliminating the cover and reinventing the duvet, results in an exciting reimagination. A great way to level up your bedding with the stylish design and its pure convenience. Whether you want a linen coverless duvet, pure cotton coverless duvet for a more premium feel or even a coverless duvet as a sleeping bag for camping there is a coverless option for you. With its lightweight qualities and its fast drying abilities, it brings the comfort and the stylish design without the fuss of a duvet sheet. Simply wash the duvet directly once you think it needs changing, and the fast drying abilities will mean you can reuse it that very night.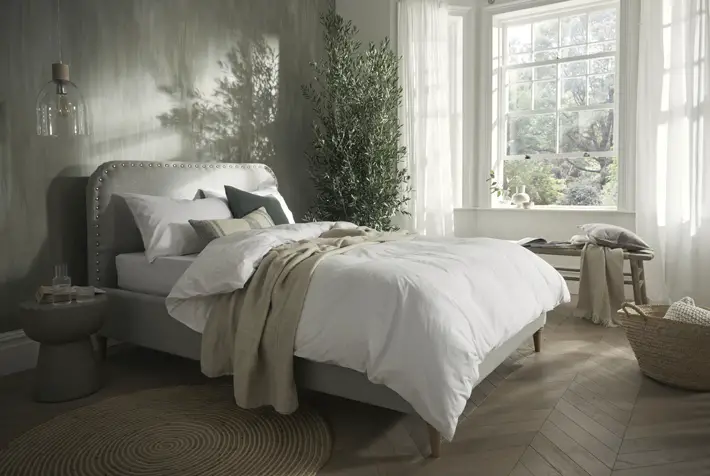 3. De-stressing Crystal Pillows
Whether you're trying to level up your bedroom for the aesthetic or purely for comfort. Opting for a De-Stress biocrystal pillow may be the solution you're looking for. Combining 16 different types of crystals, and working to a distance of 50cm through your pillow cover. The crystal powder immersed into the 100% cotton cover in a subtle geometric pattern, will be the wow factor you're looking for.
4. Washable Fabrics that don't lose their bounce
Thanks to Smartfil® Microfibre, being a patented fibre it demonstrates unique qualities that provide the ultimate bounce and softness to your bedtime set up. Now Mattress Toppers and duvets can now be endlessly washed at 60 degrees, the temperature it takes to eliminate that of dust mites, and not lose its bounce nor its character. With the shape retaining material also being sustainable it's a great option to revamp your bedroom for the long run.
5. Sustainable Bedding
When it comes to sourcing bedding, it can be tricky to find one that is planet conscious. There are businesses out there that provide the very best in affordable luxury bedding, whilst also being committed to responsible business practices from resourcing sustainable cotton to making their products in a 100% renewable efficient eco factory. With products that are 100% cotton sourced through the Better Cotton initiative, it's an exceptionally important aspect due to cotton extraction being the most sought after but also the most toxic and harmful to the environment. Due to its water usage, its use of extensive land and toxic chemicals. Therefore the BCI, a non-profit organisation ensures the standard for cotton farming, helping communities survive whilst protecting the environment. Therefore a key thing to look out for the next time you're sourcing a bedroom revamp!