The York Roast Co, York – Restaurant Review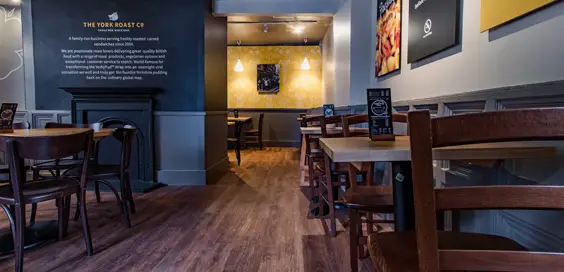 By @Roger Crow
Where would be be without the good old Yorkshire pudding? It's far more than just the staple of many a Sunday dinner. It's comfort food, like a blanket of goodness that melts on the tongue. And while many of us just save it for that meal at the start of a new week, there is of course a York outlet that has tightly turned it into a global sensation.
Chances are you'll remember the The York Roast Co's Yorkshire Pudding wrap, which caught the imagination of many a while ago. One bite-sized BBC report, complete with the Hovis theme (okay, Dvorak's 'New World Symphony'), had 25 million views. Apparently people were "travelling from all over the country to try it". If they were, then good. It's that sort of marketing ingenuity that made Blighty great.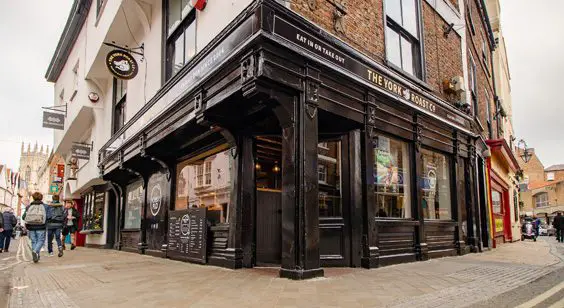 "Ready to go"
So, with an hour to go before I'm due at the theatre, I wonder how fast I can enjoy one of The York Roast Co's disposable Yorkshire pudding meals without suffering indigestion. (I'm of an age where I only have to look at some food and suffer acid-related repercussions for the following hour or so).
Within five to 10 minutes of entering the shop on Low Petergate (which now boasts a swish new exterior after a refurb) and placing my order, it's pretty much ready to go. Or rather stay, as I opt for a sit-down meal upstairs. Apparently the kitchen has been extended, so there should be less waiting time, and those that do dine in can can enjoy the "rustic, solid timber tables and chairs complemented with natural earthy tones".
"A lot for your money"
Okay, I'll admit the cardboard packaging and plastic cutlery does make it a bit of a trial compared to their globally famous wrap. And while my pork version of the meal comes with delicious roast potatoes and stuffing balls in disposable coffee cups, I realise that if it were later in the evening, I might get a rude awakening when bleary eyed I reach for my cappuccino and get a potato-ccino instead.
But as I recall from a previous visit a couple of years ago, it's great that there's somewhere dispensing a change from the usual late-night burgers and kebabs after a show kicks out.
The food itself is pretty tasty, and you get a lot for your money. The good news is at £7.80 for the pork Yorkshire pudding meal, complete with roast potatoes, seasonal veg, stuffing, gravy and sauce, it won't break the bank. The beef version is £8.40, and the veggie version is a mere £5.85. I doubt anyone would leave feeling short-changed.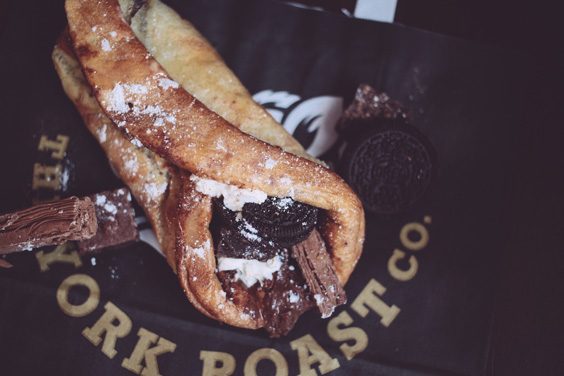 "Sense of well being"
It was good to see the company branching out further earlier this year with a trial of sweet versions of the good old Yorkshire pud. Hopefully they'll find a permanent place on the menu some time soon. It's the next logical step for a company who's not afraid to take risks.
Thankfully it's not long before I am sat in the theatre with that sense of well being which can only be achieved with the aid of essentially a Sunday dinner… on a Monday.
The jury is still out on whether I'd go for the handier wrap or the meal in a box. But if you've not tried it before it's well worth a go. After all, the proof of the pudding is in the eating.