Harvey Nichols Fourth Floor Brasserie and Bar, Leeds – Restaurant Review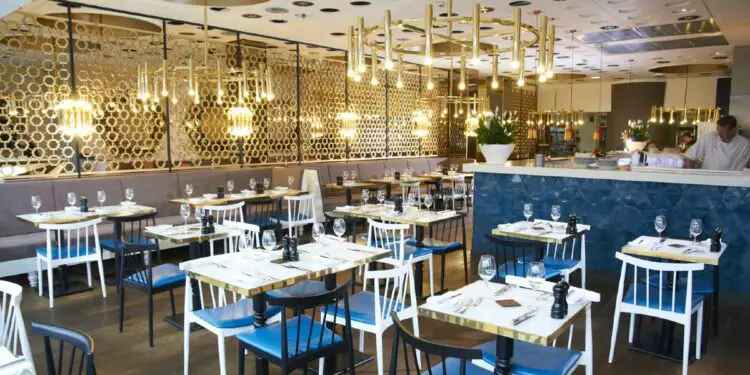 Remember those days when we could head out into Leeds for a Friday night meal? It did used to be a thing, believe it or not. And shortly before the last round of restrictions, a friend and I booked into the Fourth Floor Brasserie and Bar at the Harvey Nichols department store.
It's got a good reputation as a place for quality dining in nice surroundings. And when we arrived, we found out the latter was certainly correct. The brasserie is a nice, clean space. It's a modern stylish restaurant, not over the top, with lovely details in the light fittings, the tiles, and the mirrors adorning the wall.
Masked up, we were welcomed in warmly, and safely. We were led to a booth on the right-hand side of the brasserie and presented with our glass of fizz.
The seasonal prix-fixe menu that we'd come to check out promises three mouth-watering courses, with the fizz included. And as we got comfortable, and became mask-free, we had a look at the menu.
"Mouth watering"
Our entrée options sounded lovely. We had the choice of Spiced Pumpkin Velouté, or the Ham Hock Tart. It was an easy choice really – my friend is vegetarian and the velouté was right up her street. And the Ham Hock Tart ticked my box, so I plumped for that.
But it was one main-course choice in particular that really got my mouth watering. My favourite dish; Braised Ox Cheek. It's an offering that isn't around anywhere near as much as I'd like, and when it's there I take it.  So I didn't have any problems making my decision on that one, and my friend liked the sound of the Wild Mushroom Fettuccine.
There's a nice, genuine level of service from the team at Fourth Floor Brasserie. We were very nicely taken care of, and the cheeriness of the staff didn't go unnoticed.
As the room began to fill up, our starters arrived – and they looked delicious. Created by Head Chef Lee Heptinstall, the presentation was beautiful and if it tasted as good, we were going to be happy.
The Ham Hock Tart was compact, with a sweeping of piccalilli relish around a light pastry base. It was a fresh-tasting plate and an enjoyable start to the meal. It was cool and light, and the relish had a tangy kick to it, pairing up well with the soft ham.
Across the table, my friend was also enjoying her dish. The Velouté came with kohlrabi, smoked plaice, and toasted pumpkin seeds. There was a dash of pumpkin oil added as well. For her, it was a lovely dish, and it was nicely fragrant – a warm autumn-winter kind of aroma.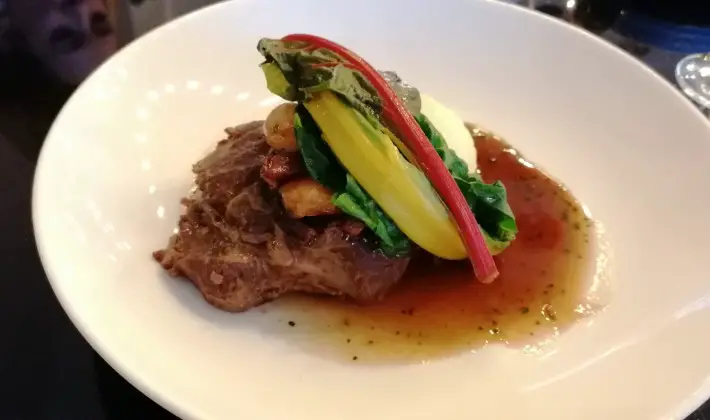 "Soft and succulent"
With two clean plates, we were pleased with our starters. We were also pleased to see diners embracing the social distancing efforts of the Fourth Floor Brasserie too. It can't have been easy for staff to constantly be in a mask, but they were still very cheery and upbeat, and it was nice to see.
After our plates had been cleared, I tried to tell my friend what was so special about Braised Ox Cheek. I couldn't find the right words though, so I just had to show her when the mains arrived. And I wasn't going to be disappointed.  Served up with mashed potato, chard, and bourguignon sauce, I got a deep waft of a hearty meal, and slid my fork into the Ox Cheek. And in a melting motion, the meat just fell apart. It was so soft and succulent and it was cooked perfectly. Just as it should be. The mash was a nice consistency, and the chard and sauce completed a perfect main course.  It tasted beautiful, and I took my time to savour it.
There was much satisfaction coming from my friend as well. Her wild mushroom fettuccine was again very flavoursome, and with it came roasted Jerusalem artichokes, rocket and parmesan.  So far, we'd had a sumptuous and tasty meal, and it was all created with locally sourced ingredients. But there was more to come too.
"Delightful"
We decided to do dessert. We'd loved our meal so far, it wouldn't have been right not to have a little bit more. And what a great way to end our visit. I went for the Dark Chocolate and Olive Oil Tart with Spiced Poached Pear and Vanilla Mascarpone; and my friend decided she'd go for the Sticky Toffee Pudding.
The Sticky Toffee pud was probably victorious in the battle of the desserts. "Delightful" is how she described it. With a lashing of salted caramel sauce, candied pecans and vanilla ice cream – it was definitely a winner. But my Dark Chocolate Tart had a nice level of richness, and I wasn't disappointed with my choice.
We'd had a really nice couple of hours at the Fourth Floor Brasserie. Lovely staff, lovely atmosphere, lovely place, and incredibly tasty food. When we're able to head out to eat again, this place is certainly one to get yourself booked in to. And if they have the Braised Ox Cheek… you know what to do.
Fourth Floor Brasserie and Bar, 107-111 Briggate, Harvey Nichols Fourth Floor, Leeds LS1 6AZ
Opening Hours:
Monday to Thursday: 11am – 6pm
Friday: 11am – 9pm
Saturday: 10am – 9pm
Sunday: 11am – 5pm
0113 204 8000
harveynichols.com