Arts, Leeds – Restaurant Review
By Richard Mansfield
A midweek evening in late July during a nationwide heatwave and an early 6pm sitting at Arts (or Arts Café as it is sometimes called) on the edge of Leeds' retail district. The location, on Call Lane, is perhaps less than glamorous, but the very facade of this restaurant offers a lift to the street and is enticing to passers-by. On such a warm evening it is unfortunate that there isn't an opportunity to dine al fresco; somewhat perversely it is the pavement opposite that has been widened and enables this facility.
This restaurant first opened twenty-five years ago and so must be considered to be well-established and to have developed a sufficient reputation to thrive as an independent business catering to those with a discerning palate. Competing in a city with a thriving, but ultra-competitive restaurant culture, it is clear that Arts must be doing things right.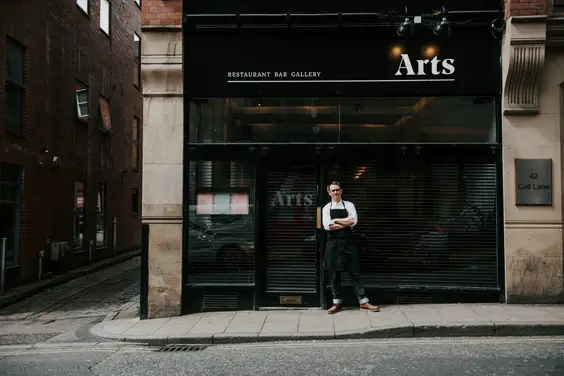 "Intimate and buzzy"
The interior, offering about twenty tables is in what seems now to be modern style with wooden floor, high ceiling, subtle décor and sensible lighting. The low panelling is painted with one of those attractive rural colours that could have come straight from the Farrow and Ball catalogue. The walls above are light and neutral in tone, offering a suitable background for the art hung there. Indeed, a feature here is that local artists are offered six week hangs to exhibit their work and this restaurant can probably claim to be one of the fore-runners to what it is an increasingly common phenomenon within many eateries now of having changing art to grace their walls.
We were the first customers for the evening but before long two further tables were taken, each individually, suggesting it was a place in which patrons were comfortable to dine alone as well as in company. With music, distinctive and far from 'musak' style and provided at an appropriate sound level, conversation was easy.
On a busier day, one could imagine this being an intimate and buzzy setting for a meal prior to a theatre or a show or for just a long evening with friends enjoying some of the 'good-life'.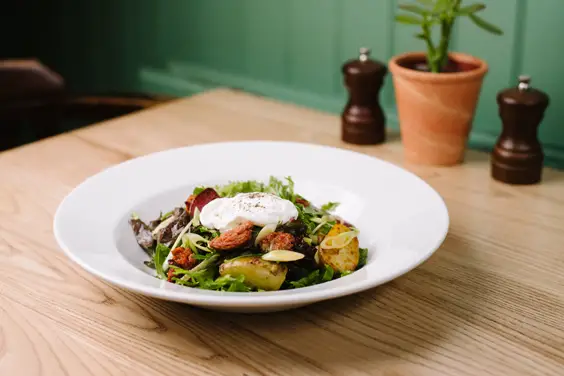 "Adventurous"
And so… to the wine and the food. As claimed, the menu is eclectic and we found it both interesting and adventurous. Generously this evening, we were not restricted to the a la carte or the set menus.
The wine list offers a sufficiently wide range of whites, reds and two rosé. We plumped separately for a glass of the Rioja Tempranillo and one of the Sartori Pinot Grigio which set up our taste buds nicely for the food to come.
For starters my companion opted for Gin cured Salmon, Cucumber, Borage and Wasabi (GF) and my choice was Pressed Chicken and Tarragon with Pickled Yorkshire Asparagus. Each dish offered strong and yet complementary flavours and the tarragon pretty much stole the show for me in what was a lovely dish, with the wasabi doing very much the same across the table.
For those with dietary considerations, of the seven starters available 'A La Carte' four are gluten free, one is vegetarian and one is vegan. With the 'Set Menu' four options are offered, all of which are gluten free, and of those two are also vegetarian friendly.
Portion size felt to be spot on, offering a sufficiency that was not going to fill you out as plates such as anti-pasta can do sometimes before you get down to the real business of the main course.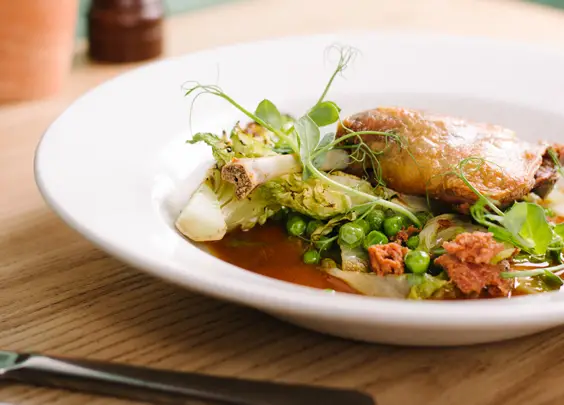 "A delight"
Eight main courses are available 'A La Carte', from which one is offered as gluten free, one vegetarian and one vegan.  For the 'Evening Set' menu four mains are offered, with one of them being vegetarian, vegan or gluten free.
Our selections for mains were Gloucester Old Spot Pork Ribeye, Hispi Cabbage, Summer Savoury and Peach for my companion, while I opted for the vegan Heritage Carrot Tartine, Old Winchester, Watercress and Hazelnut.
We shared two side orders though, in hindsight, the selections themselves seemed sufficient in terms of both portion size and variety of flavour on the plate. One selected was Potatoes with Summer Savoury and Shallot Butter and the other Seasonal vegetables with Sesame, Chilli and Ginger.
Everything met with our approval. The pork was succulent, with a comfortable texture and the tartine was a delight, although the watercress seemed to become a bit chewy – maybe because I am a slow eater these days.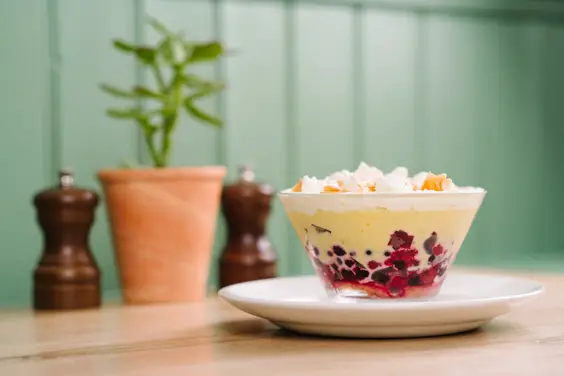 "Comfortable atmosphere"
Each dish was presented beautifully, almost as a pieces of art in themselves attempting to compete with the pictures hung on the walls. Certainly, everything was justifying the venue's reputation.
Finally, onward to dessert. Six offered 'A La Carte', four of which vegetarian and one vegan, but no gluten free option here. For the 'Set menu' three selections are available, all of which are suitable for vegetarian diets. We chose to share Apricot and Cardamom Cheesecake. It didn't disappoint! And the intensity of the apricot sauce, both sweet and sharp, brought that bit of extra flavour and satisfaction to the dish.
Joe and Jess, on our evening there, were attentive, helpful and courteous in a timely and unhurried way and contributed to a patient comfortable atmosphere in which to eat and talk. The venue is confident in its style, not quite shabby chic or French as such but something close to it, with a pleasing air of eccentricity. But the food itself is really the star of it all, as it should be. The menu is very far from 'run of the mill' and offers good value (£17 for two courses and £21 for three on the evening set) for an array of tempting and quality choices.
The chef, Simon Turner, has definitely 'curated' a notable and enterprising summer menu. Indeed the menu, as offered, strikes me as bold, innovative and very well presented.
Arts, 42 Call Lane, Leeds
Opening Hours:
Mon-Fri 12pm-10pm
Sat-Sun 9am-11pm
artsleeds.com
Editor's Update: On February 1st 2019 – and after 25 years of trading – Arts Café closed down. Info here.