The History of Californian Wine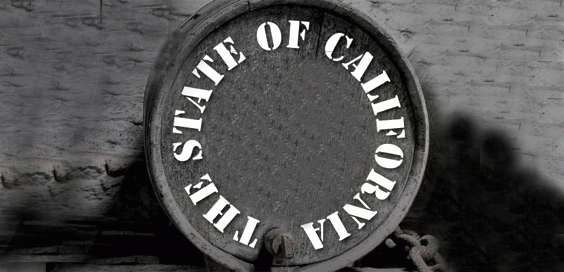 The State of California
by Paul Howard
You may be surprised to know that California ranks as the fourth largest wine producer in the world; behind Italy, France and Spain. This is down to a vast lake of ordinary 'jug' wines made in California's central San Joaquin Valley. If you travel south on Highway 99 from Fresno to Bakersfield you could think that they just pump wine straight out of the ground, just as they do with oil. The scale can be enormous. E&J Gallo are the biggest family-owned winery in the world and make as much wine as the whole of Australia.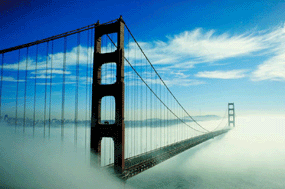 California really does have it all. It is both rich and richly endowed with natural resources. A description that extends to its wines. The best wines come from the Pacific coast and the famous Napa and Sonoma valleys to the north of San Francisco. Yet California's wine history is chequered – and its high status is a modern phenomenon.
Wine making starts back around 1770, when Spanish settlers need wine for Communion at the 21 Catholic missions they establish. California is first a Spanish colony, then Mexican. In 1848, following the 28-day independence as the Bear Republic, California becomes part of the USA. That same year sees the start of the Gold Rush, where thirsty 49ers demand huge quantities of alcohol. Wine quality is not uppermost in the minds of the average prospector.
"Passionate and skilful entrepreneurs"
After boom came bust. First, a predatory insect called Phylloxera destroys the vineyards. Then a combination of the Great Depression and Prohibition deals almost fatal blows. Only a few wineries cling on, by selling table grapes or making Communion and Kosher wine. Recovery takes decades. But being taken seriously as a wine producing region is to take even longer.
In 1976, Californian Cabernet Sauvignon and Chardonnay gain a famous away victory by beating the very best French competition at a Parisian blind tasting. This becomes known as the Judgment of Paris. It establishes California firmly on the fine wine map. Bizarrely, this tasting is the subject of a 2008 movie – an avoidable film by the name of Bottle Shock.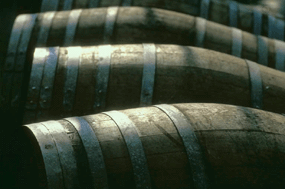 Overnight, Californian wines are prestigious and fashionable. Investment pours in ever since, resulting in astonishing growth. Many wineries owe their origins to the wealth of Silicon Valley and Hollywood. Yet the Californian wine industry is full of passionate and skillful entrepreneurs. In America there is little regulation. In such a free market fortunes are regularly made and lost.
Meanwhile the mid-nineties sees another bust. An incurable bacterial infection called Pierce's Disease follows another outbreak of Phylloxera. The replanting costs billions of dollars. Some take the opportunity to replant with grape varieties optimised to their local conditions, while others stick to following marketing trends.
"Great pea-soup fogs"
A common theme is that California's wineries are driven by technology and ceaseless experimentation. Whims of fashion mean that no firmly established traditions exist, though ancient vines survive in a few vineyards. Some Californian wine makers resort to extreme techniques to achieve rapid results. Wineries range from huge branded chemistry sets to boutiques using handmade methods. With such differences, the most reliable guide to quality is the name of the producer.
Of the principal wine areas, the Napa and Sonoma valleys are the best-known. However, terrific winemakers are in Carneros, Mendocino, San Francisco Bay, Monterey, San Luis Obispo, Santa Barbara and Santa Cruz.
These mostly coastal regions are a jumble of mountains, desert and forest in an active earthquake zone. Plus, there is a big mixture of soils and altitudes. The climate in theory is Mediterranean, yet frost and frequent fog tempers it. Where the deep and cold Pacific Ocean meets the hot land, great pea-soup fogs drift inland on summer mornings, especially around San Francisco. These cool the vines and lengthen their growing season. In fact, on the shoreline it is frequently too cold for grape growing and a mile inland can make all the difference.
"Elegant wines that go well with food"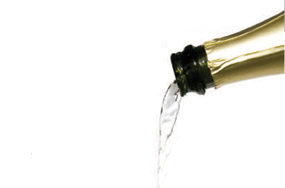 The potential of this land means that there are an enormous number of grape varieties growing. Cabernet Sauvignon and Chardonnay are the long established classics, despite the ABC backlash (anything but Chardonnay, dudes!). Cabernet expresses best in the Bordeaux-style blends, a style known locally as Meritage. Zinfandel is the closest you'll get to the idea of a native Californian grape. Pinot Noir and Syrah have found an ideal home in cooler areas. All these can make world-class wines in the right hands.
Styles are mainly dry but understatement is not an American character trait. Too many are lush, with over-concentration and high alcohol levels. However, more enlightened producers strive for balanced and elegant wines that go well with food – and those are California's glory.
Recent years have seen the rise and rise of deliberately created prestigious cult wines. Media influence, and extreme rarity, pursuit of fame and the considerable depth of the American Wallet appeal to wealthy collectors. Most are rare, all are expensive, some are stunning. But there is no shortage of the 'Emperor's New Clothes'.
"Increasing number of superb examples"
Back in the real world, the signature grape once seemed to be all about Merlot – ironically the least interesting variety in California. Then in 2005, the success of another wine-based movie (the must-see Sideways) means Pinot Noir replaces Merlot in American affections overnight.
What's in it for us in the UK? In the past Californian wine has often polarised into the highly successful supermarket brands like Turning Leaf or Blossom Hill versus expensive boutique wines, leaving the middle ground empty. However, record harvests, economic downturns and increase in global competition means that this is changing. Now is a good time to explore Californian wine – there are an increasing number of superb examples at sharp prices, especially at specialist wine merchants.