Cheddar Frittata with Ham, Tenderstem Broccoli and Potato – Recipe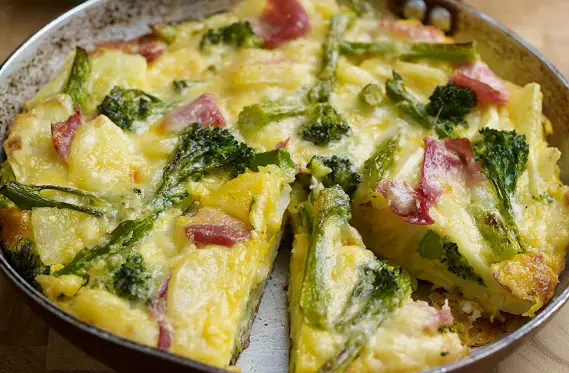 Recipe
A quick, simple and very child-friendly dish
Serves: 4 adults, leftovers are great cold in packed lunches
Preparation time: 10 minutes
Cooking time: 15 minutes
Ingredients:
500g potatoes, peeled & cut into 5mm slices
240g Tenderstem, cut into 3-4cm pieces
3 tbsp olive oil
1 clove garlic, crushed (optional)
4 slices ham, cut into bite sized pieces
8 eggs
75g mature cheddar cheese, grated
Salt & freshly ground black pepper
Method
Rinse the potato slices under running water to remove some of the starch.
Bring a large pan of lightly salted water up to the boil.
Carefully drop on the potato slices, bring back up to the boil and cook for 3-4 minutes until just tender but not falling apart. Drain well.
Blanch the Tenderstem in boiling water for 3 minutes until just tender but with plenty of bite. Drain well.
Heat the oil in a medium sized, preferably non-stick, frying pan and add the garlic, if using.
Fry for one minute then tip in the potatoes, stirring to coat well in the oil.
Scatter over the Tenderstem, mixing lightly among the potatoes.
Tuck in the pieces of ham.
Beat the eggs in a bowl and season well with salt and pepper. Carefully pour into the pan.
Allow to set over a medium-low heat for around 8-10 minutes – the frittata should be set about two thirds of the way through.
Preheat an overhead grill to hot.
Sprinkle the cheese over the frittata and put under the grill to melt and finish setting the eggs.
For more info visit tenderstem.co.uk