Volkswagen Caravelle – Review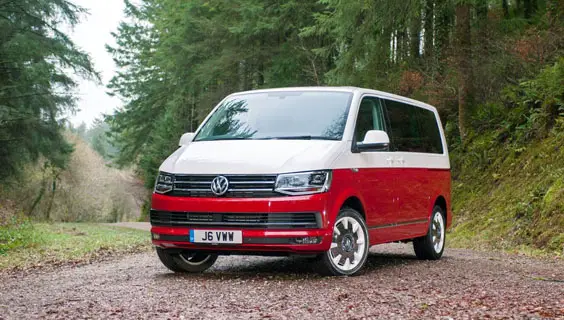 By Liam Bird
The last time Volkswagen lent me one of their vans for a week I lived in it – literally. That was, of course a California, Volkswagen's seats four, sleeps four, diesel-powered, des-res-on-alloys that also happens to come with a gas cooker, a fridge-freezer, and an electrically powered and fully retractable loft-extension. We took it to Three Cliffs Bay on the Gower Peninsula, drew some admiring glances, then brewed-up, snuggled-up, and watched the sun go down. What else are you meant to do in the spiritual successor to the original surfing bus?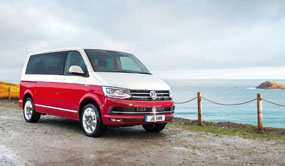 You could do the same in this VW van: The Caravelle. There's Sleep Pack available apparently, it's on the options list. But I bet you're more likely to use the Caravelle to get you and all the family to the airport than as your overnight accommodation. The Caravelle, you see, is far better at seating people than it is accommodating sleeping people.
Available with a choice of seating options – all of which, with a bit of muscle, are removable – the Caravelle offers a neatly styled, and in this particular part-time van driver's opinion, handsome, solution to the task of carrying a crowd in comfort. VW's press office ticked the options boxes on the Executive SWB they loaned me entitled "three-seat rear-bench", and "double captain's chair middle row". They also went for the movable, rotatable, and height-adjustable table and, perhaps best of all, electric, sliding rear passenger doors.
"All proves rather comfy"
The result of their labours was a rear "load-space" that offered the option of five forward-facing passengers sat behind the driver plus another alongside or, with the mid-row rotated and the aforementioned table deployed, a sort of mobile mini board-room arrangement where those in the back all sat facing each other whilst the chauffeur (me) and his assistant got on with the transportation and navigational duties.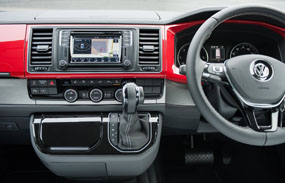 That's not to say that those sat furthest forward get a bum-deal in terms of comfort; far from it in fact. Front seat Caravelle passengers not only get similar captain's chairs to those sat amidships but also a near panoramic view over all they survey, three-zone climate control, Bluetooth, sat-nav, DAB, heated windscreen and door-mirrors, automatic dipping headlamps, heated seats (unlike those in the rear), cruise control, and the same premium feel instruments, materials, and soft leather steering wheel you'd find in many a Volkswagen offering.
In short it all proves rather comfy, and despite its boxy build not in the least bit intimidating to drive. OK, so it is essentially a van, and yes it does roll around a bit during cornering, and even though it's even got adaptive dampers complete with a Sport Mode (in a van?) it's by no means a sports-car… But, adjust your driving style accordingly and the Caravelle covers large distances with aplomb.
"Feels far less industrial"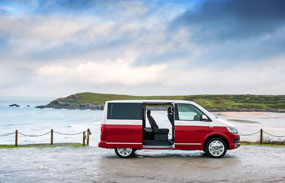 Especially so perhaps if, as in this case, it's been fitted with VW's silky smooth seven-speed DSG gearbox. Coupled to their twin-turbo 148 bhp diesel engine it does a far better job of optimising the motor's torque than 95% of the van drivers I've encountered.
Performance is actually quite brisk – far better than the Caravelle's figures suggest in fact, and with a following wind real-world fuel consumption of around 40 mpg (unloaded of course) is not unattainable.
The Caravelle is big, but it's clever too. It manages to feel car-like enough to use every day, it offers huge amounts of space and comfort for all who ride in it, and it feels far less industrial but as equally indestructible as its only real competitor, the Mercedes Benz Vito Tourer. Its versatility is its trump card. No MPV will ever do what the Caravelle can.
I've no kids, I'm not a camper, and I've no real need for a van either. Nevertheless, I'm counting the days until Volkswagen will lend me one of theirs again.
Volkswagen Caravelle Executive SWB EU6 2.0 TDi
Engine: 1,968cc 4Cyl 16V Bi-turbo Diesel Euro 6 with DPF
Transmission: 7 speed DSG Automatic. Front wheel-drive
Power: 148 bhp @ 3,250 – 3,750 rpm
Torque: 251 lbft @ 1500 – 3000rpm
0-62MPH: 13.0 Sec
Max Speed: 112 mph
CO2: 155 g/km
MPG: 47.1 combined
Price: from £41,670 (as driven £46,513)