Why You Should Hire A Product Design Agency And What To Look For
Product design is defined as the process of imagining, designing and creating products that tackle consumer problems or address specific issues faced within a specific market. The key to being a successful product design agency is understanding the end-user consumer and those that the final product is being created for. Product designers look to tackle real issues faced by real people through the use of empathy and knowledge of consumers' behaviours, habits, needs, wants and frustrations. In this article, we will explore what a good product design agency looks like and what you need to know when contacting a product design agency.
What To Look For In A Product Design Agency
There are four main components to consider when you are looking for a product design agency. Ensuring your design consultants tick each box below should provide you with peace of mind:
● Strategy – It would prove advantageous to source a design agency that concentrates on implementing a streamlined process centred around leveraging feedback from customers, in order to influence the product strategy and allow the development of products to be executed in a time-sensitive manner.
● Experience – Design thinking isn't just for product designers. Smarter teams often design and create better ideas which leads to more satisfied customers. Creating a great customer experience should be the responsibility of everyone throughout your organisation, from finance to IT.
● Consistency – The majority of design consultants will aim to maintain regular communications with you where possible. Excellent consultants go above and beyond, doing so on a consistent basis and are determined to provide you with the best product design service imaginable. Ensure that you find a design team determined to build consistency into your content across all consumer journeys and touchpoints in order to implement lasting equity for your product or brand.
● Customer Service – Customer service is an essential attribute of marketing. Product design consultants should deliver excellent customer service across all areas. Find a team of design consultants with a proven track record of unparalleled customer service and you can be sure to find a trusted product designer.
● One-to-One Consultations – It is a good idea to check whether your design agency offers one-to-one consultations, as this can provide you with personal time with your design consultant to address any questions you might have, ensuring you leave happy that your thoughts, questions and ideas are heard and actioned after each meeting.
After you have undergone the essential prior research, you should have ideally found a reliable product design agency that you can entrust to carry out the work required. Once you are content that you have found the right product designer for your project, the next step to focus on is the work process.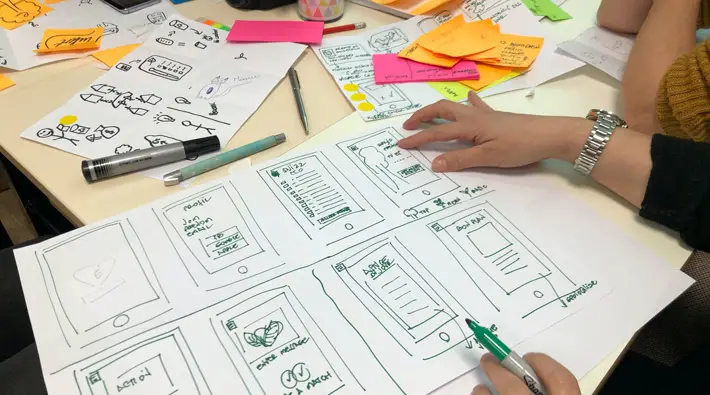 Below is an overview of a typical product designer's approach:
Research & Consultation Phase
Most product designers will ask you for a brief or spec regarding your product design concept as standard. A good design consultant will generally work very closely to the client's specs, communicating between you and their design team in order to better ascertain the core attributes of the product before they proceed to explore a variety of concepts. Expect a high level of research from your consultants, especially throughout the 'vision & development' phase.
Brainstorming Phase
After the brainstorming phase has been completed, you can anticipate your product designer will draft several initial sketches or ideas combined with several visual presentations to provide an overview of the product design concepts so far.
Designing Phase
Once the initial ideas have been discussed and agreed and you have finalised the approved drafts, your consultant will begin to create your bespoke designs. In most cases this is supported using computer-aided design (CAD) software, in order to detail all the technical design specifications within the system, including the materials needed and the costs.
Prototype Development Phase
The next phase sees the development of a prototype of the design, which can include 3D designs, sketches or drawings and sometimes technical computer software, all dependent on the nature and demands of the project.
Prototype Testing Phase
The final phase involves the product designer testing the prototype. This can sometimes involve a more hands-on approach or simulated testing through the use of computer software, which again also varies depending on the requirements set out and the nature of the project. The last phase of the process required the consultant to make crucial decisions regarding the design, including budgetary decisions and health & safety regulations and the impact which could be imposed onto the environment as a result.
Once the design prototype has been designed, developed and tested, your design consultant will deliver the final concept to you for your thoughts and approval. Provided that the client is satisfied with the results, and there are no further changes needed to the design or product, then this is the final stage of the product design's life cycle complete. Using this article as a guide should aid you in your efforts in finding the right product design agency for you.