What Insurance do UK Food Delivery Drivers Need?
The demand for courier drivers and in particular fast food delivery drivers in the UK has skyrocketed over the last few years. Aside from standard food delivery drivers that deliver items to supermarkets and shops on a multi drop basis, the demand for fast food delivery drivers has also surged. If you provide either service, your standard car (SD&P) or van business insurance is not sufficient. To legally provide a delivery service you will need van or car courier insurance which is a form of hire and reward insurance. Taxi drivers or private hire drivers both need to have hire and reward insurance, but it is more often referred to as just taxi or private hire insurance.
The cost of food delivery insurance for a van will be more expensive than car food delivery insurance. The simple reason is that a van will enable you to courier a larger amount of goods than a car. The added volume increases the risk to the insurance company. In addition, the higher the van or car insurance group, the more expensive it will be to get cover for food delivery insurance. If you are buying a courier food van, make sure you understand that buying whilst letting you grow your business will cost more from an insurance prospective.
According to Eamonn Turley founder of multiquotetime a leader in the insurance for food delivery driver sector, if you operate as a food courier without the proper insurance you will effectively be driving without insurance. If caught, you will have penalised with 6 penalty points and will find it difficult and very expensive to get insured in the future. So bottom line is whilst van courier insurance it is expensive, it is necessary to operate a courier business legally in the UK.
Check if you have insurance covers you for food delivery
If you provide a food delivery service in your car or motorbike, you will need to first contact your insurance broker to gain permission. Some brokers will offer an add-on or top up insurance which is an addition to the standard car policy. If you buy this additional cover from another broker, please check that it does not invalidate your standard cover. Recently some brokers are beginning to offer pay as go food delivery insurance which is popular with Uber Eats drivers with part time delivery workers.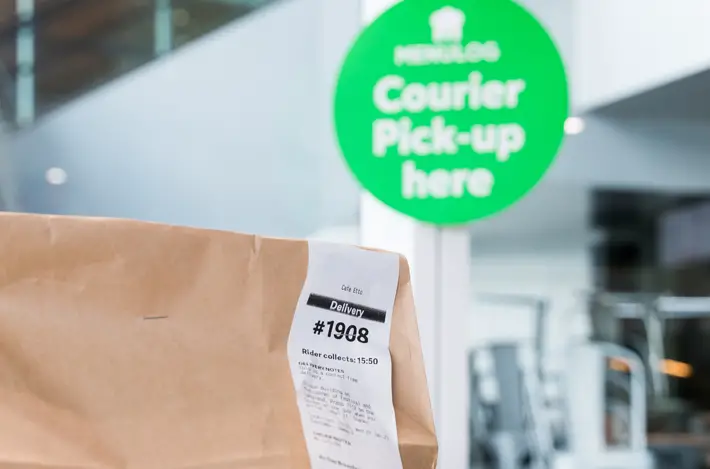 Car Food Courier insurance
For car food couriers you will need car insurance for food delivery drivers also termed hire & reward insurance. This will be more expensive than business cover, but will enable to provide your service with the legally required insurance. Remember, driving without the correct cover equates to driving without insurance and will result in penalty points and higher premiums in the future.
Goods in Transit
Goods are not covered and if the goods are valuable you will need to consider goods in transit insurance to cover loss or damages to the foods being transported. Failure to have proper carriage in goods cover can result in losing contracts or not being awarded a courier contract.
How to save on food deliver insurance
To save on costs, you should consider part time or pay as you go insurance policy. Another ways to reduce the cost is to increase the excess amount. The excess amount is the amount that you would be liable for in the event of a claim. Speak with your broker, as they will often discount the insurance premium in return for you shouldering more responsibility in the form of a higher premium. Safe parking and additional security devices will also bring down costs. Lastly, consider employing a black box to show that you are a not a high risk driver.
In summary
If you provide a food delivery service for a reward, you must have hire and reward insurance. Without this special type of insurance, you are driving illegally and face the same consequences as driving without insurance. This may well result in penalty points and higher insurance premiums in the future if you can get insurance.