Benefits Of Building A Home Gym
Over the last couple of years, more of us have had to get used to working out at home with help of online workouts and our own gym equipment. Love it or hate it, there are benefits that come with building your own home gym, whether you're looking to use the latest tech and create a smart home gym, or you've set aside a space for something a little more modest – you can build a gym that works for you. Here are a few of the benefits that come with creating your own personal workout space.
Workout anytime
Many of us live busy lives, and sometimes it can be difficult to make it to the gym between commitments – having access to equipment at home can change this. Gone are the days of planning your life around when you can squeeze in a workout, with everything you need ready to go in the comfort of your own home, you can choose a time that works best for you. If you're not a fan of a busy gym after work, head home to your own private space, or if you've got a busy day ahead, set your alarm early and get a workout in before you leave for work. Having a gym at home saves both time and effort.
Comfortable and private
Working out at home means that you can get fit whilst feeling relaxed and comfortable. If you're new to working out, a gym can be an intimidating place, especially if you're going alone. Building a home gym means that you can workout at your own pace, privately and comfortably, with no distractions, and there's no need to feel self-conscious! Make sure it's a motivating place for you to get your exercise done, and you'll be good to go.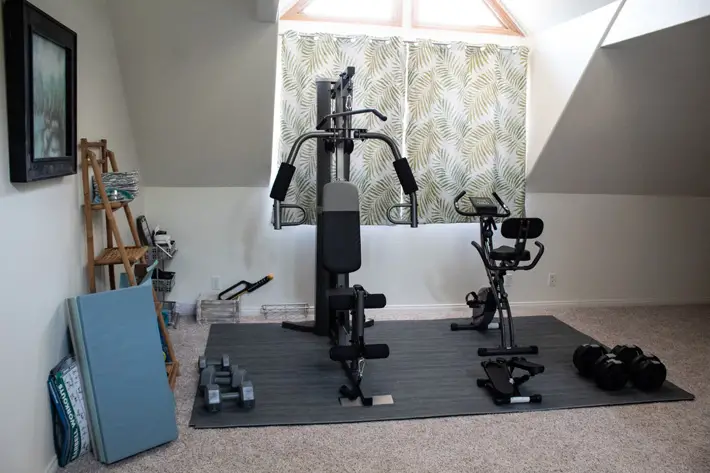 Save money
Gym memberships are expensive these days, so cutting out this monthly payment can help you save money each month. Although gym equipment can cost you initially, the one-off payment you might pay for a set of dumbbells or even a treadmill will likely not add up to the cost you pay for a membership each year. And remember – you don't have to go all out; you can build up your gym set up over months or even years depending on the equipment you enjoy using. Keep an eye out for discounted, or second-hand equipment as an affordable way to add to your gym.
Equipment to suit you
If you've made the decision to design your own home gym, you get to decide the equipment that would best suit your needs – whether that's a treadmill, a rowing machine or you're more interested in strength workouts and would like to invest in weight benches and dumbbells. You can tailor your design to suit your requirements and add to it over time. Creating your home gym means that you can have access to your preferred fitness machines and accessories whenever is convenient.
Quality time
Exercising is great for improving mental and physical health. Creating a gym in your home means that the whole family can spend some quality time together and improve their fitness at the same time. Having access to gym equipment in the home means members of the family are more likely to be interested in using it and will therefore benefit from this new space.
If you're used to working out alone, great! But if you enjoy having someone alongside to motivate you and keep you going, working out with a family member in your own personal home gym can be a positive step to take – you can build a stronger relationship, mind, and body.