La Boheme [English Touring Opera] – Review – Sheffield Lyceum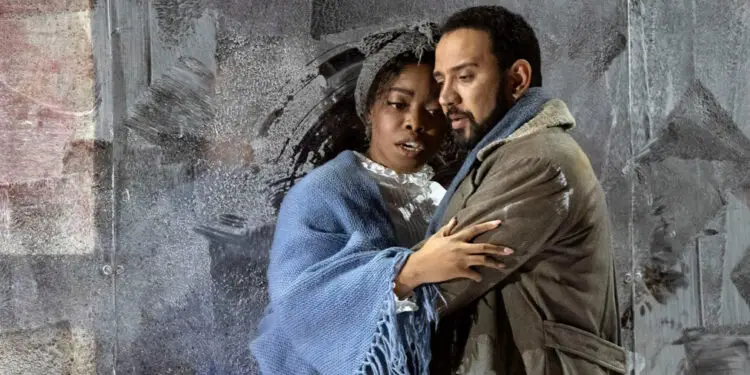 By Clare Jenkins
The truly refreshing thing about English Touring Opera's production of Puccini's classic tale of love, misunderstanding and tragedy is just how universal, human, and 21st Century-relevant it seems.
Young men indulge in energetic horseplay around their apartment – 'Hungry and ruttish and still creative – but poor', as the translation puts it (it's sung in Italian). Young women look for sugar daddies, lovers argue and make up, creatives can't earn a living from their poetry, music or art. Crucially, there's a life-threatening respiratory illness that threatens to infect others even after the curtain falls. These are young lives full of dreams and illusions, fears and fantasies – and affected by the premature death of friends.
La Boheme, written in 1896, retains its fin de siècle feel in Christopher absorbing Moon-Little's production. It hasn't been gratuitously updated – to a COVID ward, say – to try and make it seem 'relevant'. It already is.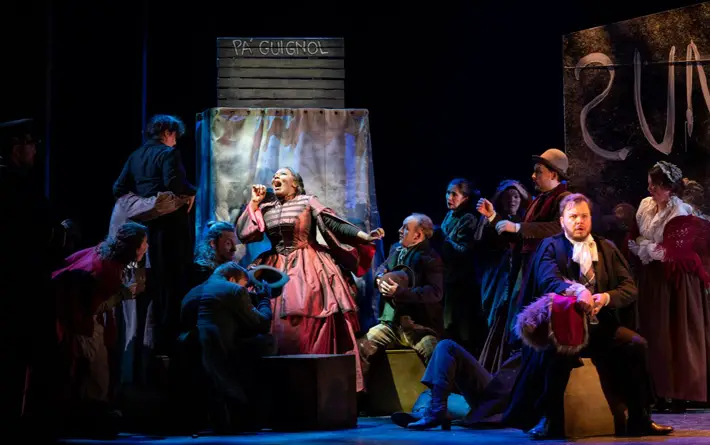 "Love and despair"
It's also diverse. Last autumn, ETO's artistic director James Conway caused an outcry when he announced that nearly half the members of the company orchestra would be 'let go' in pursuit of 'diversity'. Three months later, he announced his own departure – but not before seeing this revival of his 2015 production.
It wasn't possible in Sheffield to see how diverse the orchestra was – they were down in the pit with Greek conductor Dionysis Grammenos. But it was easy to see it on stage. Seamstress Mimi, for instance, is sung – beautifully – by Nigerian-American soprano Francesca Chiejina, an engaging presence, all softness and sweet innocence. "A rare flower," struggling poet Rodolfo calls her, "blasted by poverty". A recent graduate of the Royal Opera House's young artists programme, Chiejina shows an impressive vocal richness of tone and range – though at times, the over-loud orchestra threatens to overwhelm her.
Brazilian tenor Luciano Botelho is a touching Rodolfo, torn between love and despair. At times, his voice can sound a tad strained – not least, again, when he's having to compete with the musicians. At others, there is strength, tenderness – and anguish, when he confesses to his painter friend Marcello that he truly loves Mimi but knows she is dying.
As Marcello, fellow Brazilian baritone Michel de Souza has well-projected presence, both world-weary and humorous, but also angry at his some-time mistress Musetta – a brisk, no-nonsense (British) Jenny Stafford, hampered by a frumpy Victorian crinoline.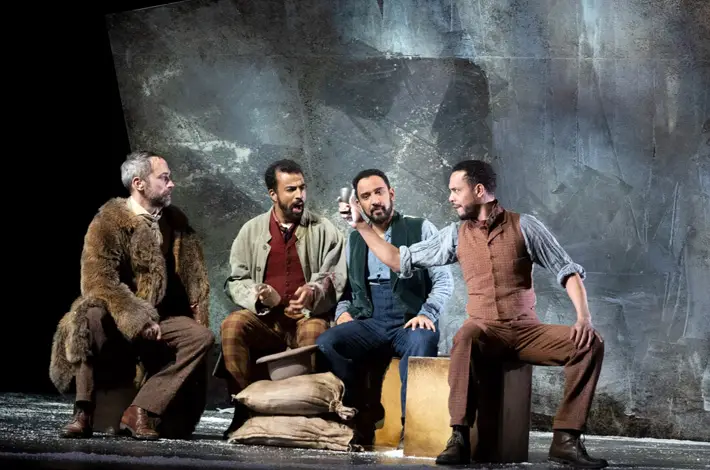 "Compelling"
Zambian-born Themba Mvula is excellent as the musician Schaunard, the only one who seems to bring in any money, while Canadian Trevor Eliot Bowes is a sympathetic philosopher Colline. All told, it's a triumph of teamwork, combining spirit, empathy, sincerity and (cue Millennial-speak) 'relatability'. Nowhere more so than in the poignant final scene, when Rodolfo's friends silently turn their backs on the deathbed, while Musetta sinks to her knees in grief.
Florence de Maré and Neil Irish's set – grey and grimy, with a strikingly abstract wall of murky glass – is a stylish combination of Futurism and Cubism. It helps to create the bohemian atmosphere: the freezing Parisian garret, the bustling Latin Quarter, complete with Punch and Judy scene, the crowded cafe. And on this necessarily portable set, it is crowded – though not quite as cramped as the hot air balloon basket in which Mimi and Rodolpho huddle in the attic (for some unspecified reason).
This compelling production, travelling from Eastbourne to Durham until early June, is the perfect introduction to the wonders – and true diversity – of opera.
La Boheme is next at York Theatre Royal on Friday 8th April
More info: englishtouringopera.org.uk