Introducing: Benedict Hawkin
Former Profumo guitarist going solo in Leeds…
YOUR NAME: Benedict Hawkin. Benny, if we're friends.
HOW LONG HAVE YOU BEEN PLAYING MUSIC? Fifteen years.
ANY PAST BANDS OR COLLABORATIONS WE SHOULD KNOW ABOUT? Lead guitarist for Profumo 2013-2019.
GIVE US 3 REASONS WHY WE SHOULD TRACK DOWN, LISTEN AND DISCOVER YOUR MUSIC?
1) You might dig it. You're more likely to dig it if you have a predilection for Northumbrian blokes playing their guitar through envelope filters over sampled white noise.
2) You'd be helping towards my lifelong dream of owning a three-piece-suit made from Faberge eggs.
3) My first two reasons were good reasons, so what are you waiting for?
WHERE DO YOU SOUND BEST – FESTIVAL, CLUB, BEDROOM – OR SOMEWHERE ELSE?
I'm ostensibly a bedroom pop musician, but I've had enough of bedrooms. I'd sell my soul to be telling a disinterested sound engineer that I need more vocals in the monitor right about now.
WHAT WAS YOUR FIRST…
RECORD? I'm not sure. I didn't have access to a record player until a few years ago, and when I did, I splurged on quite a few at once. I have a feeling it might have been Quarantine by Laurel Halo or Oh No by Jessy Lanza; I bought a bunch of records from the Hyperdub label because they were going cheap.
CD? Gorrilaz's self-titled album.
DOWNLOAD? 'Ain't Talkin' Bout Love' by Van Halen. I was learning to shred.
SO, WHEN IT ALL GOES RIGHT AND YOU'VE GOT A BOTTOMLESS PIT OF MONEY AND LONG QUEUE OF HANGERS-ON, WHAT WILL BE YOUR BIGGEST MUSICAL INDULGENCE?
Is an orchestra too obvious? Maybe a giant Buchla synthesizer that takes up an entire wall space.
SO, WHEN IT ALL GOES WRONG AND YOU'RE LEFT BITTER AND TWISTED AND CURSING THE MUSIC INDUSTRY, WHAT DO YOU FALL BACK ON?
I also write fiction, but some days I'm left bitter and cursing the literary industry too. Cooking is good: I have no talent for it, but find it quite relaxing when I'm not burning myself/slicing fingers.
WHAT ARE YOUR MUSICAL GUILTY PLEASURES…
I'm a real sucker for the completely hack YouTube mixes for relaxation: '8 HOURS OF MUSIC FOR ZEN BALANCE AND SLEEP', 'JRPG Peaceful Village Mix', 'Alpha Waves: Improve your memory & super intelligence'. Sordid stuff like that.
WHO ARE YORKSHIRE'S FINEST IN CULTURE, SPORT AND MUSIC?
Gavin Bryars, Robert Palmer, and The Cribs are big Yorkshire names I have soft spots for. In Leeds I really like Dilettante, the Silver Reserve, and Straight Girl (one of the most electrifying live acts I've seen, period), but I've only lived here for two years—one taken up by a pandemic—so my knowledge of the local scene isn't as good as I'd like it to be. In terms of culture, you can't beat Hockney and the Brontë Sisters. I don't follow much sport; I vaguely support Preston North End due to family connections, but have a grudging respect for Leeds. I'm glad Preston don't need to worry about them in the league anymore.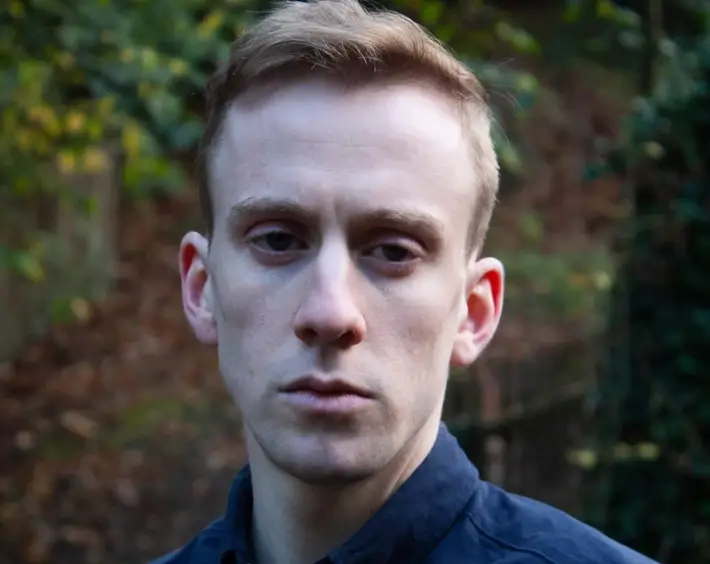 NAME YOUR SUPERGROUP – WHO'S PLAYING WHAT, WHO'S ON VOCALS AND WHO'S YOUR BEZ?
My ideal supergroup already existed at one point in time: Joni Mitchell's band during the Shadows and Light tour was Pat Metheny on guitar, Jaco Pastorius on bass, and Don Alias on percussion. You can't beat that. As my Bez, I'd probably have Tony Sirico (Paulie Walnuts on The Sopranos) cracking wise between songs. It would be an unreal vibe.
GO SEE THIS FILM: Royal Space Force: Wings of Honneamise. A feast for the senses.
GO READ THIS BOOK: The Dispossessed by Ursula K Le Guin.
GREAT LOST BAND/ARTIST: Judee Sill made some of the most fascinating music of all time. Her output has been getting increasing attention as the years go by, but she always could do with more.
WOULDN'T BE CAUGHT DEAD SUPPORTING: Gary Barlow. If you're going to dodge taxes, at least make good music.
LONDON, L.A OR LEEDS?: Leeds. I like London but the rent princes are criminal.
AND FINALLY… AS YOU LEAVE THE STAGE, WHAT ARE YOUR PARTING WORDS?
Buy my merch or go to hell. Jk, have a nice night!
'Leave it!' by Benedict Hawkin is out now on Plastic Palace, a Newcastle-based label and artists collective
For more info visit: facebook.com/benedicthawkin