Os Mutantes – Live Review – Leeds Brudenell Social Club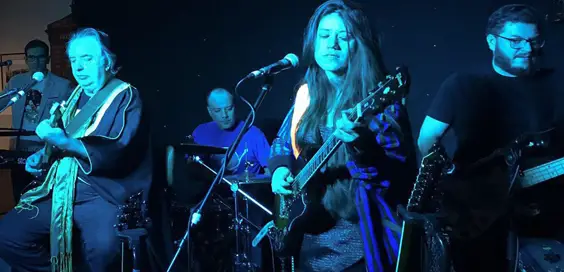 By David Schuster, May 2018
The six members of Os Mutantes take to the stage in Leeds' Brudenell Social Club, and it's immediately clear that all is not well: Sérgio Dias, guitarist, front man, and the driving force that has kept the group going through multiple line-ups since 1966, is not well. Resplendent in black cape and tangerine scarf, he has the 'flu. He blows his nose dramatically, before gamely announcing: "But I have been ill before. Let's have some fun".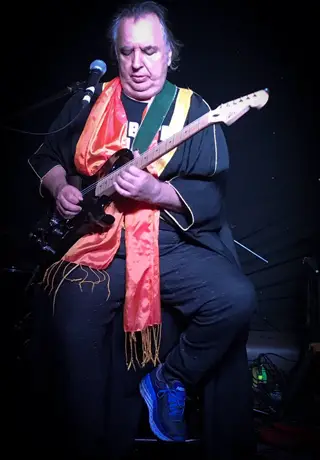 The group launch into an opening medley of songs, including the trippily psychedelic 'Technicolor'. Esmeria Bulgari plays tambourine, and she and Carly Bryant produce vocal harmonies reminiscent of The Small Faces. It's redolent of 1970, when it was first recorded.
"Ensemble of individually talented musicians"
The bass-rich 'Time and Space' follows. In the small room you can feel the throbbing bass line kicking in shortly after a beautiful guitar intro. This is taken from the band's last full album release, Fool Metal Jack, in 2013. In the quieter moments it features complex counterpoint clapping, where Bulgari, Bryant and keyboardist Henrique Peters all provide different but complementary rhythms. This highlights one of the qualities that make Os Mutantes so listenable: This isn't a vehicle for the front man's ego, this is an ensemble of individually talented musicians, each with a part to play in the music.
'Cantor De Mambo' and 'Bat Macumba' both illustrate the diverse musical influences on the band. This is Gong-style experimental rock meets Latin beats in a joyful, slightly blurry-round-the edges fusion. By this time the room has warmed up considerably, and I'm regretting my habitual choice of jacket. Around me folk are doing that careful dance which people do to show appreciation, whilst not spilling their pints.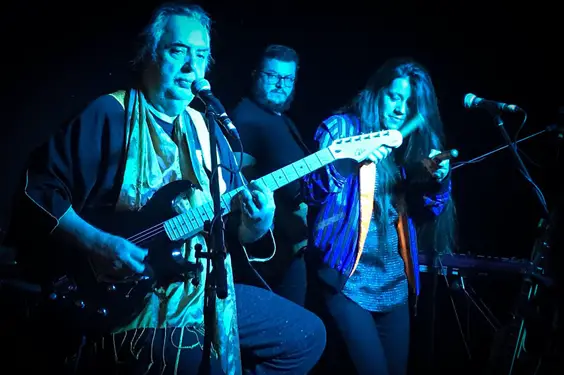 "Fantastically mad finale"
Dias takes a moment to introduce the other musicians, and to swig some cough syrup. However, the performance has peaked. The tracks that follow lack the earlier magic, and sometimes drift out of tune to the extent that he stops the band during the encore to re-tune. This is necessary, but a shame as it's a fantastically mad finale.
'Panis et Circenses'; track one on their seminal 1968 debut album features a whole gamut of instrumental and vocal strangeness and some genuinely disturbing lyrics. There's also a synthesised trumpet opening and the only recorder solo I've ever seen outside of a primary school.
The band take a well-deserved bow. It wasn't a classic Os Mutantes gig, but we did have fun, as Sérgio promised us we would.
images: OJ Rayner