Minimal acoustic-electronica from Israel, based in LA…
What's the title of your latest release, and what does it mean to you?
I'm releasing "New World", my first EP, on July 30th. The name describes the transition I have made since I started working on music. I feel and see the world differently by having a new meaning in life and doing something I enjoy and dearly care about.
What was the hardest part about putting this release together, and why?
I think that the most challenging part for me was releasing the music. I have hundreds of songs/tracks I've written and produced. The hardest part for me is to decide when something is done. I'm a perfectionist and there's always something that can be changed or tweaked. Eventually, you just need to learn to let go and share your creation with the world.
View this post on Instagram

 
What do you enjoy most about producing your own material?
Writing is by far my most preferable part. Don't get me wrong. I enjoy most of the aspects of the production. However, I feel most free when I write new music. This is where I have to unload all my thoughts and moods into art. After a writing session, I feel like I am reborn and my head is clear with no worries or problems (at least for a few hours).
What do you want the listener to take away from listening to your music?
I want my listeners to find themselves in my music. I want to affect their mood and make them feel connected to my art. As a film composer, one of the most important things is to send signals to the viewer/listener's subconsciousness. They need to feel the music more than they listen to it.
How does a track normally come together? Can you tell us something about the process?
I usually watch the video the director sends me a few times. I find inspiration in the characters and environment, which leads to me writing a draft. In my opinion, it supports the storyline and overall mood. After presenting the draft to the director and receiving his feedback, hearing about their vision, or sometimes even getting a few reference tracks, I start working on what will eventually become the final piece.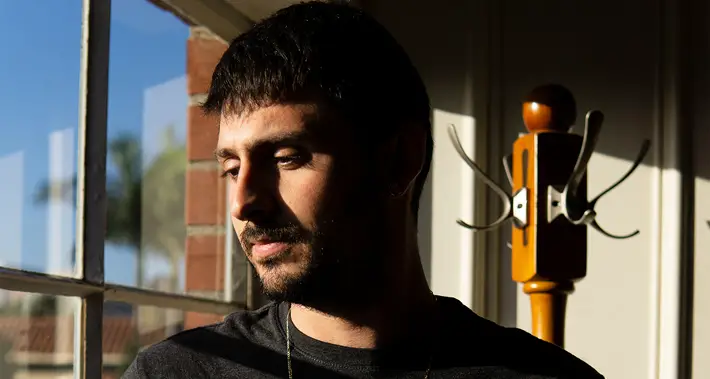 What band/artists have influenced you the most since you started this project, and why?
I'm Influenced a lot by electronic producers. I was always fascinated by synths and modulations of organic sounds. Also, I have always had a passion for contemporary composers and their works.
If you could pick one track for our readers to listen to in order to get a taste of your music, what would you pick, and why?
One of my favorite tracks is called Breeze. It is a short track produced and written about a year ago. I had the absolute honor of recording one of the most talented violinist, musician, and producer I know, Gelin Hau. I felt thrilled while writing this track and every time I need a boost of motivation, I return to it. It fills me up with energy again.
What ambitions do you have for your career?
One of my most significant ambitions is to become a known film composer worldwide, especially in Hollywood. I've always dreamed of being part of the industry as a lead composer. Most importantly, I'd also like to be known as a musician for my nique sound and keep enjoying creating beautiful music!
For more info visit: yuvallavi.com