A Q&A with Jeremiah McKinley
Making 'dirty folk' from rural Kernersville, North Carolina, Jeremiah and his brother Noah…
What's the title of your latest release, and what does it mean to you?
'It Ain't Easy' is our latest single. It is about the transition to adulthood, leaving behind the comforts of family and friends. It can be very isolating to strike out on your own, especially in unfamiliar territory, when there are no footprints to follow. You just take things one step at a time and hope you are taking them in the right direction. This song is an expression of that feeling. It has a lot of meaning for us, about the first time we struck out from home without a direction or any clue as to what we were doing. It is one of my favourite songs to play live because my brother sings the first verse and I sing the second. We hadn't written anything up to that point where we were going back and forth and it's really fun to play.
What was the hardest part about putting this release together, and why?
Distance. My brother is in seminary school in Pennsylvania, so we haven't had a ton of time in the same room to work on stuff. We send files back and forth as we work out a lot of songs but there always feels like there is a little more magic when we are together bouncing ideas and riffing off each other in the moment.
Who produced the release – what did they bring to it?
We co produced it with Mat Leppanen from The Animal Farm. This is the first time we have had any outside help and he really blew us away. We always have a pretty good idea of where we want the song to go, but he took our two dimensional song and really brought it to life. When the first verse fades into the chorus, the sound really swells and makes the song feel so big. This was the first song we sent him to work on, and we were a little nervous to be working with someone, and how it might turn out. When I got it back and listened to it in the car it really floored me, and we are very excited with how it has turned out. I really enjoy the whole process of making a song. I am not very gifted in mixing or a lot of the technical side, but I love creating and adding parts.
What do you want the listener to take away from listening to your music?
We want the listener to feel our music. We believe what you say and how you say it are just as important. We want to make the kind of songs you turn on after a hard day, to help you deal with whatever you are going through in your life. Those are the type of songs that have always spoken to us and that is what we are trying to capture. Real human moment and emotions, every song is different, because that's the way life is. Messy and up and down, good and bad.
How does a track normally come together? Can you tell us something about the process?
I'm not sure we really have a formula. It seems like every song is different. Sometimes it starts with a chord progression, and we will play it until we get the feeling of the song. Then we will start to shape the story to go with. Sometimes it is an idea or phrase we have picked up from something that we have heard or read. When it starts with a chord progression, a lot of times I will strum it until it's stuck in my head, then I will go take a shower and hum along until some words or ideas start to pop. I am not sure what it is but I tend to do my best thinking in the shower. Next thing you know I am bolting back to wherever I have left my phone to write it down or sing it into the voice recorder. Sometimes we will have an idea or story already in mind, and we like to finish the idea before we start trying to put it to music.
What band/artists have influenced you the most since you started this project, and why?
Caamp and Mt. Joy. We have really been listening to them on repeat for the past couple of months. We tend to listen to music in a cyclical pattern. We will binge on a couple artist for a few months and switch to others. We are constantly rediscovering some of our favorite albums and tunes. These two artist have very unique voices and tell cool stories. I am a big fan of the gritty vocals and they have rock tinged folk music that has helped us find the type of music we want to create.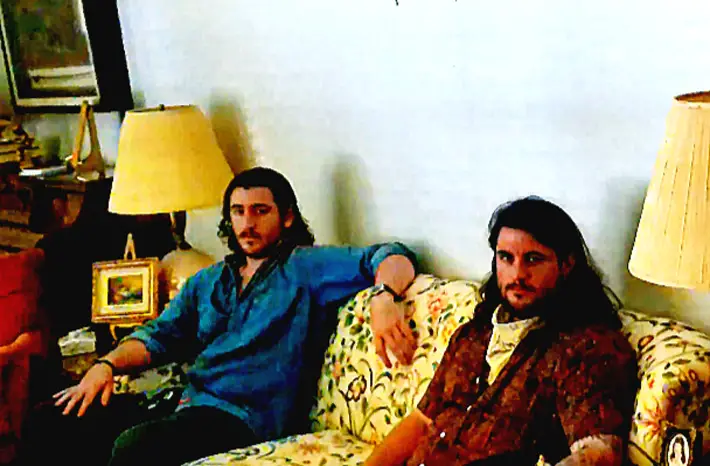 What countries would you like to tour? Are there any standout venues you'd like to play in?
All of Europe and the UK. I read a lot of history books and would love to get a chance to visit and see all the architecture and art, especially in Italy. That is one of the best things of touring, seeing new places and meeting people you would have otherwise never met. Red Rocks would be amazing to play at. There are so many live at Red Rocks albums that we listen to and it would be very cool to make our own there one day. Also Royal Albert Hall, so many amazing artist have played there and it would be dope to play there.
If you could pick one track for our readers to listen to in order to get a taste of your music, what would you pick, and why?
'Senior Year'. It is a reflection of growing up in a rural town in the south, and young love. I think it is one lots of people can connect with, you meet someone and are on fire immediately, but the timing isn't right or things don't work out the way you had hoped, but like all things the refrain is the best things always take some time.
What ambitions do you have for the band/your career?
We'd like to be making music full time. We would love to be able to support ourselves doing what we love. For us the most important part of life is enjoying it. We don't want to be a flash in the pan, and are hoping to be making and playing music for as long as we can.
Finally, as you leave the stage, what are your parting words?
Be nice to people. It is not that hard.
For more info visit: facebook.com/jeremiahmckinleyband