Vivarium (2019) – Film Review
Director: Lorcan Finnegan
Cast: Jesse Eisenberg, Imogen Poots, Jonathan Aris
Certificate: 15
by Sarah Morgan
When sci-fi is mentioned, many people will automatically think of spaceships and aliens, films featuring big-budget special effects to dazzle the senses but not test the mind.
But it can incorporate a wider variety of story than that. Recent release Little Joe, about the development of an anti-depressant plant, proves that. In the past, the likes of Invasion of the Body Snatchers, Fahrenheit 451 and Never Let Me Go have also managed to enthral without journeys to the stars.
Vivarium is another example, and what's more, it was made on a relatively small budget with a very limited cast – and, perhaps because of those factors, is more inventive than many things that have boldly gone before.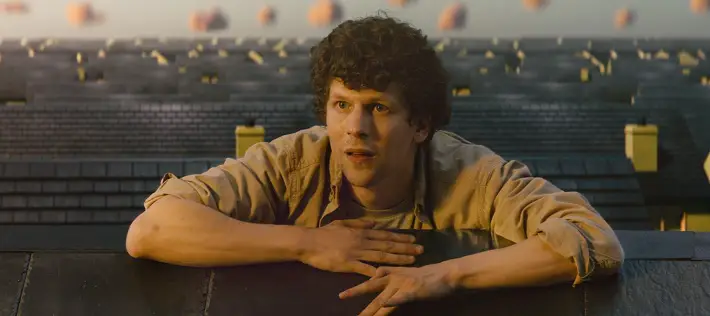 "Alarming"
Jesse Eisenberg and Imogen Poots play Tom and Gemma, a happy couple searching for their perfect forever home. Their hunt takes them to an estate agent with a difference – it has only one type of home to sell, on a new estate called Yonder. The office is run by Martin, an eccentric character who persuades the couple to accompany him to the site.
And that's when Tom and Gemma's nightmare begins. After showing them around a property, Martin vanishes and the couple realise they can't find their way out of the estate.
Forced to move into one of the homes, they are then 'gifted' a baby, who grows at an alarming rate – and it's clear he isn't quite normal. As Tom becomes increasingly obsessed with what may lie beneath the houses, it becomes obvious that the interloper – or cuckoo in the nest – knows more than he's letting on.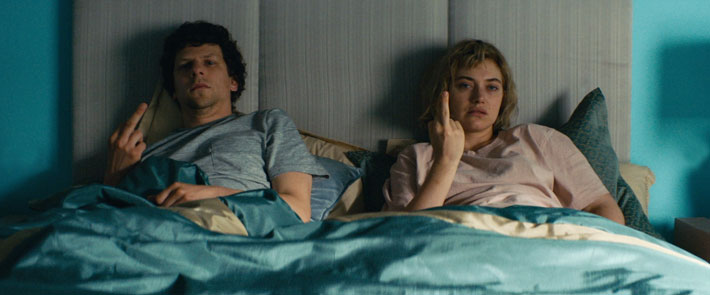 "Grabs the attention"
Intriguingly, the home Gemma and Tom inhabit is at number nine; I'm wondering if that was intentional, as a homage to Reece Shearsmith and Steve Pemberton's Inside No 9 – it certainly plays out like an elongated episode from the series.
Although we feel empathy with Eisenberg and Poots' characters, it's their 'child', played at different ages by Senan Jennings and Eanna Hardwicke, who really grabs the attention. Who is he? Where did he come from? Why does he do what he does and who is controlling him?
These are questions you will have to find answers to yourself, and while considering them, you will be watching one of the most inventive low-budget flicks of the past few years – director Lorcan Finnegan and writer Garret Shanley deserve all the credit available. I'm looking forward to seeing what they do next.
Vivarium is released on DVD by Vertigo