Enter the Void (2009) – Film Review
Director: Gaspar Noé
Cast: Nathaniel Brown, Paz De La Huerta, Cyril Roy
Certificate: 18
By Sarah Morgan
Gaspard Noé is one of the world's most revered film-makers, and yet his movies seem, at times, to be almost anti-cinema.
At their most basic, films should be entertaining. I mean that in the loosest sense of the word, in that they should hold the attention and keep viewers hooked. And yet Noé often appears to be challenging us to watch, goading us to reach for the 'off' button by making his projects completely uncomfortable and difficult to fathom.
"Shadowy figures"
Among his most notorious works is Irreversible, a rape-revenge thriller that horrified many reviewers – something you get the impression Noé would be pleased about; he wants to provoke those who dare to sit through his movies and to have the stuffing knocked out of them.
He'd no doubt be as pleased as punch to find that my reaction to Enter the Void is one of mostly repulsion with a hint of admiration.
At its centre is a young man we barely see. Oscar is a drug dealer with a tragic past, and everything is viewed as if peering over his shoulder, so the only time we see his face is when he's looking in the mirror.
He and his sister Linda were separated as children following the traumatic deaths of their parents in a car accident. Now living in Tokyo, he invites her to move in with him, and on her arrival, soon introduces her to the shady, shadowy figures that perpetuate his squalid, underground, seedy lifestyle.
Even after Oscar himself is killed, we watch the aftermath from above, as if floating with his spirit, moving in and out of various 'voids' along the way, from plugholes to knots in wood.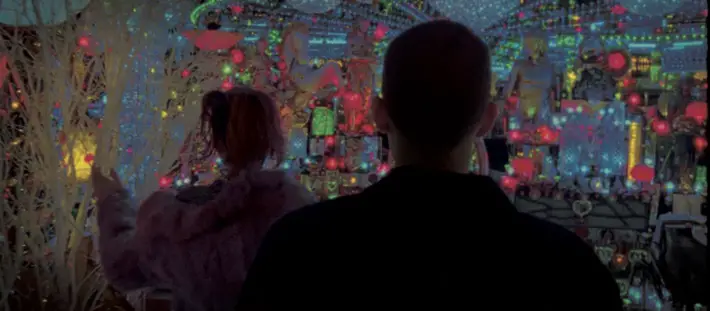 "Dexterity"
We're also turned into voyeurs, spying on Linda and Oscar's friends as they go about their business, which entails pregnancy tests, abortion, graphic sex and violence, all accompanied by the constant, mind-numbing thud of dance music.
If I hadn't been reviewing the film, I'd have turned off after the first half-hour because the way Noé has edited his film, which is accompanied by a distractingly throbbing soundtrack, is quite nausea-inducing.
Technically it's a work of genius; I've got to admit the dexterity with which he shoots scenes is impressive, but once the end credits are finished, you feel as if entering a void might be the only way to cleanse your soul.
LIMITED EDITION CONTENTS:
• High Definition Blu-ray (1080p) presentations of both the 143-minute UK theatrical cut and the full-length 161-minute director's cut
• Original lossless DTS-HD Master Audio 5.1 and PCM 2.0 stereo soundtracks
• Optional English subtitles for the deaf and hard of hearing
• Enter the Sensorium, a brand new visual essay on the film by author and critic Alexandra Heller-Nicolas
• Brand new video interview with typography designer and long-term Noé collaborator Tom Kan
• 8 deleted scenes
• Archival Making of – Special Effects featurette
• Archival Vortex featurette
• Archival DMT Loop featurette
• French and international theatrical trailers
• 8 teaser trailers
• 3 unused trailers
• Image gallery
• Limited edition packaging with reversible sleeve featuring two choices of artwork
• Illustrated collector's booklet featuring new writing on the film by Jon Towlson and Rich Johnson, and an oral history of the film by Steven Hanley
• Fold-out double-sided poster featuring two choices of artwork
• Six double-sided, postcard-sized artcards
Enter the Void is released on Blu-ray by Arrow, £29.99