Deadly Games (1982) – Film Review
Director: Scott Mansfield
Cast: Sam Groom, Steve Railsback, Jo Ann Harris
Certificate 15
By Roger Crow
Forty years after this long forgotten thriller graced cinemas, and then took up residence on the bargain shelf of video shops, Deadly Games is back.
Never heard of it? Don't worry. Even many who recall seeing the advert at their local three-screen fleapit back in the day will wonder if they imagined it.
The set-up is simple: a masked maniac with a penchant for a horror-themed board game is playing his own twisted game with the women of a small American town.
Each time the dice is rolled, another victim meets a grisly end.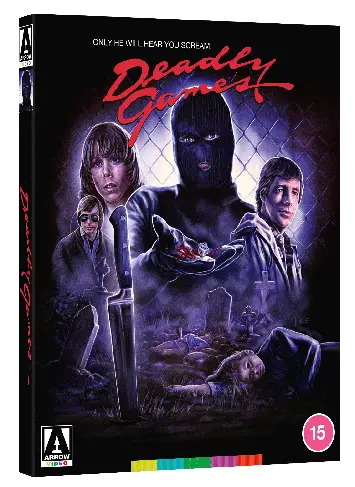 Returning home to mourn the death of her murdered sister, Keegan (Jo Ann Harris) befriends local cop Roger Lane (Sam Groom) and oddball cinema projectionist Billy (Steve Railsback) – but soon finds herself in the killer's sights.
"Fabulous sweater"
After a titillating opening scene with actress Alexandra Morgan, things soon settle down to become far more mundane. On the plus side, Keegan has a lovely purple chunky knit sweater which looks great in HD. Actually the early eighties fashions are a real treat and far more interesting than the generic asthmatic psycho, or the dodgy dialogue. Everything seemed so much simpler then when people actually chatted in diners rather than checking their phones every few minutes.
There's an awful lot of soap opera-style exposition in that first act as we get a feeling of who the locals are in this town as old friends are reunited.
"We're all very upset about Linda," is the consensus, as Keegan sits through some inane chatter while regarding that fabulous sweater.
Meanwhile, the dodgy projectionist clicks into acting overdrive as Roger reveals why you can't strangle someone with one hand.
Then we cut back to even more exposition as Keegan shows off her chunky beige body warmer while a yawnsome amount of local history is revealed like some 1000-page Stephen King novel.
"I'll even show him the Bavarian basket trick," at least promises a sense of intrigue.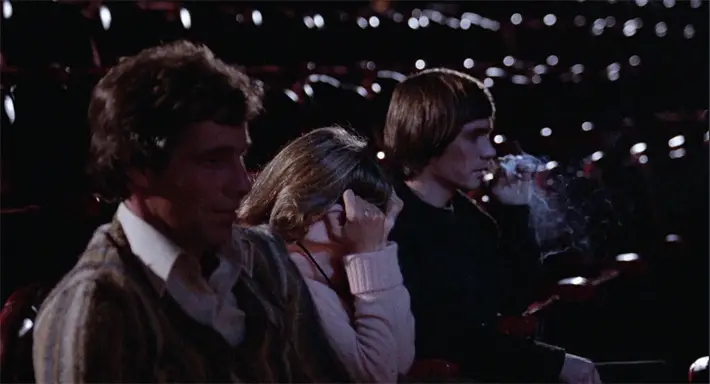 "Creepy"
Some time later, a pool party finally offers thrills and funky electro music, and the heroine shows off another of her impressive cardigans.
There's another murder, a dash through a graveyard and a creepy third act in which the heroine screams at a load of mannequins, one of which is (inevitably) a dead body. The same sort of gag was employed in Blade Runner the same year, to far greater effect. Only it was Harrison Ford's character who was weirded out.
In one of the most bizarre finales of the eighties, which suggests the film makers ran out of money and the movie was shut down during the editing process, a character swings towards the heroine and the closing credits roll.
It's at this point the yack track is not only a bonus feature but almost essential listening. And this is where things get really interesting as experts discuss the opening font, and every element of the movie, which makes things far more fascinating.
Picture quality varies between excellent (considering the age) and super grainy, but if you're a fan of eighties slasher movies, then the grain actually adds to the 'quality'. Super slick thrillers with perfect photography don't always work.
So it's a flawed curio, but worth at least one look, if only for the impressive knitwear.
SPECIAL EDITION CONTENTS:
• Brand new 2K restoration from the original camera negative
• Original uncompressed mono audio
• Optional English subtitles for the deaf and hard of hearing
• Brand new audio commentary with The Hysteria Continues
• Sooty's a Sh★t - a brand new interview with actor Jere Rae-Mansfield
• Practical Magic - a brand new interview with special effects and stunt co-ordinator John Eggett
• Extensive image gallery featuring never-before-seen production photos and promotional material
• Original Trailer
• Original screenplay under the title Who Fell Asleep [BD-ROM content]
• Reversible sleeve featuring original and newly-commissioned artwork by Ralf Krause
Deadly Games is released on Blu-ray by Arrow, £24.99