One Man and a Mule by Hugh Thomson – Review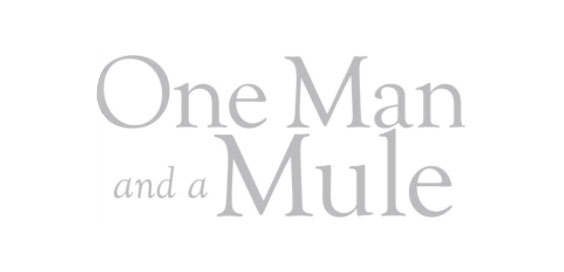 By Karl Hornsey
Think of a mule and what comes into your head? Probably the expression 'stubborn as a mule' or the doubt of knowing what one really is. A type of donkey? A type of horse?
If you've ever wanted to know more about mules, then this is the book for you. Throw in the fact that Thomson is a charming, eloquent and thoughtful man, who has decided to travel with his borrowed mule Jethro across the country on the Coast to Coast walking trail, and this becomes the ideal book for dipping into or gulping down in one go.
The Coast to Coast is one of the most scenic and popular long-distance walks in England, and challenging enough on its own. But add the not insignificant test of finding suitable paths and tracks for a mule, and it becomes an even greater feat.
"Font of facts and information"
Thomson is accompanied throughout by a host of local characters to garnish his tale of life in the wilds of Cumbria and North Yorkshire, most notably Jasper, his walking companion for much of the trek.
These sorts of travelogues remain hugely popular, always with a different twist whether it be Round Ireland with a Fridge by Tony Hawks (self-explanatory) or Mike Carter's One Man and His Bike (again, you get the gist), and this book drops gently into that genre. In fact, gentle and easy going are good summations of both Thomson and his writing, but fortunately without falling into the trap of failing to impart any knowledge on the reader or making it interesting,
Thomson is a font of facts and information, either through research, past experience or from the people he meets on the way, and isn't afraid to express his own forthright views on the state of the country today, and how countryside life has changed down the centuries in the Lakes and Dales.
"Detours off the beaten track"
There is a huge amount of social observation in this book, challenging preconceptions of farming life and its everyday concerns, while also avoiding the trap of preaching to the reader. This isn't simply a case of Thomson describing every step of the way in minute detail, in fact he detours off the beaten track on many occasions, but if you want that sort of book, I'm sure there are plenty of dry and purely practical tomes about the Coast to Coast available.
When reading any travel book, the litmus test has to be whether it inspires you to get out there and follow suit, and I certainly felt the urge to pull on my walking boots and discover more about the stunning landscape of Yorkshire and the Lake District. But, thankfully, not to go out and buy my own mule.
(By the way – it's the offspring of a male donkey and a female horse).
'One Man and a Mule: Across England with a Pack Mule' is published by Windmill Books, £9.99