Porsche Boxster & Cayman: The 987 Series 2004-2013 by Brian Long – Review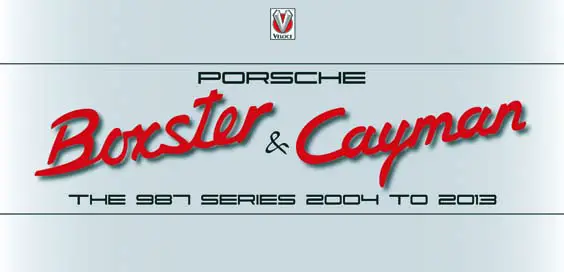 By Richard Barnett
There are few cars that have had more books published about them than the Porsche 911, so this just-published title from Brian Long goes a long way in addressing the paucity of works serving other Porsche models.
The title tells us something – that the Boxster's been around longer than many of us might have imagined – but its acceptance by Porsche enthusiasts has cemented the smaller model's place in the company's history.
Long, as always, does a first-rate job in detailing the history of the Boxster and its younger Cayman sibling. But rather than simply amassing the facts and rushing those facts, loosely assembled, into print, he goes back to the origins of the Boxster in its '986' form: What were the reasons for its launch, how it then came about, its acceptance across the world and how it has advanced over the years.
"Sophisticated"
Porsche had learnt a lot from its earlier 914 and 924 models and the Boxster's role was something similar, although in a more sophisticated way that bore a closer resemblance to its more expensive siblings. Issuing press material at the 1996 Geneva Motor Show kindled public interest, with the aim of preventing would-be buyers being swayed by current BMW and Mercedes-Benz offerings.
Porsche had its eyes on costs too, and the Boxster was designed in a pragmatic, cost-reducing way that saw many components and pressings shared with the more expensive, yet to be launched 996 development of the 911.
The second-generation Boxster, the 987, was launched at the end of 2004 and across 150-or-so pages Long charts the model's progress, his prose very well supported by a serious amount of colour photographs and design drawings. He recognises the work of the engineers and designers involved, these cars clearly being the result of people – not computers – bringing their ideas to the production line.
A year-by-history of the models' development, while technical and chassis number data is welcome.
A welcome title, properly written and illustrated, and extra marks to Veloce for vastly developing its design and layout techniques.
Porsche Boxster & Cayman is published by Veloce, £40.00