The Port of London Murders by Josephine Bell – Review
By Sarah Morgan
If you've bought every entry in the British Library's Crime Classics series, you must already have a very impressive book collection indeed – and one that will keep you enthralled for years to come.
It seems there's an almost never-ending supply of titles to add to it, and while I haven't read them all, those I have tackled have been rather wonderful.
I wasn't left disappointed by The Port of London Murders, which was originally published in 1938, either.
Josephine Bell was the pseudonym of Doris Bell Collier who, alongside writing more than 60 novels, plays and short stories, raised four children, was a founding member of the Crime Writers' Association and worked as a doctor. How did she find the time?! She certainly puts me to shame…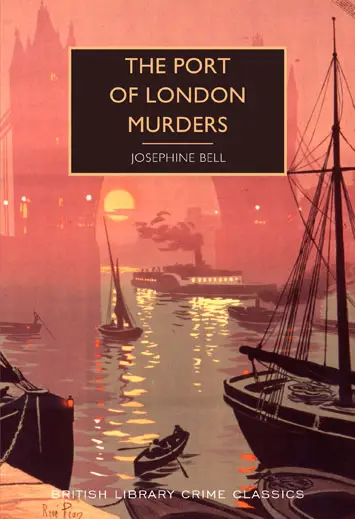 Much of the capital she depicts here will now be long gone – if not destroyed by the Luftwaffe during the Second World War, it will have been bulldozed during slum clearances or simply demolished as London's once thriving docklands were transformed and rejuvenated. That fact perhaps makes the setting and the story even more fascinating – it is a snapshot of a now long-gone era.
"Unscrupulous"
The tale begins as fog descends on the city, causing a boat and its precious – and illegal – cargo to drift away.
Docklands residents Harry Reed and June Harvey find themselves falling in love after being thrown together by a series of events involving nefarious businessmen, unscrupulous traders and dodgy marine captains. But if they're to live happily ever after, they and the police will need to root out the gang of smugglers behind a series of particularly cruel deaths.
Unlike many novels from the so-called Golden Age of Crime, the emphasis here isn't on middle-class criminals, but rather on their working-class victims, which is a welcome twist. Bell would have met many characters similar to those she depicts at her practice in Greenwich, helping her round out the personalities of those central to the plot.
So far, this is the first of Bell's novels to appear in the Crime Classics series (although two of her short stories have popped up in anthologies) – I dearly hope it will not be the last.
'The Port of London Murders' by Josephine Bell is published by The British Library, £8.99 paperback