Paint My Name In Black And Gold: The Rise of the Sisters of Mercy by Mark Andrews – Review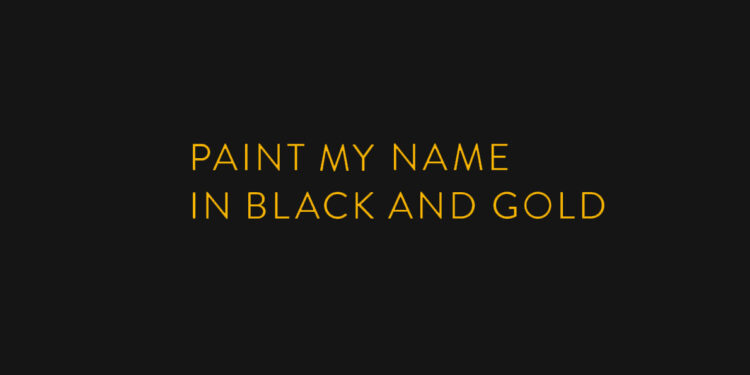 By Victoria Holdsworth
When people say you should never meet your idols, I disagree – you should always take people as you find them. But when you read about them, their warts and all in print, sometimes it can leave a bitter taste. I was hoping that would not happen with this book. I hoped the musical memories I have of the The Sisters of Mercy, one of my all time favourite bands, would remain intact.
Author Mark Andrews chooses to document a Leeds city landscape from the 1980s post punk scene, from which The Sisters emerged, making their alternative rise from local band to leaders of gothic rock, an alternative industrial powerhouse of music, who imploded just as they were about to achieve ultimate stardom.
Whilst the book is clearly well researched – and let's face it, there's hardly anything else documenting this important band – 'the rise' only focuses on the first five to six years of their existence, up until 1986. Everything else which occurred of significance after this is kind of crammed into around ten pages. It left me wanting more. I am hoping that there may be a second volume planned, covering their recording years of the albums Floodland (1987) and Vision Thing (1990), which remain some of their best work.
But die hard fans will love this book as it reveals the deep-rooted dysfunctional relationships between artists and management. Put together through dozens of interviews with band members and key figures from over the years, the focus is, naturally, on frontman Andrew Eldritch – although I would have liked more on the other group members.
Frankly written, it gives the reader an elaborate landscape of places and times, referencing other bands and memorable characters from the Leeds music scene of the period around the early 80s. Andrews explains in great detail their public and private fronts as a band, which you will be hard pushed to find elsewhere. Gary Marx gives his own honest version of events about the development of the band, and after reading it, there's a sense of lingering resentment in what Marx, Allen, Hussey and Adams all have to express about this period. Andrews does a good job of trying, but that envelope can only be pushed so far.
"Artistic differences"
Aside from some of the personal feelings and insights offered by those on the pages, the book dioesn't really tell a die hard fan much that they did not know already. It does, however, give a better insight as to why Eldritch became one of the hardest people to work with in the industry, focusing on his epic struggle to write and record, but then it tiptoes around the fractious relationships that occurred between Eldritch and Morrison/Shearsby.
Some of the book is hard to read. There are horrific recollections of the absolute destitution and humiliation that the band faced, and how the ridiculously long tours of '84 and '85 left them strung out, fractured and traumatised, individually and collectively as musicians. It leaves you flabbergasted as to how they managed to survive to the next chapter.
What shines through is how much, despite the personal and artistic differences, the driving force has always been Eldritch, even if he was fuelling these differences through love or hate or both. His quote from a recent interview sums it up: 'I don't regret anything, but I'm sure other people regret stuff where I was present'.
It isn't all doom and gothic gloom though, there are some genuinely funny, laugh out loud lines from the various interviews. In one instance Eldritch recants a conversation he had with Geoff Travis of Rough Trade Records who said of the band: "It's like Bauhaus" to which Eldritch quips back, "Nobody likes being compared to Bauhaus. Not even Bauhaus."
Eldritch's thoughts about the gothic sub culture he helped to create are also amusing: "t's disappointing that so many people [are] in all seriousness still wearing those crappy 70s clothes that we wore for a week in '84 because we'd taken enough medication to find it funny."
I recommend this book to any lover of The Sisters of Mercy, but as a fan I'm more hungry for volume two.
'Paint My Name In Black And Gold: The Rise of the Sisters of Mercy' by Mark Andrews is published by Unbound,
£15 ebook