Trans-Siberian Railway – Travel Review
Four Tsars, Three Countries, Two Continents… One Great Railway
Neil McGowan gets on board the iconic Trans-Siberian Railway…
Emperor Alexander II, Tsar of all Russia, was easily persuaded of the need for a great railway to bind his enormous realm. For the half-year when the Arctic seas are frozen, the Eastern side of his kingdom has no idea what is happening in the capital, St Petersburg.
So it is only months later that his Siberian subjects learn that His Imperial Majesty has been assassinated (in 1881). The Great Siberian Railway project passes to his son, Alexander III – who has no interest in it whatsoever.
The project eventually falls to the Tsarevich, Prince Nicholas. He later becomes Nicholas II, the last Tsar. Nicholas is dispatched to the opening ceremony in distant Vladivostok, along the rutted snowy sledge-track known as the Great Siberian Tract. Better known as the route of chain-gang convicts headed for the penal colonies of Siberia.
In contrast to other world travel, today's Trans-Siberian passenger is treated as an adult. You are a sensible person. You know you need your passport with you, ready-stamped with the Russian, Mongolian and Chinese visas your route entails, and no official checks you.
"Wild terrain"
With just minutes to departure, your provodnik ("wagon-attendant") isn't impertinently checking any seat belts or seat backs. Instead they're bringing you a nice cup of tea to get your journey started. Accommodation on board is in four-berthed compartments. "Two up, two down", with sprung mattresses, a bedroll, and fresh linen so starched it almost crackles.
Honeymooners and claustrophobics might opt to pay a supplement that a two-berth compartment affords. A similar standard of slightly dowdy interior but with the upper berths removed. Hungry? A dining car runs the whole route.
The route might have been "Express" in romantic days of steam, but the gentle trundle away from the start-point in Moscow wouldn't impress Jeremy Clarkson. Modern "overhead electrics" only knock 5-6 hours off the 19th century steam haulage timings.
This becomes more understandable once you're a day or two out of Moscow. There are seven days of travel, not counting side-trip stops. Then, the wild terrain of Siberia and its extraordinary climate militates against adrenalin-rush speeds.
"Russia's most stunning National Park"
These rails have stood up to a century of the most punishing winters on earth (winter lows of –50C). The surprise to many is that Siberian summers reach +40C, and higher still crossing the Mongolian Gobi. A full day out of Moscow and we're crossing the Ural Mountains. Here pinewoods give way to deciduous oak and ash. It is where we make our first (optional) stop.
Our train itself continues – we'll board the one coming two days behind, and meanwhile explore the Urals city of Perm. All hairstyle jokes apart, you already know more about Perm than you thought. The city goes by the pseudonym of "Yuryatin" in Doctor Zhivago. A walking tour reveals the real locations where Yuri meets Lara. The movie was filmed abroad in the Soviet era and couldn't be set here. Next day you can take a full-day trip out to the site of the last Gulag left standing.

Perm's most romantic secret, however, is the house where Grand-Prince Mikhail – Nicholas II's brother – is staying when he is caught and executed by the Reds. He never knew his brother had died the day before, making him the last Tsar of all, and our "fourth" Trans-Siberian Emperor.
A quick bit of suitcase-packing sees us back on the rails again, for a two-day haul across Siberia to Lake Baikal. Not all of Siberia's cities are gems – many are humdrum industrial cities worth by-passing, although riding or rafting fans might jump ship at Novosibirsk to head to the Altai Mountains for a few days – Russia's most stunning National Park area.
"So much interest"
We thunder onward to Baikal – the largest and deepest lake in the world, where another two-night between-trains side-trip awaits us.
Most visitors choose Irkutsk, which boasts the easiest transport to lakeside villages offering walking and Siberian hospitality. A few bolder souls opt for the east side of Baikal. Here local roads are bumpier but conceal villages of Siberia's Old Believers (the "Siberian Amish") and Asiatic Buddhist monasteries.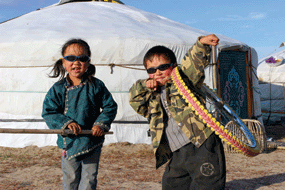 Passports at the ready, because it's a night border check. Our train-route crosses into Mongolia, leaving forests behind as the rolling empty Steppe opens ahead of us. Mongolia holds so much interest that a three-day stop is the minimum you would want. Some stay for five days or a week. These are the other durations that timetables permit.
"Leave modern life behind"
One of the least-visited countries on earth, the twin fascinations of Mongolian Buddhism and the lives of the nomadic steppe herders are the cultural attractions. But you will need at least five days if you hope to drive off into the Gobi. There you can truly leave modern urban life behind. The temples of Erdene-Zuu hold the few surviving relics of Genghis Khan.
Ironically, our final train leg to Beijing passes his true "monument" – the Great Wall of China. It is built to keep him out.
It takes us 19 days to reach the Forbidden City. Riding in the Altai, or visiting the Gobi would expand this further. But it's the greatest journey in the world. Short-cutting it would leave empty pages where your grandest photos belong.
The Russia Experience (020 8566 8846; www.trans-siberian.co.uk) offers a comprehensive range of itineraries on the Trans-Siberian. The popular Big Trans-Sib from Moscow (or St Petersburg) to Beijing takes 15 days. It costs from £1565 per person based on two people sharing a four-berth cabin (upgrades to a two-berth available). The price does not include flights or visas.