Why You Should Book a Villa for a Trip to Ibiza
Ibiza is among the world's top holiday destinations. It is popular for its hippie culture, electric nightlife, incredible beaches, world-class restaurants, among other reasons. Booking a villa during your holiday trip to Ibiza is a good choice if you want to enjoy the experience. Compared to other holiday accommodation options such as hotels, guests in villas have the entire place to themselves. Most villas are located in peaceful environments and offer visitors much-needed privacy, allowing them access to the private garden and swimming pool. In this article, we will discuss the reasons why you should choose a villa for a trip to Ibiza.
Privacy
A villa is a private space that you can exclusively book for you and your family; no other people have access to the property while you are there. No other people are sharing the property with you, and you do not have to worry about the room service knocking on your door. This allows guests to enjoy their holidays in complete privacy and safety. With all the amenities available, you can do whatever you please. The pool, bar and kitchen are never closed, so you can grab a drink or something to eat whenever you like.
Spectacular locations
Most villas are located in amazing locations that offer beautiful views and peaceful surroundings. No immediate neighbours are causing any unwanted disturbance in holiday villas. You can enjoy a peaceful stay without having to worry about rowdy neighbours. You can select a villa with spectacular views and get to enjoy them freely without being limited by space.
Healthier dietary options
Villas help guests maintain healthy diets throughout their vacation by letting them customize their meals. You can cook whatever you feel like eating in a villa since you have exclusive access to the kitchen. This gives you a chance to stick to a healthier diet rather than get carried away with dietary choices in restaurants. Some villas provide private chefs who can cook your desired meals on-demand.
Ample space
Unlike most hotels, which only have one or two bedrooms, villas contain plenty of room to accommodate an entire family. This provides a kid-friendly atmosphere since children have enough space to play and have fun.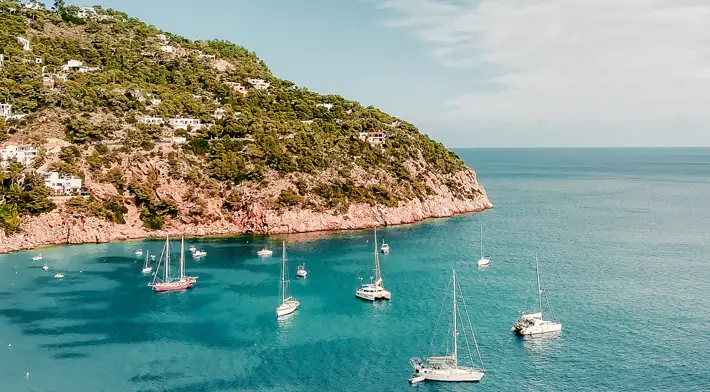 Cost-effective
Renting a Villa in Ibiza is relatively cost-effective. If your holiday trip to Ibiza involves a large group of people, having them under a single roof is more economical. A villa can help you save on time and avoid the struggles of moving from place to place for meetings. Equally, if you are travelling with a large group of friends, booking a villa and splitting the cost amongst the group is a cheaper option.
Access to a private garden
Most villas have a private garden where guests can enjoy a peaceful time outside. Ibiza gets busy during high seasons, and public spaces like beaches can be too crowded. A private garden affords guests their hideaway to enjoy the holiday in peace and tranquillity. It also creates space for outdoor games for both children and adults.
Private swimming pool
A private swimming pool is an essential feature in most villas in Ibiza. Guests can enjoy sunbathing naked by their private pool and do not have to worry about missing out on sunbeds. Equally, In a villa, you have access to more amenities than you could have anywhere else. Most villas have multiple utilities, including bathrooms, kitchens, and laundries. With these, you can host a large group of people in your private villa for a private pool party.
Pet-friendly environment
For pet owners, it might be challenging to find accommodation for their pets in most places. However, Villas in Ibiza have adequate arrangements to afford your pet a stress-free stay. Guests do not have to worry about their pets causing a disturbance or messing with other people's space.
Fast deliveries
Holiday villas in Ibiza offer guests fast and reliable delivery services. After having fun at the beach or clubs, visitors can relax and have whatever they need delivered to their doorstep. This includes food deliveries, top-up deliveries for in-house bars and the delivery of services such as private swimming or yoga classes.
Villas offer visitors the ultimate privacy allowing them to have a tranquil and enjoyable holiday. The exclusive access to amenities such as a private pool, private kitchen, garden and bar villas provides a wholesome holiday experience and are a cost-effective option for large families and friends who wish to stay together. If you are planning a holiday trip to Ibiza, you can book perfect vacation villas in Ibiza on eivillas for an amazing holiday experience.